A little over a year ago, we changed from a traditional marine head to a Nature's Head composting head. It's been a learning process with the best info coming from other cruisers — readers left some very helpful info on my "Learning to Love our Composting Toilet" post. So now, our contribution in the spirit of "paying it forward."
THIS IS THE LATEST POST ON OUR LEARNING CURVE AND IT SEEMS THAT WE FINALLY HAVE THINGS DIALED IN.
NOTE: We love the composting toilet and would never go back to a traditional marine head. So this isn't a post to the effect that we regret it. We just wish there had been more complete information about how to use coconut coir as the compost medium (saying to add water "until moist but not wet" just wasn't specific enough for us) and what to do if we did get flies. Figuring that others would probably like to know these things, too — here it is.
COCONUT COIR
Coconut coir is a great compost medium. First off, it's a readily renewable resource, whereas peat moss takes millions of years to form. Coconut also takes a lot less space to store and is far less likely to have bugs in it. But you do have to rehydrate it and crumble it up.
After all sorts of experimenting on the right amount of water to rehydrate the coconut, we have ended up using 1 cup of water per 2.75 pound brick. We use Beats Peat brand coconut, available on Amazon — it comes in a package with four of the 2.75-pound bricks, for a total of 11 pounds. That is not a typo. Just ONE cup of water.
We have found that using very dry coconut and not initially filling the compost unit as full as the manufacturer recommends worked well for us. The drier coconut absorbs more moisture from the poop, resulting in fewer problems with flies and gnats and we can go a bit longer between compost changes– but since the coconut absorbs moisture and swells, we had to use less about 25% less material (1-1/2 gallons vs. 2 gallons recommended with peat) or the compost bin was quickly too full and the handle impossible to crank.
One 2.75 pound brick does about 1-1/2 compost changes for us. With two of us aboard full time, we change the compost every three weeks (not a month like many manufacturers say). Thus an 11-pound package with 4 of the 2.75 pound bricks last us somewhere between three and four months.
We use a large screwdriver to pry one of the 2.75-pound bricks off the "mother brick" and place it into a 2-gallon Ziploc (get on Amazon if your supermarket doesn't carry them — the normal "large" Ziplocs are one gallon). We stab the top edge of the brick a couple times with the screwdriver, then carefully pour 1 cup of water over that top edge — the holes we made with the screwdriver simply help the water penetrate. No problem if you don't, it'll just take longer to soften.
TIP: it helps to have a second person hold the bag as one pours the water in. At the very least, lean it against something securely. If it tips over before you've sealed the bag up, it's messy.
We seal the Ziploc and place it in a sunny spot on deck. A couple times a day, we turn it over and, not opening the bag, try to bend the brick and get moisture to all areas.
After the coconut brick and water has sat in sun and rehydrated for a couple of days, we get the 5-gallon bucket out (more on this next) and open the Ziploc bag. We break chunks off the coconut brick and crumble them into the bucket, taking care not to have any lumps. When it's all crumbled, we put the lid back on and put the bucket back into the lazarette until we need to change the compost.
We store the prepared coconut in a 5-gallon bucket with a air- and water-tight gamma seal lid. We prefer to prepare it well in advance of when we need it, so that we never get to a point where it needs to be changed but we're not ready to. But we have to keep it in an airtight container so that it doesn't pick up moisture from the very humid air here — we want it as dry as possible when we put it to use. After all, it's supposed to be absorbing water from the poo!
We store the "unprepared" coconut bricks in a sail locker where there is a slight chance of water leaks and drips. So that the coconut doesn't get wet before we want it to, we keep the bricks in a heavy-duty 30-liter dry bag (see on Amazon).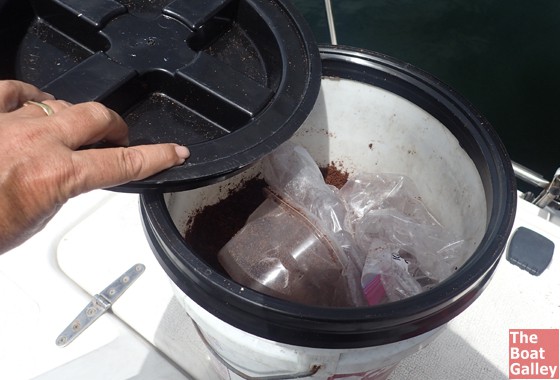 FLY CONTROL
Okay, this section isn't fun and no one seems to discuss it. But it's a fact of having a composting head. Sometime, you're going to have a fly infestation. It happens. Not all the time or even every year. But sometime. Frankly, we find it less nasty than having to change a joker valve to deal with clogged hoses in a traditional marine head. First, some prevention tips.
A recent Nature's Head newsletter recommended using Gnatrol in the compost to eliminate problems with gnats (tiny little flies). It's a biologic control (bacteria) specifically for fungus gnats and is normally packaged in 16-pound pails. The only place we could find it in small quantities was on Amazon. 2019 UPDATE: Amazon has stopped carrying the small packages and they are now available on eBay or at Organic BTi. We are using 1 tablespoon when we change the compost — we just mix the dry powder into the fresh coconut — we do not mix with water first. Since we have been doing this, we have not flies or gnats. (NOTE: We started by using 1 teaspoon and still had a few gnats; once we increased to a tablespoon, we don't.)
When we had been unable to buy Gnatrol from Amazon, we had tried using a liquid formula — Bacillus Thuricide — that was supposed to be the same active ingredient. In just two months, we had an infestation of fungus gnats and read in several places that it is NOT the same thing as Gnatrol. That's when I discovered that I could still buy Gnatrol in quantities from 1 oz. to 1 pound on Ebay and Organic BTI. (Read more and get links)
Nature's Head recommended that we sprinkle a bit of diatomaceous earth over the top of the compost each day (don't sir it in until the next time you're cranking) to kill any flies. This did not work for us and we don't use it any longer.
For a while we used Rid-X Septic Tank Treatment Packs (1/2 pack per compost change) — this supposedly helps the poo break down faster so flies are less attracted to it. It didn't seem to make a difference, so we've stopped doing this.
If we see flies in or around the compost bin, we use a shot of Flying Insect Spray into the compost bin. Since using the larger dose of Gnatrol, we do not have to use fly spray.
FLY INFESTATION
Fly infestations need to be dealt with as soon as you think you might even remotely have a problem. We had one . . . but it took us two tries to eliminate it as we just didn't realize what drastic action was needed.
There will be fly larvae on the inside of the compost bin — on the Nature's Head, there will be eggs/larvae in every nook and cranny of the top. Dump the compost as normal into a trash bag, then get every bit of crud out that you can with a stick or scraper. Remove the fan if your unit has one. Then use a tank sprayer with water to get out all the larvae. We found that brushes with long wire handles that we could bend made it easier to scrub everywhere — be sure to get under edges everywhere. If any are left, there will be a second infestation and you'll have to do it again (how do I know this?).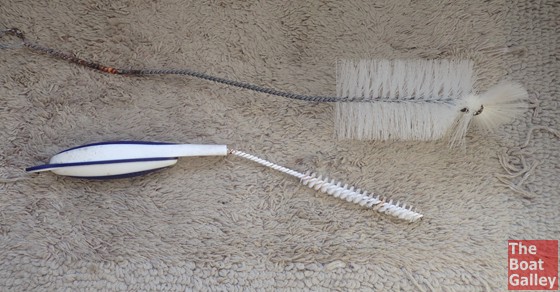 We found our brushes in a hardware store in the Bahamas as we were preparing to do the second clean out. It's better to get them before you need them, as every day that you spend getting supplies is a day that the flies multiply and lay more eggs. Prices are also cheaper when you're not desperate. Coarse bristles work much better than soft. These are the style and sizes that worked well for us.
After cleaning it all out, we poured and sprayed white vinegar everywhere in the unit, dumped it out, then let it dry. Then we refilled with coconut and began using it again. For the next week or so, we used fly spray daily to hopefully kill any before they laid more eggs.
I've heard of people using pressure washers, boiling water, bleach and/or dunking the unit in the ocean to thoroughly clean it. It all depends on where you are and what's available — and legal.
One note on cleaning the unit out: If your unit has a fan, the wires on it are tiny, easy to break and generally can't be repaired. Be careful with it as you remove the fan. We now carry a couple of spare fans with wiring.
Hope this helps others making the transition to a composting head.
Here's your "Quick Start" to everything you need to know when living on a boat:


Making Boat Life Better
Some links in this article (including all Amazon links) are affiliate links, meaning that we earn from qualifying purchases.