Are you a sunset freak? I am.
Living on land, I wasn't as attuned to nature. I'd notice sunsets if I happened to be driving then, or out camping or on the water. But not as an everyday thing . . . a ritual, really.
Cruising, sunset is much more meaningful. It's the end of light for a passage. It's when the stars come out and (hopefully) put on a magical show. And it can be stunning sky paintings.
And cruisers have developed a number of traditions for sunset.
The Conch Horn
Here, in the Florida Keys and the Bahamas, you'll hear the conch horns blowing as the sun slips below the horizon. The first to blow are usually beginners, a little wobbly in the tone. But right as the top edge of the sun passes out of sight, the "pros" will chime in with incredibly long, constant tones.

The first time I heard the conch horns, I was taken by surprise. Over the years, I've come to love sitting in the cockpit and listening to the "end of day." After Hurricane Irma last year, which just devastated Boot Key Harbor where I'm based, no conch horns sounded for at least three weeks after the storm. And then, one night there was finally one — a bit trembling, sort of like our lives right then.Nonetheless, it was the talk of the net the following morning: a little return to normalcy. The next night, a few more joined in . . . and each subsequent night had a few more. Who knew that a simple horn could mean so much?
Sunset Alert
The Sea of Cortez, where we cruised for 6+ years, is known for stunning sunsets due to the dust in the air from the desert Baja peninsula. There, we didn't hear conch horns (not many conch left there) but if there was an especially stunning sunset, you'd be sure to hear the call on the VHF: "Sunset Alert!" It was the signal to drop whatever you were doing and go out on deck if you weren't already there.

The Green Flash
If the sky meets the sea where the sun sets (that is, no land between you and the horizon), there's a chance of seeing a green flash right as the sun slips below the horizon. They're rare; I've never actually seen one, and I've only seen pictures of a couple. But it's always fun to look for them if you're in a location where there is an unobstructed view of the horizon and anchorages with such a view tend to have daily gatherings to watch for one.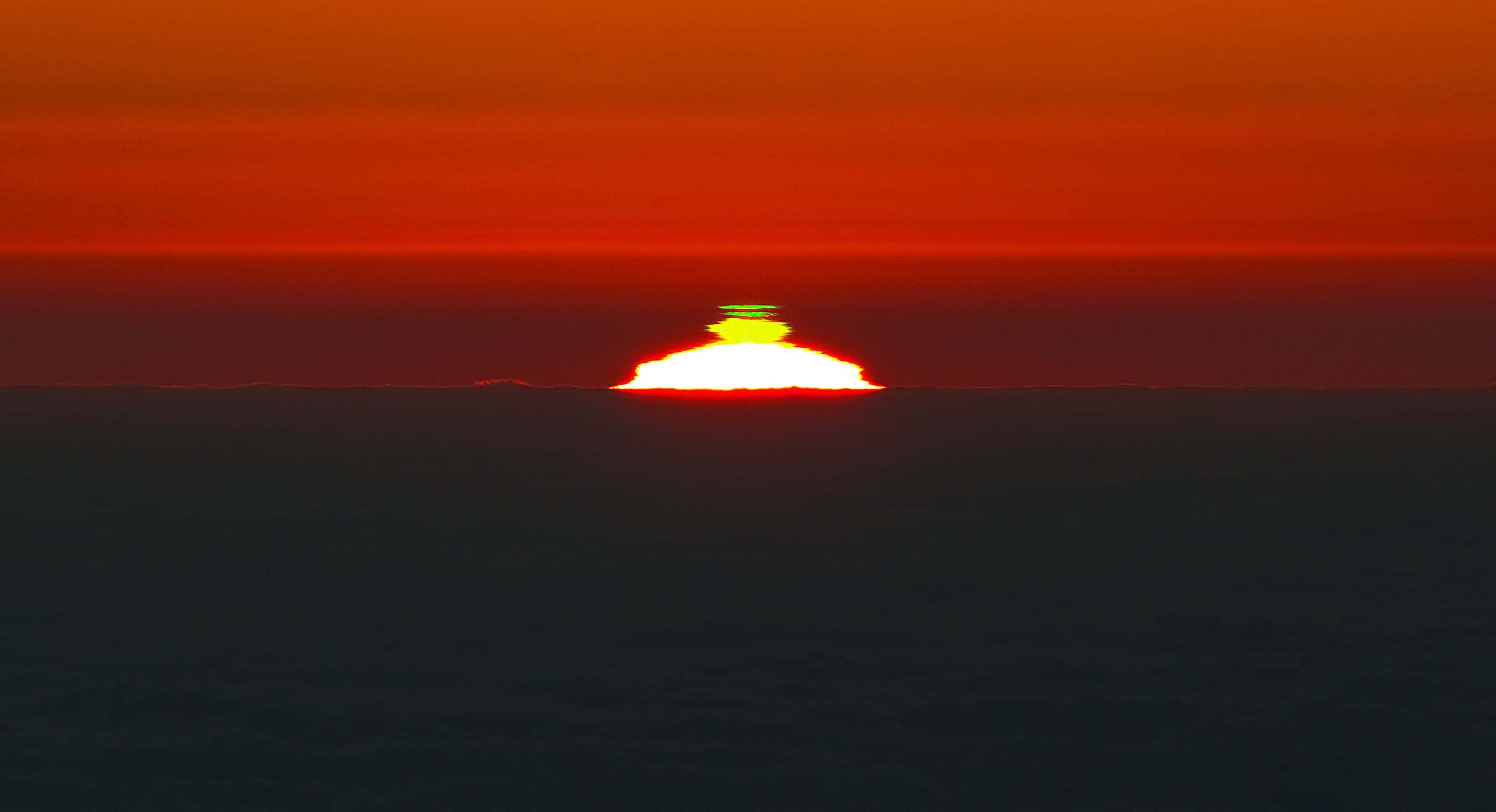 Dinghy Drift
A dinghy drift is essentially Happy Hour on a bunch of rafted up dinghies, almost always timed to coincide with sunset. Everyone brings their own drinks, perhaps a snack to share, and good times and laughter ensue with someone suddenly pointing out the sunset.

Fire-breathers aren't too common, but definitely capture everybody's attention when they do appear! Glow sticks add a fun atmosphere (watch for them on post-Halloween sales or buy on Amazon) as do colored Luci lights (Amazon).
Sunsetters
Finally, almost everywhere has some sort of tradition of drinks (alcoholic or not) at sunset. It's a common time to get together with friends, new or old, and chat about the day and make plans for the future. Even if it's "just" your family or partner on board with you, it's still a great time to relax and share dreams.

I can't tell you the number of major decisions we've made at sundown: to go ahead and sell everything (twice — on two different boats), where we're headed next . . . or that we need to deal with medical issues, to undertake various boat projects . . . or not. How often have we pulled out the chart books and planned ahead? Or just sat in silence and enjoyed the life we've chosen to lead?
And a gorgeous video (by drone) of Boot Key Harbor right at sunset. Turn your speakers on to hear the music accompanying it! (BTW, that's our catamaran at the bottom center of the thumbnail below.)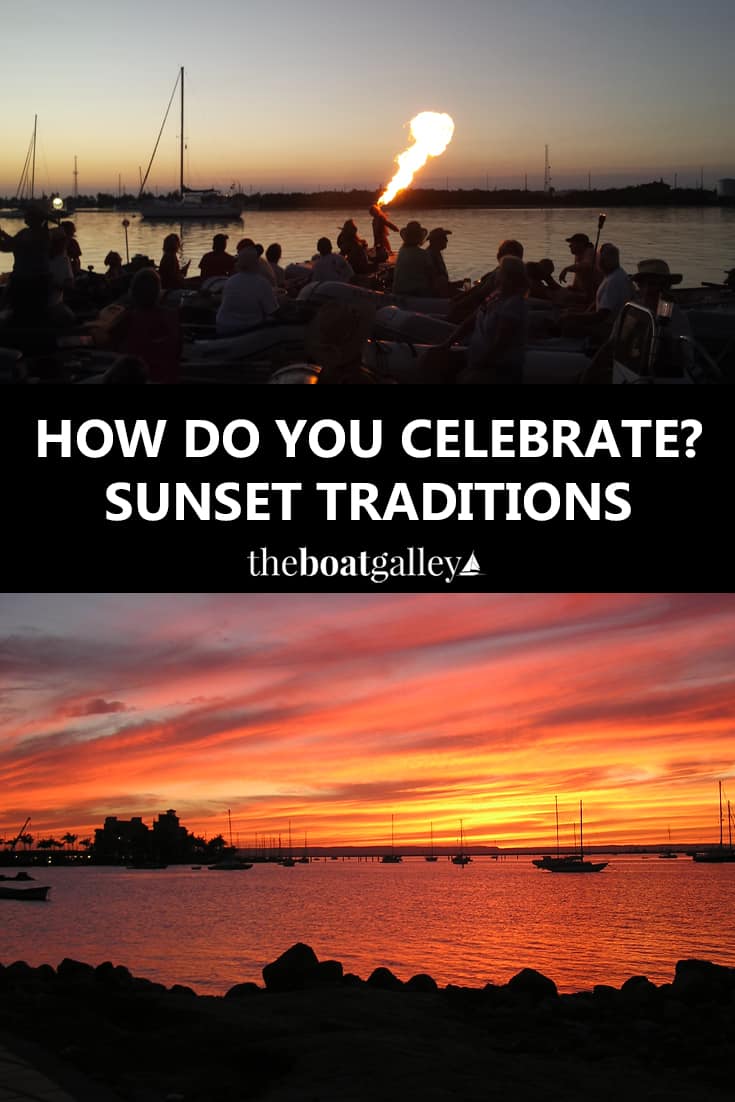 ---
Our FREE Provisioning Spreadsheet
Wondering how much of what foods to take on your next trip? Know just how much to buy of what — all arranged by grocery store aisle — with our handy Provisioning Spreadsheet. Includes detailed instructions to edit it for your favorite foods, how much your family eats, and how long you'll be gone. No spreadsheet skills needed!
It's FREE — get it here.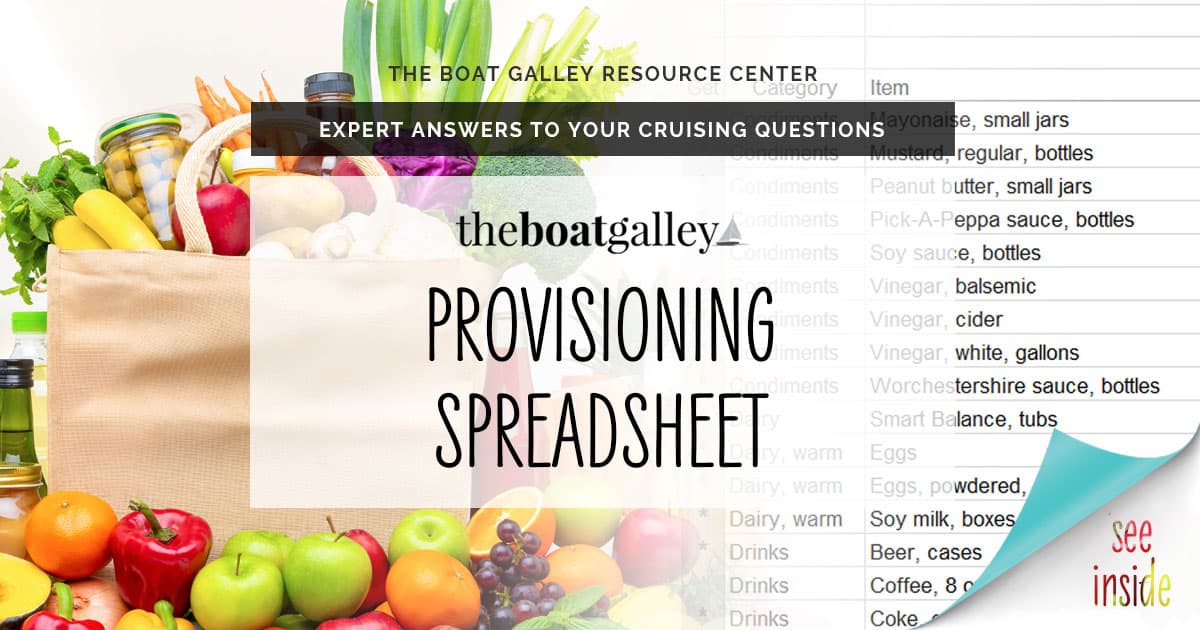 Some links above (including all Amazon links) are affiliate links, meaning that I earn from qualifying purchases. Learn more.