It's that time of year when it's HOT!  We cruised in the Sea of Cortez for four full summers, plus one in El Salvador.  Lots of days when it was in the high 90's or over 100.  And no, we didn't have air conditioning.
What we did have was plenty of water.  Swimming was our number one way of cooling off.  We'd get in several times a day.

And this extended to happy hour.  Rather than invite friends onto our boat, it became traditional to invite them off the boat!  Sometimes we'd sit in shallow water just off the beach; more often, it would be off the stern of someone's boat.
A few tips:
Put a line or two off the stern that people can hook dinghies to — this gives a "clear space" near the boat for socializing, as well as something to hang onto.
If it's windy or there is significant current, you might want even more lines out for people to hang onto.  Tie a fender on the end of each one so that they float.
Noodles are great for giving a bit of floatation, but you can also use throwables or even sit on a PFD.
It can be tough to serve snacks in the water — some tried putting treats on a boogie board or throwable, but things still spilled or got water in them.  The good news:  when it's hot, no one really cares about eating!
Remember safety:  try to keep an eye on everyone and make sure no one drifts away and can't make it back; watch out for those who might overindulge; and remember that if people are somewhat dehydrated, alcohol will hit them harder.
Got cockpit speakers?  Crank up the tunes, but not so loudly that you can't converse . . . or hear a cry for help!
Be sure to have a swim ladder off the boat for anyone who doesn't have the upper body strength to pull themselves into a dinghy from the water.
Everybody brings their own drinks and keeps them in their dinghy.  Cover the cooler with towels and anything else to keep them as cool as possible.
For mixed drinks and wine, insulated mugs work really well — my favorite one won't spill (don't use the same one as you use for coffee — it will pick up the coffee taste!); wine "sippy cups" are also popular.
Can cozies for the beer drinkers!
Want to keep that cool feeling?  Plan a cold dinner and do all the prep before going to happy hour so all you have to do is pull it out and serve.  One of my favorites is gazpacho, with a few crackers and cheese.  See other meals for hot days.
Got other tips or ideas for a great happy hour in the water?  Tell the rest of us in the comments!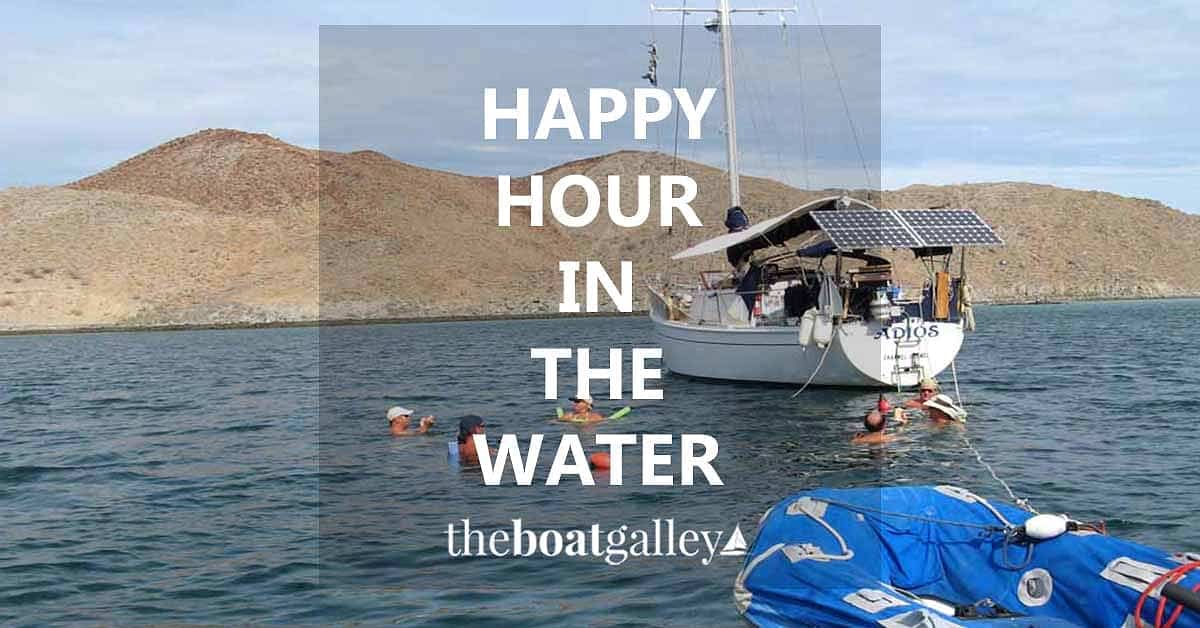 ---
Our FREE Provisioning Spreadsheet
Wondering how much of what foods to take on your next trip? Know just how much to buy of what — all arranged by grocery store aisle — with our handy Provisioning Spreadsheet. Includes detailed instructions to edit it for your favorite foods, how much your family eats, and how long you'll be gone. No spreadsheet skills needed!
It's FREE — get it here.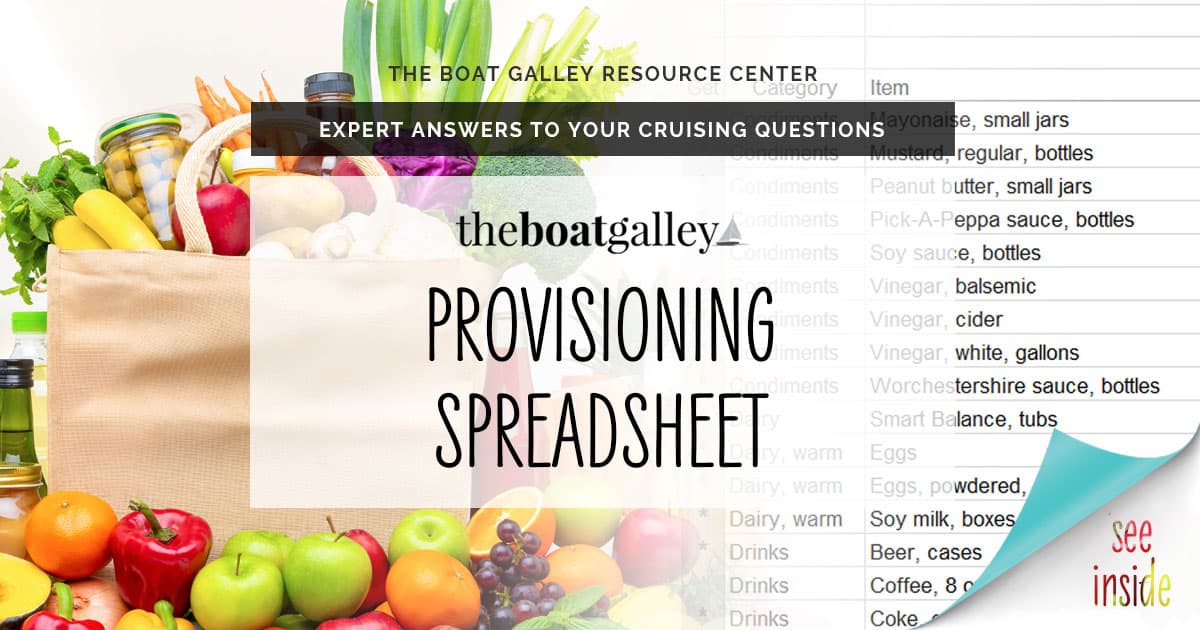 Some links above (including all Amazon links) are affiliate links, meaning that I earn from qualifying purchases. Learn more.