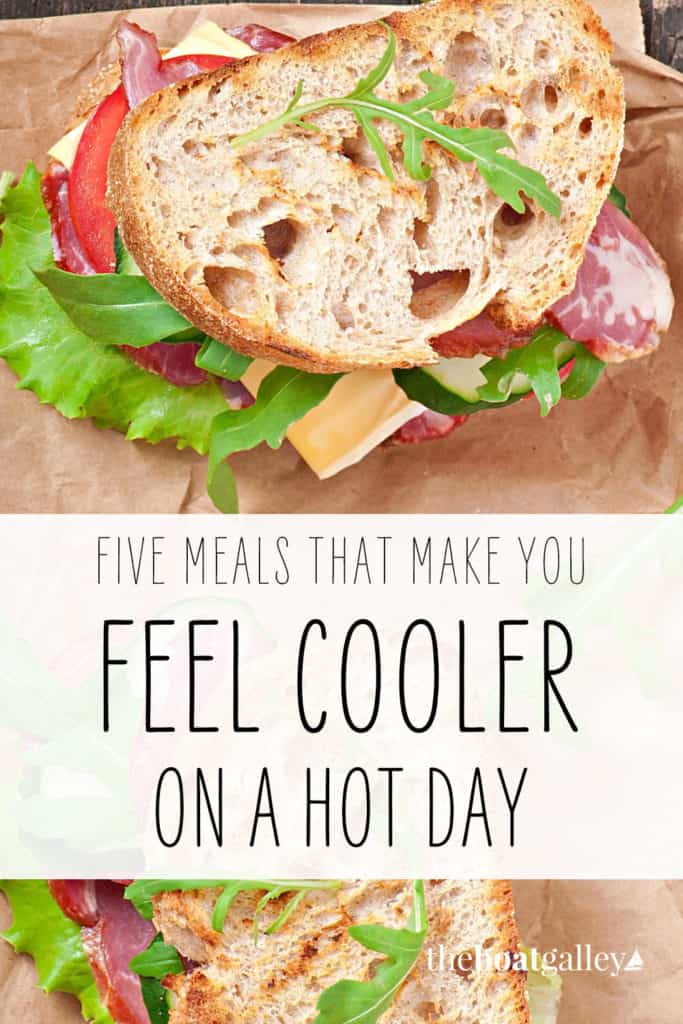 Many people think of meals for hot weather as things that minimize cooking heat. Well, when it is really and truly hot outside, I don't want meals that just minimize cooking heat.  I want meals that make me feel cooler.
Contrary to many other cruisers who took the hottest months of the year to make visits "back home," Dave and I loved spending summers in the Sea of Cortez and now we're in the Florida Keys.  But yes, it can get hot!
Dave and I both come from the Midwest and are used to hot, humid summers.  But we also have a few "tricks" for coping with hot days.
One was a list I had written up and stuck inside one of my locker doors with 5 meals for hot weather that were served cold, straight from the refrigerator.  I'd make one of these in the morning, when it was cool out, and put it in the refrigerator.  By dinner time, it would be thoroughly cold and totally enjoyable.
You'll probably also notice that these are fairly light meals, some without meat even. We found that as temperatures approached 100 degrees, we just didn't have as much appetite as usual and lighter meals were perfect.
In hot weather, lunch was usually some fruit and maybe a slice of cheese and a couple of crackers.
5 Great Meals for Hot Weather
Gazpacho — this is my all-time favorite hot day meal. Icy cold, salty, and easy to make. If we wanted a little heartier meal, I'd add a few slices of cheese on crackers or a cold hard-boiled egg.
Vegetable Salad a la Que Tal — there are all sorts of substitutions and ways to make this with nothing that has to be cooked. Or I'd cook some rice or pasta one day and divide it into portions for the next 3 or 4 days.
Rice or Pasta Salad — another option is to use couscous, which has far less cooking time than rice or pasta. Add a can of ham or chicken for a bit more substantial meal.
Sandwiches — egg salad, ham salad, tuna salad, or chicken salad all taste wonderful when it's hot out. Even though they can't really be made in advance, and aren't cold, BLT's are also a hot weather favorite of mine!
Stuffed tomatoes — take that same ham, tuna or chicken salad and add some chunks of fruit (grapes are wonderful) or even dried fruit, then scoop out a tomato and fill it with the salad.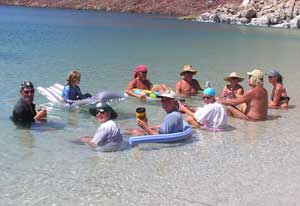 Another great hot weather alternative is to have a Beach BBQ — you can swim and lounge in the water during happy hour. . . and it never seems quite so hot when you're having a party!
Other Hot Weather Ideas
Quick Reference Lists
The notecards that I posted inside a couple of lockers with appetizer and meal ideas, like the one I talk about above for hot weather meals, were the inspiration for the Quick Reference Lists that Jan and I included in our cookbook.  If you like "idea starters" such as this, I hope you'll like the cookbook.
---
Our FREE Provisioning Spreadsheet
Wondering how much of what foods to take on your next trip? Know just how much to buy of what — all arranged by grocery store aisle — with our handy Provisioning Spreadsheet. Includes detailed instructions to edit it for your favorite foods, how much your family eats, and how long you'll be gone. No spreadsheet skills needed!
It's FREE — get it here.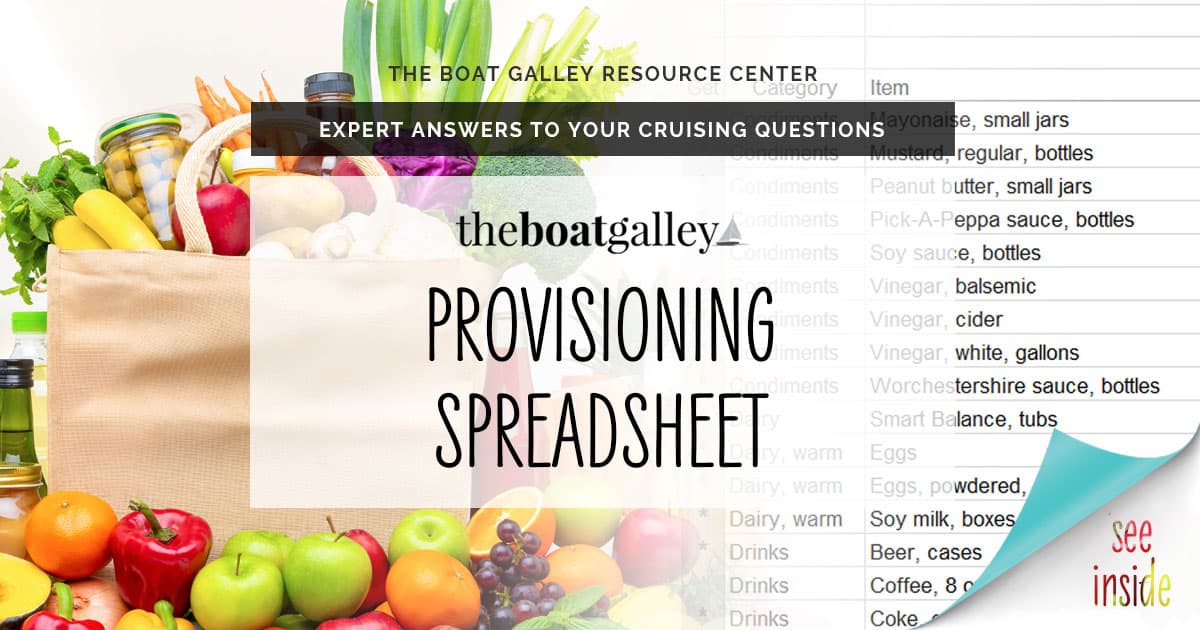 800+ recipes made from readily-obtainable ingredients with hand utensils, including numerous choices to suit every taste. Recipes are all boat-friendly: designed to be made with limited water and electrical appliances and frequent options for making with non-refrigerated ingredients. Get it in our store, on Amazon, or for Kindle.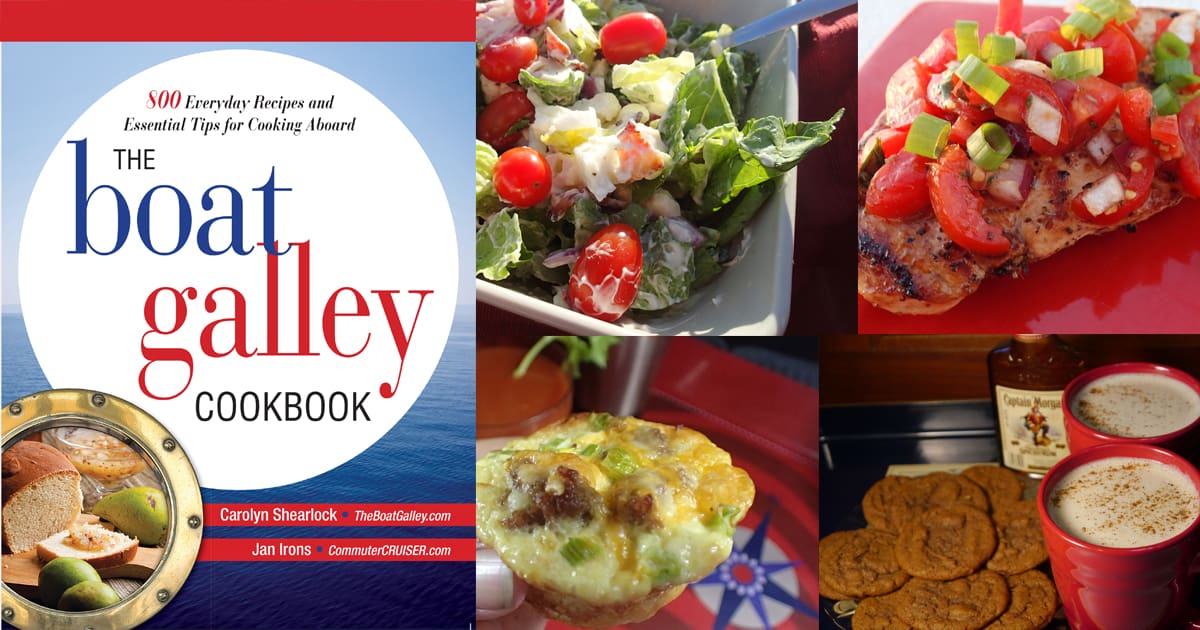 Some links above (including all Amazon links) are affiliate links, meaning that I earn from qualifying purchases. Learn more.