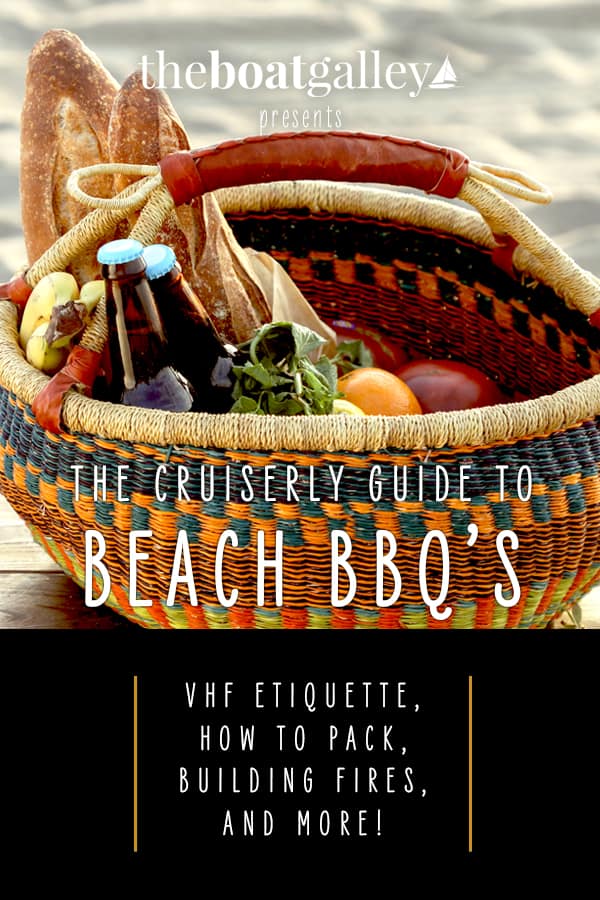 A beach BBQ is the perfect answer for boaters who want to get together but don't have enough "entertaining space" aboard. Why not have a party on the beach?
Organizing a Beach BBQ
Holidays are an obvious choice – Summer Solstice, Canada Day or the Fourth of July – as well as birthdays and the full moon. But don't wait for a special occasion – "hey it's Tuesday!" is also a perfectly acceptable excuse for a beach barbecue.
And don't feel shy about being the organizer even if you don't know any of the other boats in the anchorage: cruisers, by their very nature, are very friendly – and it's a great way to get to know a bunch of people at once! Just get on the VHF, call for "boats in ___ anchorage" and then take them off to a working channel and say you'd like to have a beach potluck that night and you're prepared to bring ____. Ask who else is up for it, tell everyone to bring their own drinks, dishes and silverware, and find out who's got what to bring.
Check local regulations before planning a barbecue. Some places only allow fires in grills, some allow you to use driftwood, and some may prohibit a fire totally – in that case, you can cook the food on the boats, then bring it ashore.
7 Tips for Your Beach BBQ
You can make a beach BBQ party work almost anywhere, with whatever you have on hand. A few things to think about as you're talking to everyone or planning what to bring:
Grilling Ashore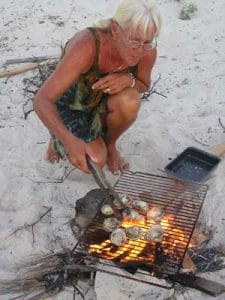 If no one has a portable grill and regulations allow open fires, an oven rack can be balanced on a couple of rocks to form a grill, as in the photo. Be sure to bring tongs and hot pads or mitts! (See Light My Fire for tips on starting the fire.)
Tables
In many locations, you won't find any tables ashore. People can eat on their laps, but a few "tables" are nice for setting food on. Dinghy seats work well to keep food out of sand – or you can just set food in dinghies. If someone has a tarp (or piece of canvas), it can serve as a work area, again keeping sand out of the food.
Chairs
Some cruisers may have folding chairs or Sport-a-Seats. But for those who don't, an upside-down 5-gallon bucket works well. Tarps or Turkish towels also work for seating.
Transporting Your Food
Think about how you'll transport any dish you're thinking of making. Deviled eggs may be great if you have a special plastic carrier for them, but they'll be a disaster if you're just going to put them on a dinner plate and cover them with foil and then take them in the dinghy! Having a potluck bowl that stays closed even when dropped from the deck into the dinghy certainly helped us transport food.
Food Safety
You can wrap hot food in a bunch of towels to keep it warm, but few boats have the ice necessary to keep cold foods cold – which is sometimes important in avoiding food poisoning. In general, I stay away from foods that have to be kept cold to be safe, opting for variations that aren't as susceptible to food poisoning. For example, I'll take a pasta salad with a vinegar and oil dressing instead of one with mayonnaise. Read more about food safety.
Eating the Food
Plan your food in accordance with how people will be sitting and eating. If they're at tables, it's easy to cut meat. If eating on their laps, less so but doable. But if people will be standing, it's almost impossible. Soups are also hard if eating off your lap – where do you put the bowl when you want to eat a few bites of your salad – and almost impossible if standing, unless they can be drunk from a mug. And remember, most people will just bring a plate to eat from, so if your contribution requires something else (say a bowl), let people know ahead of time.
Take Everything You Need
Unless someone else has volunteered, be sure to take everything that "goes with" your dish: condiments, serving utensils, serving dish if it's different than what you're transporting it in, and so on. And while you're at it, don't forget:
Dishes
Silverware
Drinks (and opener/corkscrew if needed)
Napkins
Hot pads
Rags (something always spills!)
Chairs/seats
Bug spray
Music — instruments or a phone with music loaded and a Bluetooth speaker
Handheld VHF
Trash bag (a great way to pack up your dirty dishes to take back to the boat . . . and there may be some trash)
Other Ideas for a Beach Get-Together
And remember, potlucks and barbecues don't have to be for dinner – you can do happy hour and grill clams or other snacks, or do a brunch. But yes, watching the sunset with friends and then sitting around the fire and stargazing are popular pastimes . . . not just for cruisers, but for everyone since fire was discovered.
Enjoy your get-together!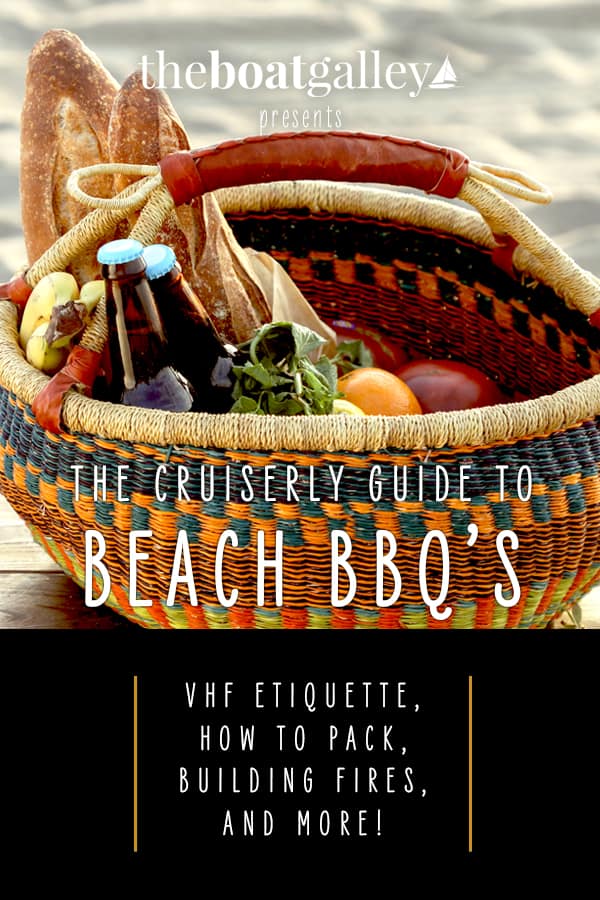 ---
Our FREE Provisioning Spreadsheet
Wondering how much of what foods to take on your next trip? Know just how much to buy of what — all arranged by grocery store aisle — with our handy Provisioning Spreadsheet. Includes detailed instructions to edit it for your favorite foods, how much your family eats, and how long you'll be gone. No spreadsheet skills needed!
It's FREE — get it here.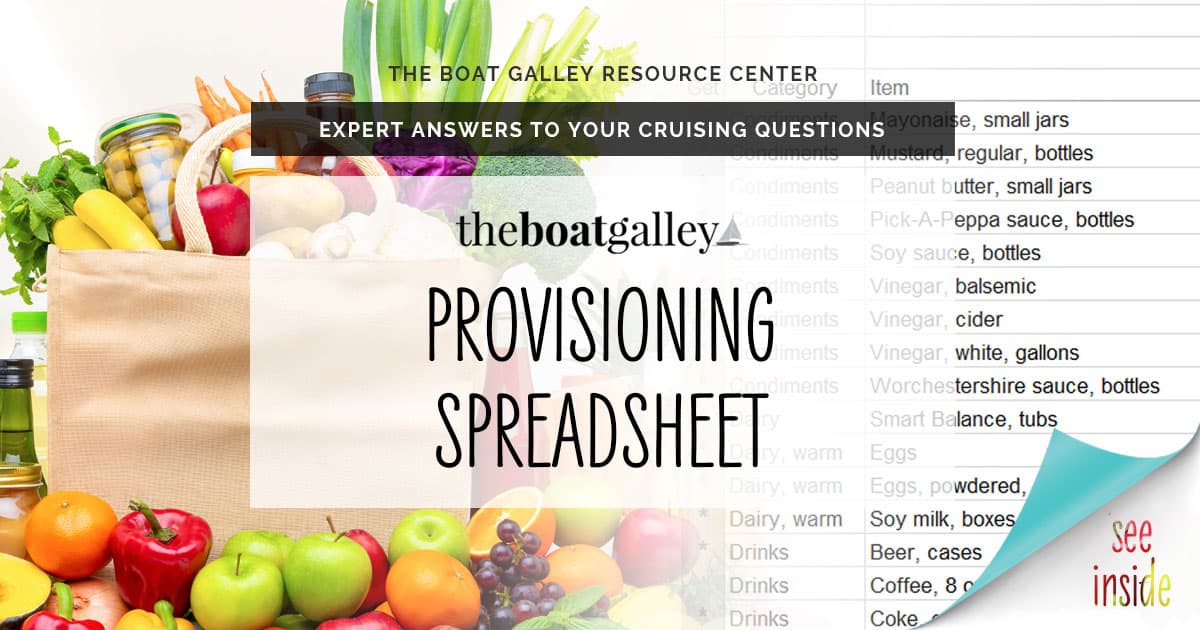 Learn all about the cruising lifestyle in Unwritten Rules of the Cruising Life – just $29.

Some links above (including all Amazon links) are affiliate links, meaning that I earn from qualifying purchases. Learn more.