Barefoot Gal desperately needed new cockpit cushions. The ones that were brand-new when we bought her five years ago didn't really stand the test of time — they always looked filthy and showed wear very badly — and so we decided to go a totally different route with Sport-a-Seats.
Sport-a-Seat cushions have a ratcheted metal frame with well-padded cushions covered in Sunbrella. You can lay flat on them or use them in any position up to fully upright. We're really liking them so far! We've had them for two months now.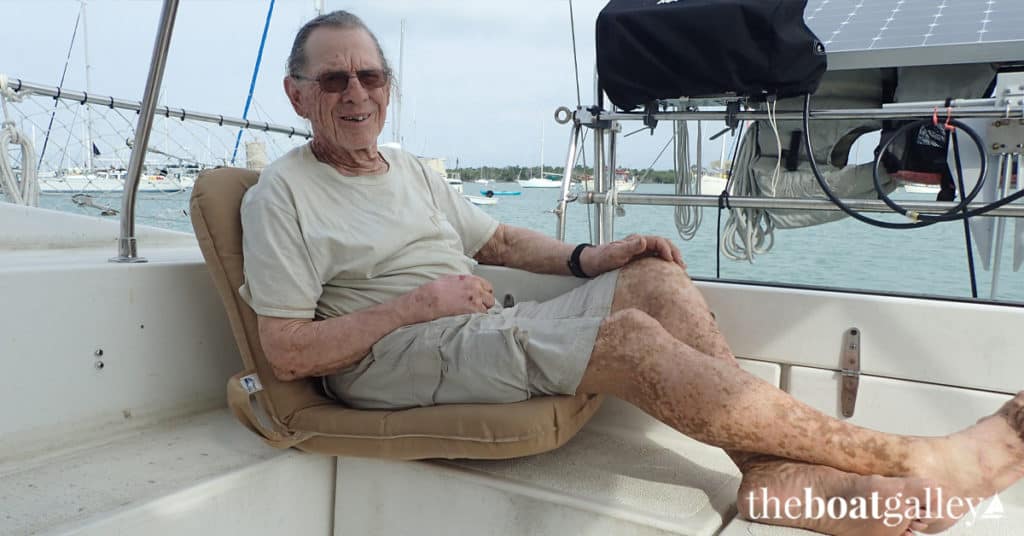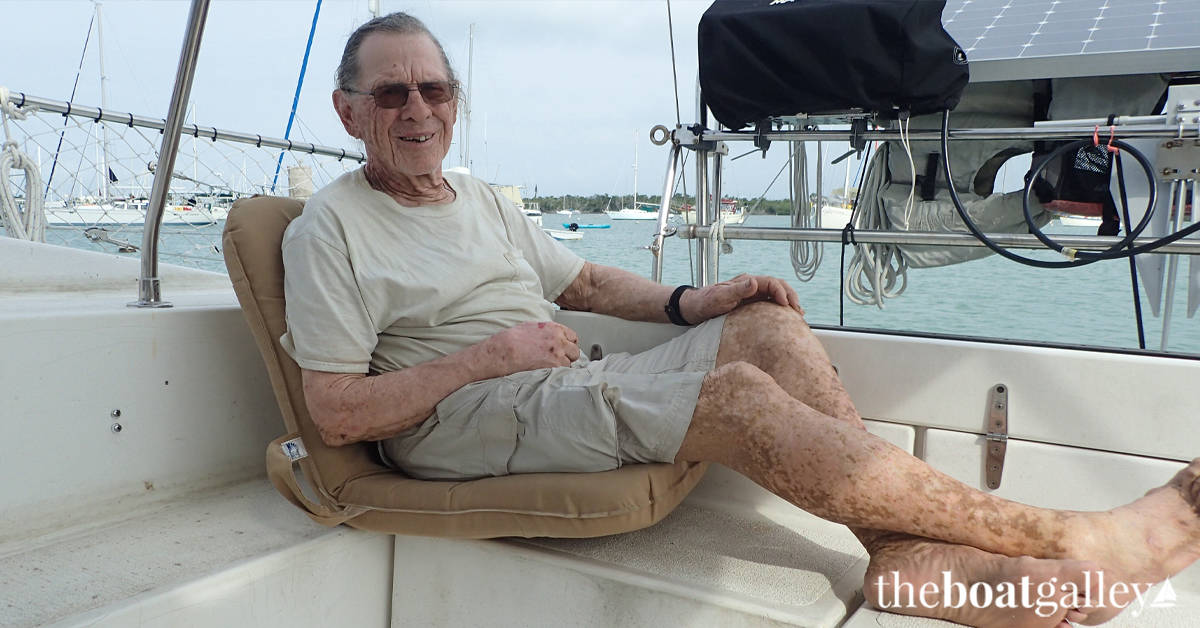 We got two Sport-a-Seats and are getting four other flat cushions that we can use for guests and when underway. This is going to be a LOT less expensive than getting new custom cushions made and, we think, much more serviceable.
More Comfortable
The Sport-a-Seats, with an adjustable back, are simply more comfortable. I used to have to get a separate cushion for my back, and it was never right. The higher back on the Sport-a-Seat gives much better support and I don't get a crick in my neck while sitting and reading — that used to happen almost every evening. This was an unexpected side benefit! I had no idea it was just due to the lack of support in our cockpit seating.
I also like that I can lean one back and have it still support my thighs as I'm reading. Dave tends to sit more upright.
Lying them flat makes a perfect two-person seat!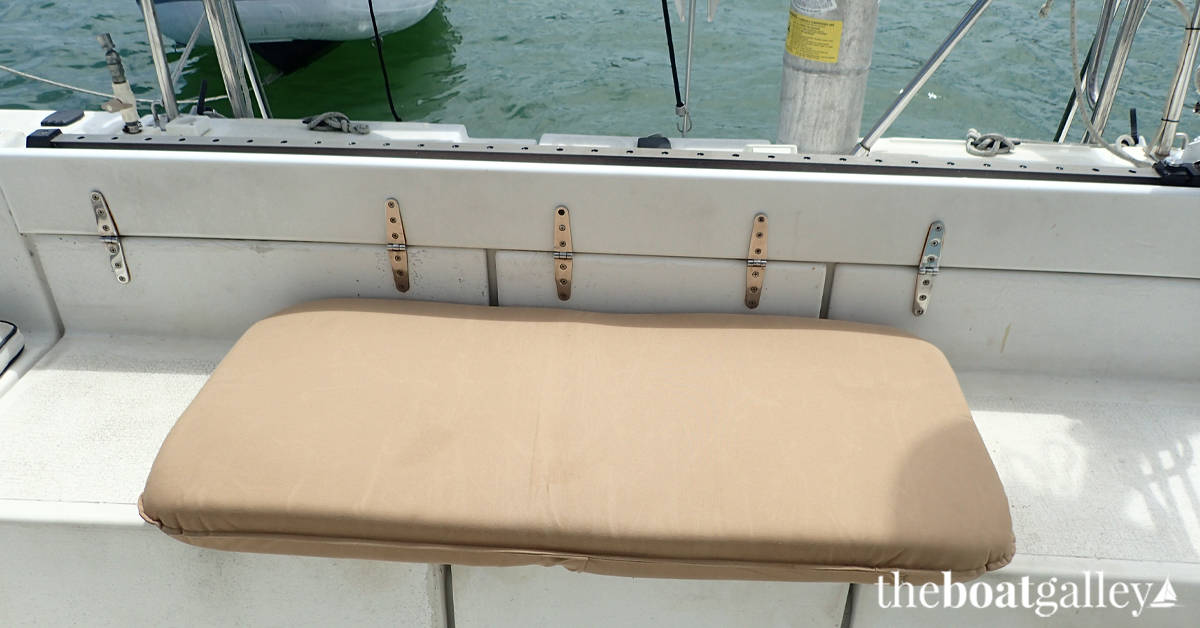 We Don't Walk on Them
One of the problems with our custom, complete cushions was that if you wanted to go on deck or get on/off the boat, you had to step on the cushions. Even with bare feet, they got filthy and had a lot of wear. The Sport-a-Seats are easy to move out of the way if they're in the cockpit, so we don't walk on them. They're staying cleaner and I'm sure they won't be showing wear like the old ones. Not having to walk on the cushions was one of the major attractions for the Sport-a-Seats.
More on Cleaning
Two more bits on keeping the cushions clean: the Sunbrella covers are removable for washing and the Sport-a-Seats are easy to take inside at night. Our old cushions were large to bring inside — both to handle and the amount of space they took up. So we didn't, which I know is a big part of why they didn't last well. When we were looking for new cushion options, the ability to bring them inside easily was a big consideration.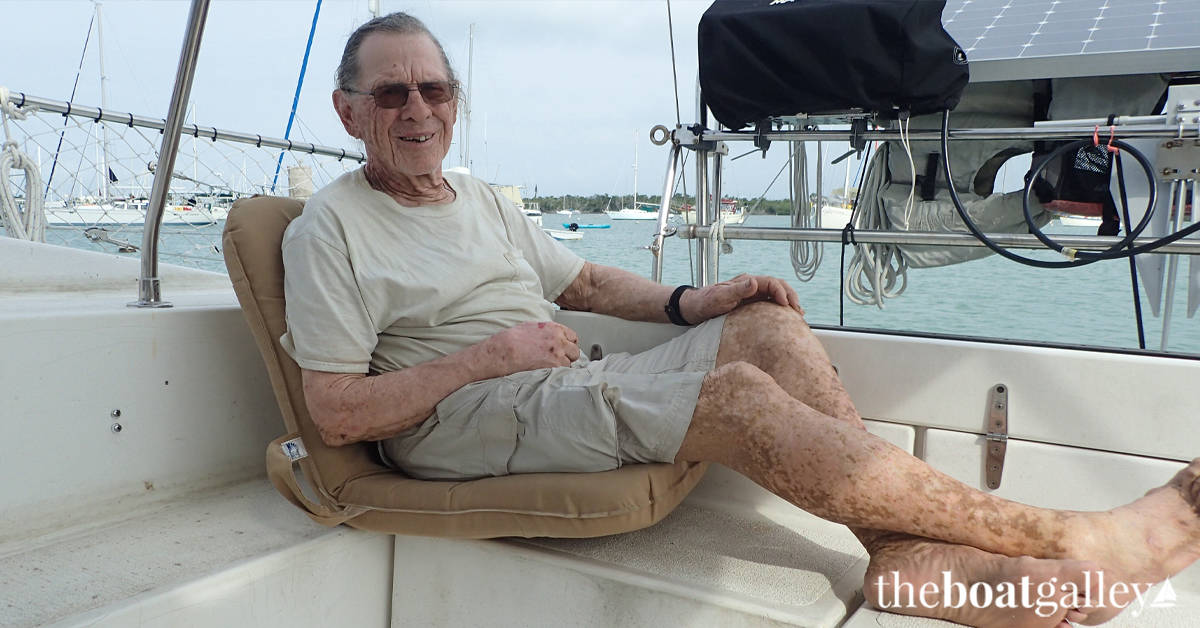 Far Lower Cost
Sport-a-Seats aren't cheap but they cost a lot less than custom cushions for our cockpit. The previous owner spent over $2,000 for custom cushions; I got estimates in the same range just for new covers. Sport-a-Seats, in contrast, are $149.95 each, and provide more support and are more comfortable — plus will stay cleaner.
For guests, we can lay the Sport-a-Seats flat and two people can sit on each one, plus we've ordered some inexpensive flat closed-cell foam cushions for guests and also to use underway.
Easily Replaceable Covers
Sport-a-Seat makes replacement covers for the cushions. Current cost is $69.95 — far less than having custom cushions recovered. So if they get torn up or stained or even if we just want a different color (9 are available), it's relatively simple and affordable.
Good Ashore
The Sport-a-Seats fold up sufficiently to take ashore for a beach barbecue or day at the beach, and sand brushes off the Sunbrella pretty easily. We've never had folding chairs on the boat with us but and have always just taken 5-gallon buckets ashore to use as seats. The Sport-a-Seats will fit in our dinghy and be much more comfortable ashore.
I wouldn't want to put the seats in salt water (say, right in the water at the beach) as the interior frame is steel. But for sitting in the sand, on grass or pebbles? Heck yeah!
Bottom Line
The bottom line is that several other companies make similar cushions, but my research says that the Sport-a-Seat ones last far longer than the less expensive ones — and longer than some that cost more, too. The mechanics of the frame tend to be stronger and the cushions last for years and years. Being able to wash and replace the cushion covers is a big plus.
After researching all the options for new cockpit cushions for us, I reached out to Sport-a-Seat with a few questions and they offered me two for review purposes. I heartily recommend them — all in all, they are a better solution for us than the custom cushions we had and the fact that they are considerably less expensive is a very nice bonus.
Initially Dave liked the look of the old cushions better — as he said, probably just because it was what he was used to as "cockpit cushions." But after just a few days of using the Sport-a-Seats, he's admitted that they are much more practical, comfortable and cost effective.
Discount on Buying Sport-a-Seats
Buy Sport-a-Seats directly from the company website. Use coupon code THEBOATGALLEY10 for $10 off per seat ordered, no expiration date. Free shipping as I'm writing this too — but they don't know how long they'll be able to continue that.
Here's your "Quick Start" to everything you need to know when living on a boat:


Making Boat Life Better
Some links in this article (including all Amazon links) are affiliate links, meaning that we earn from qualifying purchases.