I never thought I'd write this post.
Since beginning The Boat Galley, I periodically have gotten questions about dealing with seasickness and while I've passed on things that I'd heard from other cruisers, I'd always prefaced it with "I don't have a lot of personal experience with seasickness."
Well, that all changed on a 2014 trip to the US and Spanish Virgin Islands on a friend's boat. I was seasick every time we were underway, until I learned avoidance strategies that worked for me.
Frankly, I was surprised.  I've felt a little queasy maybe a half dozen times in the past and truly seasick twice, both in unusual circumstances.  I didn't even think to pack seasickness meds on this trip.  I won't dissect all the possible causes for my increased problems, but apparently it's not uncommon for women approaching menopause to have more problems with seasickness due to hormonal changes — sort of like pregnancy's hormonal changes can trigger morning sickness.
I'm certainly not a seasickness expert, but 10 days of dealing with it (even on the big car ferry to St. John!) taught me a lot.  The funny thing is that I still enjoyed the sailing — but it was a lot better after the third day when I figured out the magic formula to keep me from getting seasick.  (For me, the magic was starting meds 12 hours before we set out, staying outside, letting others consult the charts and guides when underway and taking the wheel for substantial amounts of time.)
This isn't a comprehensive article on the topic, and I'm not a medical professional.  But here are a few things to think about and a little bit of how I coped:
Even if you've never experienced seasickness before, it's possible.  And you need to be prepared.
If you're going on a charter or a friend's boat, take seasickness meds with you.  Don't count on others having them for you — I'm lucky that LaDonna had some and was willing to share.  I'm not a medical professional and am not going to recommend any particular meds — talk to your doctor about what is most appropriate for you (some can cause psychiatric problems, some cause extreme sleepiness, and only a few are appropriate for pregnant women, etc.).
Keep the meds where you can get at them easily.  If you are starting to feel queasy, you don't want to have to dig in lockers.
If you know you tend to have problems, start taking meds about 12 hours before you plan to get underway so that are in your system.  Taking them immediately before getting underway or after symptoms appear is often ineffective as you puke them up before they have a chance to get into your bloodstream.
On longer passages, many people report that seasickness goes away after two days underway.
Dehydration can be both a cause and effect of seasickness — being a little dehydrated can lead to seasickness, and puking from seasickness can lead to dehydration.  Even if you're puking, it's important to keep drinking plain water or ginger ale — your body will absorb at least some.
Seasickness also affects your thinking.  Be aware of this when doing anything!  I didn't appreciate how stupid seasickness could make me and was shocked at the silly mistakes I made.  It's a good thing I wasn't responsible for navigation!  Problems in thinking can just multiply and this is one reason why it's important to prevent seasickness in the first place.
Home remedies:
For most people, getting into a calm anchorage or marina is sufficient to stop the seasickness.  This was definitely true for me — by the time the anchor was down, I felt fine.  And starving!
Conventional wisdom is that some people find ginger helps, others prefer mint.  Ginger snaps and ginger ale did nothing for me and mint didn't sound remotely appealing.  I frankly have never met anyone that's been helped by either one.
Recently, an article in Spinsheet said that many people get relief by using an earplug in their non-dominant ear.  (Read more here.)  We didn't have any real ear plugs; the makeshift ones I tried didn't help.  I'd really like to try this in the future.
Don't go inside or below.  Most people find that they do much better when "outside."  Therefore, having meds and drinks in an easy-to-grab location is critical, as is having food pre-made on longer passages.  Going below to use the head can be a real problem — a pee bottle in the cockpit can help.  On passages, many people will sleep in the cockpit for the first couple of days if conditions permit (always wear a harness and clip in).
Don't read or watch a radar screen if you don't have to.  Even looking at a little chartlet of the anchorage we were approaching was tough for me.  If there are others on board who aren't seasick, have them do these chores.
Pets can have seasickness, too, although it seems to be rarer.  Paz (our dog) was seasick on her first passage and never again.  Ask your vet for advice and what meds are best if needed.  Be prepared — just as with humans, the fact that they haven't had a problem in the past doesn't mean they won't have one now.
The absolute best "cure" for me outside of meds was to take the wheel and I've heard many other people report the same thing.  The seasickness went totally away if I was steering.  While this may not work on offshore passages — who can steer for two days straight until the seasickness goes away? — it can be very effective for day passages.

Practical tips in the galley:
Never assume that there won't be any seasickness.  (Yeah, I violated this rule.)  It's easy to be complacent and not prepared in case it does strike.
Before embarking on a trip, fill a cooler with drinks to keep in the cockpit so that everyone can stay hydrated without having to go "inside."
Alcohol usually makes seasickness worse (we never drink adult beverages underway in any case); some people are bothered by caffeine.
Many people report that pasta and rice are foods least likely to trigger a fresh bout of seasickness; others say not to eat anything spicy.  As you're coming out of a boat of seasickness on a longer passage, my feeling is that the best foods to eat are those that sound good to you.
On longer passages, Gatorade or rehydration drink is good to have easily available in case anyone is sick enough to become dehydrated (on shorter trips, you'll usually be in a calm anchorage or marina before anyone is seriously dehydrated).
If you'll be needing meals underway, prepare them in advance.  Cold rice and pasta salads are good since they don't even have to be heated up.  Energy bars are also easy to grab.  Heat soups in advance and keep them in a Thermos.
Don't try to wash dishes underway unless on a multi-day passage (and then, you might want to wait until the first couple of days — and the seasickness — have passed).
If ginger or mint help anyone affected, keep a stock in a convenient place.
If you are seasick and taking other meds (birth control, cholesterol, blood pressure, diabetes, antibiotics or anything else), you may be puking up your meds and creating other problems.  I don't have the answers for you, but be aware of potential problems and discuss this with your doctor.
Lots of well-known cruisers suffer from seasickness — Lin Pardey and Beth Leonard have both done double circumnavigations despite having to deal with seasickness.  Preparation is key!
Know some other tips or tricks that I missed?  I don't want to get into a discussion of specific meds, but please leave a note about anything else.
---
Our FREE Provisioning Spreadsheet
Wondering how much of what foods to take on your next trip? Know just how much to buy of what — all arranged by grocery store aisle — with our handy Provisioning Spreadsheet. Includes detailed instructions to edit it for your favorite foods, how much your family eats, and how long you'll be gone. No spreadsheet skills needed!
It's FREE — get it here.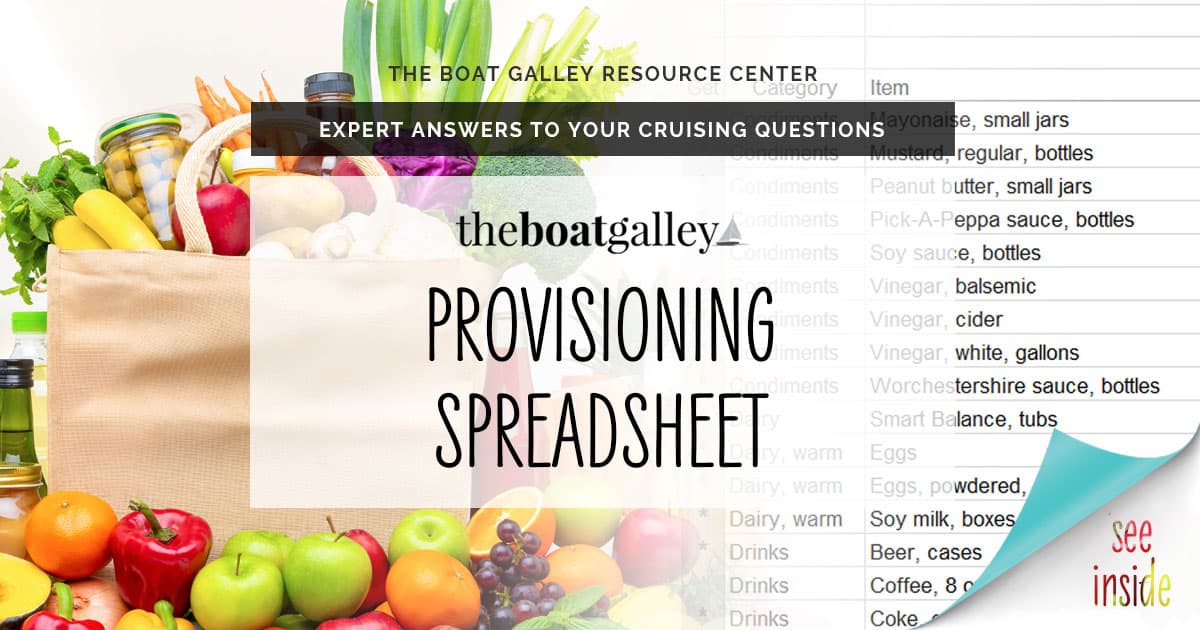 Some links above (including all Amazon links) are affiliate links, meaning that I earn from qualifying purchases. Learn more.