Being seasick is awful.
Having to root through lockers and bins to find any seasick remedies only makes it worse. Trust me on this.
Even if you think you'll never get seasick, it's wise to keep some within reach from the cockpit. Having to go down below makes seasickness worse for almost everyone, as does trying to look through anything.
We keep a package right inside the door to the cockpit, where I can just reach in and grab them instantly – they're right in sight.

Having them there also reminds me to take some before we head out (on long passages or when we think conditions are likely to bother me, I start taking the meds 12 to 24 hours before we leave). And if I forget – or if I don't think I need meds and then discover that I do – I don't make the seasickness worse by having to go inside or start digging through drawers or lockers.
You may prefer a different medicine (meclizine works well for me), acupressure bands, one ear plug or something else altogether but the point is to have it where it's easy to grab and you know exactly where it is. Read about a variety of seasickness remedies here.
One more quick tip: if you take birth control pills, be aware that vomiting from seasickness may leave you unprotected. Talk with your doctor about what to do should this situation arise and perhaps carry alternative birth control with you.

---
Our FREE Provisioning Spreadsheet
Wondering how much of what foods to take on your next trip? Know just how much to buy of what — all arranged by grocery store aisle — with our handy Provisioning Spreadsheet. Includes detailed instructions to edit it for your favorite foods, how much your family eats, and how long you'll be gone. No spreadsheet skills needed!
It's FREE — get it here.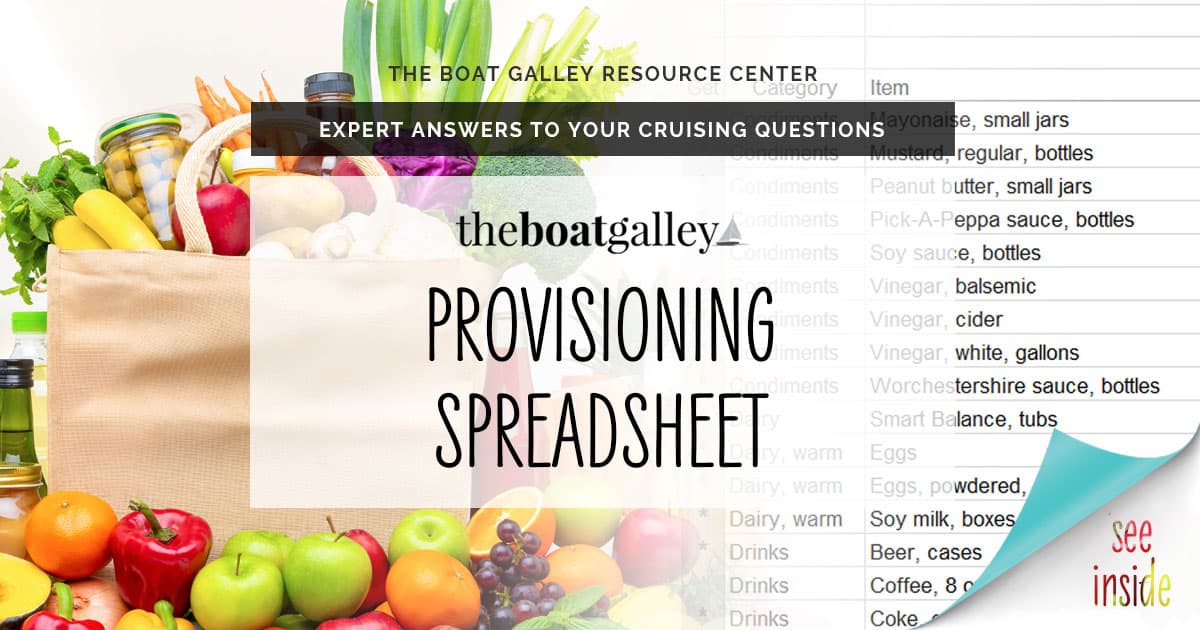 Some links above (including all Amazon links) are affiliate links, meaning that I earn from qualifying purchases. Learn more.