Six weeks ago, SeaTask Group in Fort Lauderdale, Florida (US) loaned us a Rainman Watermaker to use and review. After ten days with it, I published our first impressions and am now putting out the full review.
Summary: I love it. The Rainman works out of the box with no installation; all parts are off-the-shelf; it is designed to be able to be repaired by the average cruiser. It is a simple system, with no fancy bells and whistles, making repairs both less likely and easier. One switch for on/off; one valve to adjust the pressure. It just works, something that is all too rare in boat parts in general and watermakers in particular.
The System: We've been using their AC electrical system, run off a Honda 2000 generator, with their high capacity membranes (26 to 37 GPH). We've consistently been making 30 gph or slightly over here in the Florida Keys.
They also make a totally self-contained gasoline system (used mostly in disaster situations — most cruisers prefer to have a separate generator that can be used for other purposes as well) and a high capacity 12v system which uses 32 amps. The output varies depending on the membranes chosen.

The choice between AC or DC is a tough one; unless you have a large battery bank and plenty of solar/wind power, you're probably going to have to run the watermaker while motoring or run a generator for power even if you opt for the DC system. DC, however, does provide the possibility of using solar and wind, or the engine/alternator, should your generator not work. SeaTask (and also our local electrical guru Alex Miller of Sea-Tek) say that the AC units can run off lithium batteries and a large inverter.
The units are nominally portable, meaning that they are relatively easy to move from boat to boat and do not require installation or intake and discharge through-hulls. This is a major plus for several owners I've talked to (it just so happened that last night we had dinner with two other couples that both had Rainman units on their boat). No need for a haul out to install a through hull. No need to wait for installation. It's immediately usable. Further, while the systems are designed to be owner repaired if necessary, it makes it easy to move the unit to a more accessible place to work on it.
The portability/no installation is important for boat owners who are less than confident of their installation skills, as not having to hire someone can save $500 to $1,000 or more for a professional installation. And if there is a problem, it's almost always cheaper if you can take your unit to a shop for service than if you have to have a technician come to your boat to work on it.
All that said, most owners do opt to "semi-install" both the pump unit and the membranes to secure them when underway. Some utilize through one or more through hulls while others continue to put the hoses out a convenient port. Using a through hull for the intake is better if you intend to use the unit underway — the hoses will otherwise rise towards the surface and can suck in air which is bad for the pump and membranes.
You can make your installation as simple or complex as you wish, with everything in the same compartment or the pump and membranes separated. And the pressure control valve can be separate from the membranes. It is still relatively simple to remove the pump unit or membranes for work.
Still, you have to find space for the two units somewhere. You can find the dimensions here. And this, really, is the only downside to the Rainman unit: you need one place that is large enough for the pump unit, instead of spreading it out as can be done with modular assemblies. The size of the membranes is comparable to other watermakers so isn't a special problem for the Rainman — but is certainly something to consider. The option of the smaller membranes — at the "cost" of reduced output — makes the Rainman work for some boats that have a problem finding space for full 40″ membranes
Since we were only borrowing the unit, we did not give it a permanent home or make any connections to our water tanks. Consequently, it took about ten minutes to set the unit up each time we wanted to make water. For freshwater flushes, we put water into a jerry can. Overall, it would be much simpler to use if it were somewhat more installed with hoses not having to be hooked up before each use and if we could use the tank water (with a charcoal block filter on it) to do the freshwater flush.

One thing to note whether installing the unit or not is that the pump can lift water about 6 feet. If you have a higher lift, you'll have to install and use a boost pump. See all the installation information here.
Great Features
There are several features that I really like about the Rainman system. We've had two different watermakers on our two boats, plus numerous friends with watermakers, so these are basic observations of the Rainman system compared to many other systems — but not every item will compare in the same way to every other system.
5 micron prefilter. This is a pretty fine pre-filter compared to what some other companies recommend, and will better protect the pump and membrane over the long term. Some companies — particularly those trying to use the least power possible — use 20 or 30 micron prefilters so as not to impede the water flow. Our Katadyn system — which came with our boat, we didn't choose it — uses 30 micron prefilters and we've had to rebuild the high pressure pump every 12 to 15 months. Admittedly, the system is at least 10 years old, but the pump rebuild kits get expensive, not to mention time spent on the project!
No proprietary parts. This is huge and another big difference from our Katadyn. Katadyn parts must all be purchased from them — at prices that seem pretty high for what we get. In one case, we were able to find a part number and bought a simple valve for $38 instead of paying Katadyn $157 for it. Most other times, we have not been able to find the parts otherwise and have had to pay Katadyn's prices.
No electronics. Electronic controls to do automatic freshwater flushes or tell when "drinkable" water is being made and divert the product water into a tank are wonderful selling points, but frankly often cause more frequent breakdowns than simple manual systems — and they require proprietary circuit boards to fix.
Easily removed. Whether for service or if moving to another boat or selling after a trip, the Rainman is far easier to remove than any other system.
Freshwater flush. Every watermaker should have a freshwater flush capability to help extend the life of the membrane. Our Katadyn doesn't and is one of our major gripes with it. I've heard of other systems that also lack this feature. Saltwater is filled with various "stuff" — animal and vegetation — that decomposes in the water. If not rinsed out of the membrane after making water, it will slowly clog the membrane over time and you'll be replacing the membrane every couple of years instead of every five to seven. Since the Katadyn doesn't have a freshwater flush, we end up having to use it every day so that there isn't too much dead crud sitting in the membrane. Believe me, it isn't always convenient to make water every day. The Rainman, by contrast, only has to be run once a week.
The watermakers that came on both of our boats had far less capacity than the Rainman. And we lived with it. But I have to say that being able to make 30 GPH is nice. We don't spend nearly so much time making water in general, and if I want to do a water-intensive cleaning project, it's no problem. And I love being able to shower on board without guilt at the water I'm using.
Bottom line: Our experience is that the Rainman is a great watermaker, particularly well-suited to boats that want a simple plug-and-play solution. Not needing to be fully installed makes it cheaper for anyone who is not a confident DIY-er, and easier to service for all. No proprietary parts also makes repair and ongoing maintenance cheaper and also achievable in remote places. It's a solid unit that just plain works.
We love the unit and were all set to buy it instead of return it. Unfortunately, when we tried putting it in the space we wanted to, we discovered that the pump unit would not fit. We have a very small catamaran and really don't have an alternative location that doesn't have other problems. So, unfortunately, we're going to be saying goodbye. I'm going to miss it.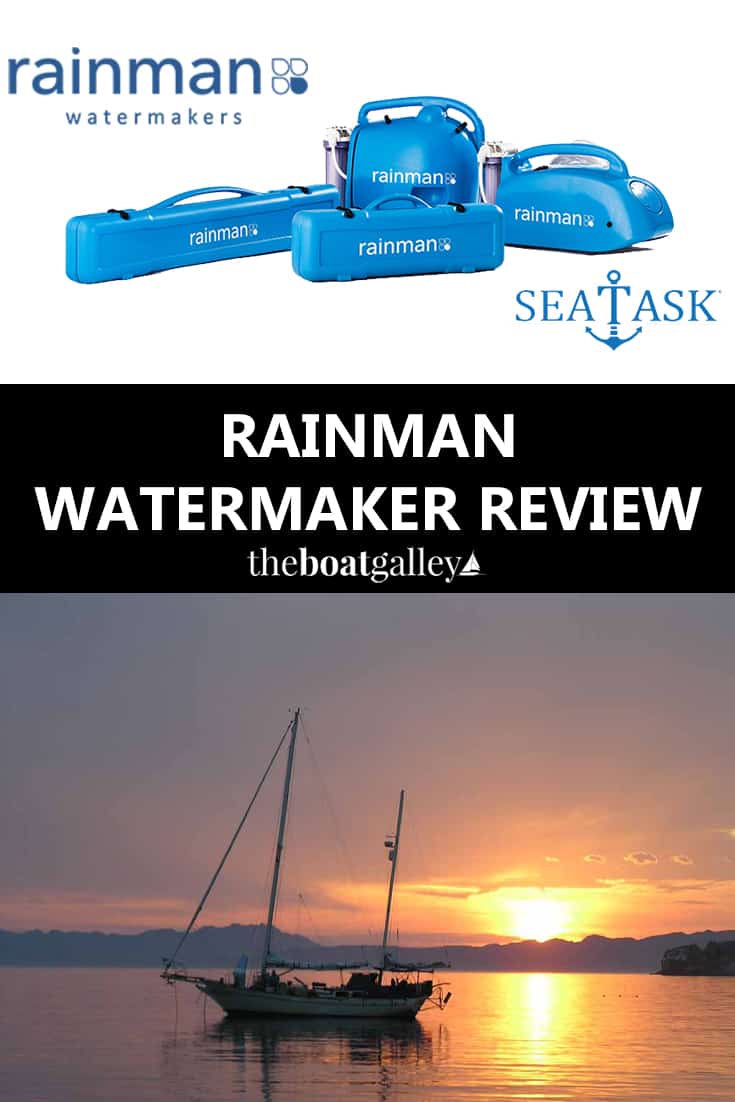 Making Boat Life Better
Some links in this article (including all Amazon links) are affiliate links, meaning that we earn from qualifying purchases.