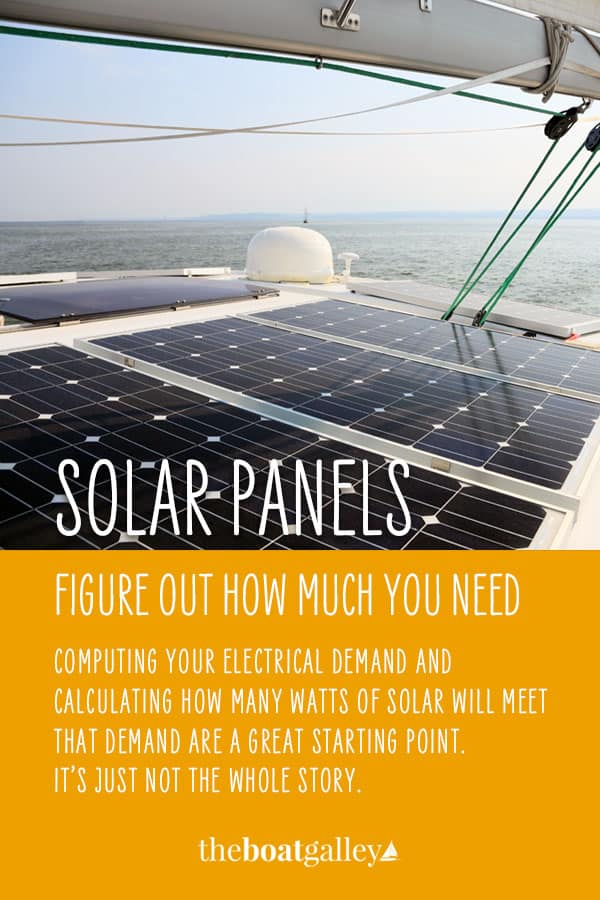 Lately I've seen several links on Facebook to various articles on determining how much solar power you need for your boat (or camper, or even a home).
After reading several, I felt compelled to chime in with my two cents. And, as is often the case, my views are a little different from the experts.
Basically, I think all the info about how to compute your electrical demand and calculate how many watts of solar will meet that demand are a great starting point. I just don't think they are the ending point.
I think that neither calculation can be made with any degree of precision in general and the estimates are even more likely to be wrong if you haven't yet cruised for more than a week or two at a time or only in a different locale than your long-term cruising plans.
The Demand Side
Typically, these articles tell you to do an energy audit. They say to list every single electrical appliance on your boat, figure out how much each runs per day, look up how much each draws when it's on, and calculate the total usage in terms of amp-hours.
It's great in theory.
But it's virtually impossible to know in advance what you'll use and for how many hours each day! It's particularly hard to know before you've cruised in a particular area, but even experienced cruisers have a hard time knowing exactly what their usage is.
There can be considerable variation from one day to the next in general.
If you cruise to a warmer climate, the refrigerator and fans will run far more than you expect. There's both the temperature difference and — for the refrigerator — you'll be drinking far more cold drinks over the course of a day, and every warm drink that has to be chilled increases the load on the refrigerator. Seasonal variations will occur too! It's not unusual for the refrigerator to run twice as much (or more) when full-time cruising in warm climates than it did on weekends in cooler climates.
If you have a 12v watermaker, you'll probably make more water than you expect when it's hot, both for drinking and for showers.
Friends may stop by to chat and you end up with more lights on and maybe some music too. Oops, that wasn't in the energy budget.
How can you estimate an "average" amount for extra lights to work on an emergency repair?
Taking photos, posting to a blog or Facebook or even just checking on weather can add quite a bit as cameras, computers, tablets and cell phones all have to be charged.
And if you're using an inverter to convert DC to AC power, you can check the AC draw of the appliance, but it's hard to know just how much will be lost in the conversion. It's often in the 10-20% range, again meaning that you'll be using more DC power than you estimated (unless you included the conversion loss in your estimate).
If you are sailing (motor off) you'll use more power than at anchor due to instruments, autopilot and radar in addition to all the "normal stuff."
We've also found that what the manufacturer calls an "average draw" for an appliance that cycles (such as a refrigerator) often just doesn't match what happens in real life. They may say it'll run 20% of the time . . . but assume that the door isn't opening, you're not putting anything warm in, and the temperature is 70 degrees. So they may say it has an average draw of 2 amps, or 48 amp-hours a day.
Then you're getting into it a dozen or more times a day, putting a dozen warm drinks in, and the temperature outside is 90+. Suddenly it's running 50% of the time and actually drawing 120 amp-hours a day. That's a difference of 72 amp-hours between the numbers you used for your energy budget and what your actual need is (NOTE: these numbers are for illustration only and probably don't reflect your refrigerator usage — in very hot weather we've had our refrigerator run 56 minutes out of every hour; in cool spells, it may run only 10 minutes an hour.)
The Solar Output
How much a given wattage of solar panel will actually put out on a given day — or even on average — is equally uncertain. Was it cloudy? Sunny? Did the boat lie so that there were shadows on the panels for part of the day? How many hours of usable sun are there where you are? How clean are the panels? If you're sailing, your sails are likely to shade one or more of your panels, too.
Again, you can make some general estimates but realize that they are only estimates. And yes, the brand/technology of the panel(s) and the charge controller will play a role in the actual production.
Bottom Line
The bottom line is that until you start cruising in your intended cruising grounds with your setup, it's impossible to know if it's adequate or not.
Take us, for example. We put a 345-watt high voltage solar panel with a Kid by Midnite Solar MPPT controller on the boat last spring. At the time, it was more than adequate for our needs even with a watermaker We were fully topped up by 11 AM or noon most days. But we had a propane refrigerator, which we just changed to a 12v model. So our demand has gone up.
But how much has it gone up? We don't know exactly and it will vary from day to day.
And the question remains: How much solar power do we need?
Well, we think we have enough, but we won't know for sure until we get back in the water in a couple of weeks and start cruising. I can do all sorts of "how much solar" calculations, but the proof will be in actual use. (And yes, we have a generator as a backup.)
And that's my main point here — the worksheets can help you estimate your usage and how much solar power you might need, but realize that they are only estimates.
If you don't already have one, a battery monitor is invaluable for telling you if your batteries are being sufficiently charged and how much power you do have. The battery monitor gives you the real story. Read about battery monitors here.
Another thing to remember: I've never met anyone who said they'd put too much solar on their boat.
Read Next
Making Boat Life Better
Some links in this article (including all Amazon links) are affiliate links, meaning that we earn from qualifying purchases.