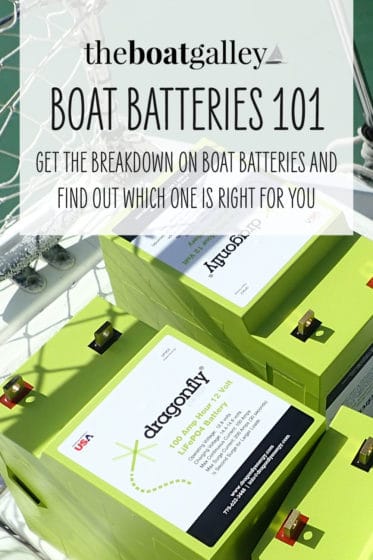 The battery bank on a cruising boat is the (hopefully) beating heart of the marine electrical system. While at first glance it may seem to be a simple system, it is perhaps the most complex and misunderstood component. There are many types and chemistries of batteries, different sizes, different intended uses and confusing and often outright misleading labeling.
Battery systems are so confusing that when the time comes to replace batteries, many boat owners choose to just either copy exactly what was in the boat before or get whatever an installer says is the best option. The dual problems here are the previous boat owner probably just did the same thing or didn't have access to more modern options, and frankly, many installers don't know any more about battery technology than the distributor's brochures told them.
Basic Terminology
Before delving into the battery types, a few basic terms need to be understood. We won't get too technical in the scope of this article, but the following need to be understood to really get the most out of the information here.
Cycle or Cycle Life: For batteries, a cycle is a discharge, followed by a recharge. That's it. For boats using solar as their main source of charging, it's simple as a cycle is generally 24hours. Cycle Life is the number of times that a battery can be charged and discharged before its total capacity falls below a set amount, generally 80% of original capacity.
AH or Amp Hour: An AH is a unit to measure the amount of energy used or stored. Batteries are rated in AH it can hold. There is a lot more to AH than we will get into here; for now, more AH equals more capacity.
Deep Cycle, Starting and Dual Purpose Batteries: Deep cycle batteries are those designed to sustain discharge for long periods of time with thick heavy plates but are limited in the amount of instant power they can supply, versus a start battery that has more and thinner lead plates and can provide lots of instant power but will die quickly if discharged for longer periods.There are also dual purpose batteries that are a blend of deep cycle and start characteristics; some types are better at this than others.
C Rate: C Rate is complicated. For simplicity's sake, C Rate is the ratio between Capacity, Time, and Current being drawn. For example, a battery will usually be rated at a C20 rate. A 100AH capacity battery rated for C20 will provide 5 amps for 20 hours before being fully discharged.
Depth of Discharge (DOD): This is how far a battery or battery bank has been depleted. Most often expressed as a percentage. Commonly saying a battery has reached 80% DOD means the battery only has a remaining capacity of 20%.
Major Types of Batteries
There are four primary types of batteries used on boats.
Flooded Lead Acid (FLA) Batteries
Flooded batteries are the granddaddy of battery types and probably still the most commonly used battery type for starting engines and deep cycle applications in boats and RVs.
Pros:
They are the cheapest by far upfront initial investment. Deep cycle banks can be bought for $1 per AH of capacity.
FLA batteries are robust and handle cold and hot temperatures fairly well.
*IF* taken care of properly, discharged no more than 50% very often, and used regularly, good FLA banks can last 5 to 8 years.
Cons:
FLA batteries need to be fully recharged after discharge in order to get maximum cycle life.
Like their cousins AGM and GEL batteries, the chemical reactions that store and discharge energy are inefficient, combined with the necessary long absorption cycles, it takes quite a bit more energy to fully charge an FLA battery from 50% DOD to full than it provides going from full to 50% DOD.
FLA batteries are heavy! A typical 12v deep cycle battery can be 80+ lbs. It's not an easy or fun task yanking out old ones and getting new ones into the often hard to access locations batteries are installed in on boats.
Maintenance! In addition to making sure they are discharged and charged correctly, FLA batteries require periodic examination and topping off the electrolyte contained in the battery cells with distilled water, usually once a month. Again, in hard to reach places this can be a real chore, although a battery watering system can make this task much easier.
Flooded batteries also have higher rates of self-discharge than other battery types. Self-discharge is especially a concern with boats used occasionally or seasonally; a start battery left alone for a few months may not have enough charge upon return.
AGM – Absorbed Glass Mat Batteries
AGM Batteries were once the advanced battery technology on the market, having features that improve upon FLA batteries.
Pros:
Maintenance-free! AGM batteries don't have a liquid electrolyte like flooded batteries that gasses off during charging and thus you don't have to add water periodically. On boats, where the maintenance chore list never ends, one more task eliminated is a good thing.
Provides and accepts charge at higher rates than FLA batteries. Shorter recharge time and the ability to provide short term higher current than FLA makes them a solid choice for smaller banks that sometimes need to run a high load like coffee makers or microwaves. It also makes AGMs an excellent choice for dual-purpose batteries; that is, batteries expected to act as both deep cycle batteries and have engine starter duties.
Lower rate of self-discharge than FLA. Flooded batteries, in fact all batteries, lose some of their charge over time just sitting idle. For a boat used infrequently on a mooring or at anchor without any passive power source like solar, AGMs have an advantage over FLA.
Better overall service life than FLA batteries, they also are less prone to premature failure from occasional deep discharge than FLA Batteries.
Because AGMs use a gel-like suspension rather than pourable liquid, they won't spill battery acid and can be installed sideways, making them an option for some of those odd boat layouts we all know and love.
Cons:
Cost: AGM batteries cost quite a bit more upfront than FLA batteries of similar capacity. They also have the highest cost per lifetime AH of the major battery types.
Sensitive to overcharge. Accidentally overcharging AGMs with voltage over 14.4 can quickly and irreversibly destroy the battery.
Gel Cell Batteries
Gel batteries, while an option in a few circumstances, are not often used on boats anymore.
Pros:
Gel batteries are very similar to AGMs and share most of the advantages over FLA. They are a bit more adept at handling deep discharges than AGM without damaging the battery.
Cons:
Lower capacity than FLA and AGM for the same space.
Costs more than AGM.
Do not handle high discharge rates as well as AGM.
LiFePO4, Lithium Batteries
LiFePO4 batteries are a revolution in deep cycle storage technology. They outperform every other chemistry in every category.
Pros:
Lighter: Much lighter than the other battery types for the capacity.
LiFePO4 batteries have a cycle life far exceeding the other battery types.
Almost 100 percent efficiency at nearly any charge or discharge rate. No long absorption times, very high current acceptance, meaning they can be charged much faster at higher rates than other types. A 100AH LifePo4 battery fully discharged can be recharged in an hour at 100A current. FLA batteries can't really accept much more than 20% of their capacity in a charging cycle. In addition, a 100AH LiFePO4 Battery can produce 100A current for an hour, whereas a 100AH FLA or AGM Battery would be dead in 20 minutes at that current.
Short charge times: Other battery types require several hours to recharge the last 20% of their capacity, while LiFePO4 does not. For solar-charged batteries, this means that FLA and AGM batteries need to be up to 80% with several hours of good daylight left, while a LiFePO4 does not. So, if you have high power needs and less space for solar power, LiFePO4 are a clear winner.
No maintenance
A true dual-purpose battery, good for deep discharges like a deep cycle and also for short intense bursts like a start battery.
Can be discharged 80% routinely and an occasional 100% discharge will not damage them.
Minimal self-discharge means can be left disconnected for a very long time with no noticeable drop in capacity.
Exceptional voltage stability under load.
Cons:
There is only one bullet point here, and that's the upfront cost. Quality drop-in LiFePO4 batteries with built-in battery management systems (a requirement for LiFePO4 ) run about $950 per 100AH. For a quick comparison, I have a 1350AH FLA bank on my boat. Twelve 6v Trojan batteries give me a safe usable capacity of 700AH. Total cost $1300. A LiFePO4 bank with the same usable capacity from Battleborn, or any other major brand, would have cost $7000. Now, that's the initial investment. Because LiFePO4 last much longer, discharge and charge more efficiently, the ultimate cost per unit of energy over the lifetime of the batteries comes out much closer, probably about equal.
Read more about lithium batteries and Carolyn's decision to switch to them here.
Battery Sizes
Batteries come in a variety of sizes. Often denoted by Groups, GC10, L16, etc. These denote the physical size of the battery, not its capacity in AH. When it comes to choosing your battery size, there are a few considerations.
Weight: The big ones like 4D batteries are huge monsters, weighing over 150 lbs. Getting those in and out of a battery compartment can be a major challenge.
Voltage: Most boats run on 12v. Some 24 or 48. Unless you're doing a major overhaul, I suggest not changing that. Batteries are generally sold as 12v, and six-volt batteries can be wired together to act as 12v batteries.
When it comes to FLA batteries many 12v batteries, despite the label, are not true deep cycle batteries. I don't think I've ever seen a big 4D battery that was truly built as a deep cycle battery; they generally are more of a dual purpose compromise battery. If they fit, 6v batteries, often called golf cart batteries, are the best deep cycle option and often the less expensive one at the same time.
All batteries in a bank do not have to be the same size. They do need to be the same voltage, although it is acceptable to combine 12-volt batteries and 6-volt batteries that have been wired together to form a 12-volt unit. Read more about combining battery sizes.
Summary
If you can afford the upfront cost, AND you plan to keep your boat at least 10 years, there is almost no reason not to get LifePo4 batteries. They are truly a game-changer. The list of advantages is enormous. More and more people are adopting them; they are no longer a niche or "new-fangled" technology. I've yet to hear of a single soul who purchased them and regrets it. Again, if they are in your budget and you're keeping your boat long enough for the initial investment to amortize down to a reasonable price, you wasted time reading this article, just get the LiFePo4.
If spending a thousand dollars per 100AH battery isn't in your plans, 6V FLA batteries are usually the best choice. You can build a large reliable battery bank cheaply. Taken care of properly, the lifetime cost is comparable to LiFePO4, and in 8 years when your FLA bank dies, maybe the upfront cost of LiFePO4 will be more palatable, or one of the dozens of other new techs in the pipeline will come in better and cheaper than LiFePO4. I personally chose FLA for my boat a year ago. I ran a 5000BTU air conditioner 24/7 last summer in my aft cabin in the Florida Keys without shore power or a generator, so a well-designed system based on FLA can still do great things.
Honestly, unless you think you're going to forget to add water to FLA batteries, or you need dual-purpose batteries, there are few reasons to go with AGM/Gel batteries based on the cost to performance ratio significantly lagging both FLA and LiFePO4.
I hope this helped sort out and demystify the battery buying process. If you have questions or additional thoughts, please leave them in the comments.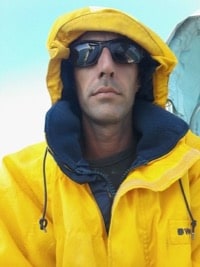 Cory Nickerson sold everything, bought a boat, and is currently cruising the North American east coast with his wife Mendy aboard their CSY 44.
Some links in this article (including all Amazon links) are affiliate links, meaning that we earn from qualifying purchases.