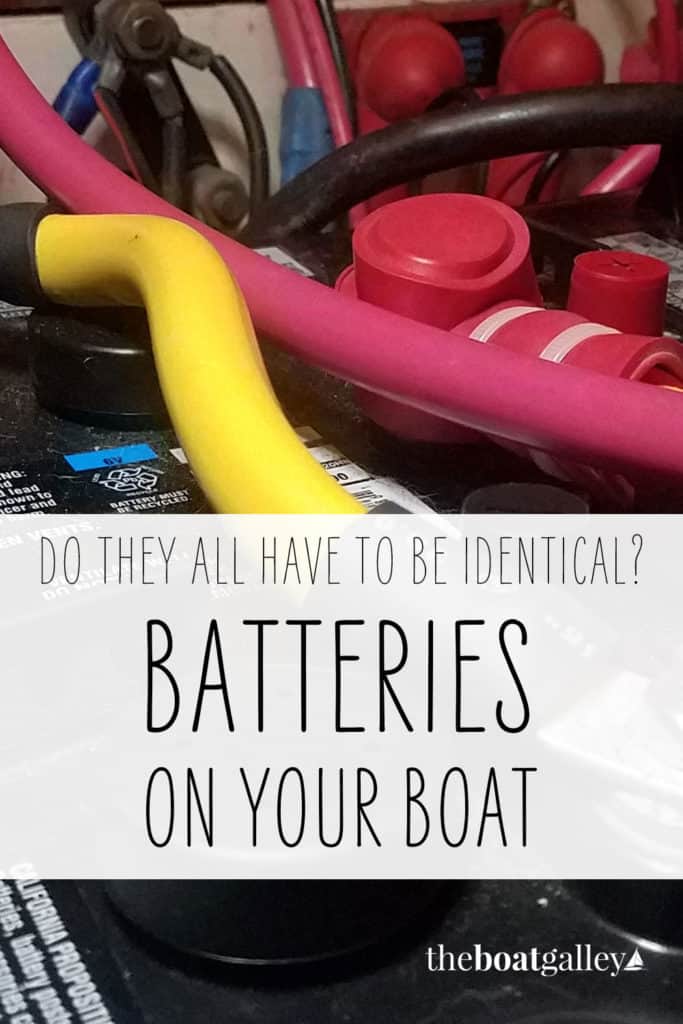 This post is about wet-cell lead-acid batteries and was written in 2016 when we replaced those. In 2019, we upgraded to lithium batteries — read here if you want to know about those. (Learn more about Boat Battery Types here.)
---
When we bought Barefoot Gal, we knew her battery bank needed upgrading. Her batteries totaled only about 230 amp-hours – and I say "about" since none of her batteries were deep cycle batteries and we had to "guess-timate" the amp hours.
We knew that we needed both a larger battery bank and deep cycle batteries for our full-time life aboard. Deep cycle batteries are designed to provide power over time, whereas starting batteries are designed to provide a quick blast at max power; dual purpose are a compromise between the two. Here's a great comparison of the three types by Trojan battery company (they make deep cycle, starting and combination batteries, so aren't biased towards any one).
Our previous boat had Trojan wet-cell deep cycle batteries and we really liked the combination of performance and price. We did do a bit of looking at AGMs and even lithium batteries, but quickly decided that for us, Trojan wet cell deep cycles were the way to go – especially as we'd made battery watering a simple 2-minute chore by installing a watering system last winter.
Last winter, we'd done quite a bit of upgrading to Barefoot Gal's power system (a new shore charger, Honda generator, battery monitor, watering system, correcting wiring so that the switch actually did switch the batteries off and upgrading the solar charging). When one of the batteries died in the middle of rebuilding the engine, we had simply done an exact swap-out for a new battery: not what we wanted in the long run, but the quick-and-dirty solution while up to our elbows in the engine project.
Why hadn't we upgraded the batteries then? In a word, space. The battery compartment on a Gemini catamaran is smallish, shortish and oddly shaped around the centerboard trunk. We were going to have to do some careful measuring and planning to get a larger and better bank in there. It was not going to be a simple or quick job. And last winter, we just needed a working battery bank right then. (For those wondering, trying to enlarge the space or move the batteries was an even bigger challenge.)
The good news is that we were able to install 355 amp-hours of much higher quality lead-acid batteries in the space we had – a little more than a 50% increase in amp-hours.
I know that no two boats have the same battery setup, but want to share some things that we learned in the process of this project. NOTE: this isn't everything you need to know to plan a battery installation, but rather things that we have not found in most discussions. 2019 UPDATE: We now switched to lithium batteries; this article is still applicable if you're using lead-acid or AGM batteries.
BUSTED MYTH: ALL BATTERIES HAVE TO BE IDENTICAL
For years, we'd heard that all lead-acid batteries in a bank have to be identical: same size, type and age. But it was one of those things that we'd simply "heard," not something that we knew to be true from an engineering standpoint. I called the Trojan tech support line and spoke with one of their engineers. He told me:
All batteries in one bank should be the same type – that is, deep cycle vs. starting vs. dual purpose.
The batteries should be the same technology – that is, wet cell, AGM, gel or lithium.
The age of the batteries does not really matter; the critical item is that if one battery is in worse shape than the others – as commonly happens when there's an "old" battery – it will drag the whole bank down. Thus the "rule" to replace all together.
The size – physical size and amp-hours— of the lead-acid batteries can be different.
It is okay to mix voltage of the individual batteries IF they are wired in series first so that each series has the same voltage before wiring in parallel.
Batteries wired in series should be identical in voltage and amp-hours.
This allowed us to get much more creative in our battery configuration! More on what we finally did below.
WEIGHT MATTERS
When planning a battery installation, consider the weight of the batteries and how you'll have to move them. Lead-acid batteries are heavy!
One of our possible configurations used two 82-pound batteries. We thought about what it would take to get them into the dinghy, out of the dinghy and onto the deck of the boat, and then into the battery compartment. In and out of the dinghy seemed like a good recipe to wrench a back, but at least we could work together there. Getting them into the battery compartment would be a one person job – and the battery would have to be held at arm's length and lowered into place.
Dave's strong, but there is no way that he could do that with an 82-pound battery. That configuration was quickly out of the running; the ones we ended up with weighed a maximum of 66 pounds and provided 55 amp-hours more.
SIZE OF THE BATTERIES
Obviously, you have to consider the size of the battery compartment. But for an installation such as ours, where the batteries go through an opening and then are lowered and slid into the battery compartment, the size of the opening matters as well. Having to tilt heavy batteries at odd angles and at arm's length is something that you probably want to avoid. We had to do a tiny tilt – I just had to push the bottom of the last battery over about a half-inch to slide it in – and we could not have managed much more in the tight confines we were working in.
TERMINAL TYPE
Turns out that you can get all sorts of different types of terminals on batteries. We prefer the threaded studs with a nut so that it's easy to put more than one wire on a stud. We need this for paralleling batteries and also for putting "sense wires" (for the battery monitor) on the bank. Whatever your preference, make sure to order your batteries with that style terminal – available styles are usually listed in the specs for a particular battery.
BATTERY CARRIERS
Don't assume that your new batteries will come with carrying handles or, if they don't, that the carrier you already have will work.
We got our batteries from the store to the marina only to find out that our carry strap didn't work on the two that came without a handle. That took a trip back to the store to buy the right handle. Check it before you leave the store and you'll save a bunch of time and hassle.
PLANNING
If you are looking to do something other than a direct replacement, it pays to spend a lot of time playing with different configurations to get the most amp-hours in your space. Measure your space carefully and download the battery specs from the company(ies). Trojan has a nice PDF listing all of their batteries and I spent hours trying different configurations (I'm sure that no salesman or battery installer would have spent the time we did on brainstorming ways to get more in).
One thing that I discovered is that sometimes a company will have two batteries that are exactly the same size, but offer different amp-hours. Trojan T-105 6 volt batteries are what everyone is familiar with, and they offer 225 amp-hours. But Trojan also makes the T-125 that is exactly the same size but weighs 5 pounds more and provides 240 amp-hours. Hmm, an easy way to gain almost 7% more amp-hours – when you're as tight on space as we are, you need to squeeze in every bit you can!
SERIES OR PARALLEL?
Batteries can be connected in series or in parallel. Series is where you connect the positive of one battery to the negative of another to increase the voltage (only one wire connects the two). The best example of this is wiring two 6-volt batteries to produce 12 volts. Think of this as making a bigger battery with two halves – the positive and negative of the "big battery" are the positive and negative that you did not connect together. The amp-hours of the "bigger battery" are the same as each individual battery.
Parallel is where you connect the positive of one to the positive of another, and the negative to negative. The voltage stays the same and the amp-hours are added together.
Now here's where it gets fun: you can hook up batteries both in series and in parallel in a single battery bank. So you can connect two 6-volt batteries in series to make a 12 volt "big battery" and then connect that in parallel with another 12 volt battery (or two more 6 volt batteries connected in series) to get more amp-hours. If you're confused by series and parallel and how they can work together, here is a great description and diagram.
OUR NEW CONFIGURATION
We ended up with two Trojan T-125's wired in series, producing 240 amp-hours at 12 volts.
12 volts
Deep cycle
Wet cells
Identical batteries wired in series
We then wired this in parallel to a Trojan 27TMX, with 115 amp-hours at 12 volts.
12 volts
Deep cycle
Wet cells
Result: 355 amp-hours at 12 volts and meeting all the requirements that the Trojan engineer had laid out in my phone conversation. He told me that more and more boats and RVs were doing this type of configuration to use every bit of space available. To quote Dave, "I don't think we could get even a AAA battery more in there."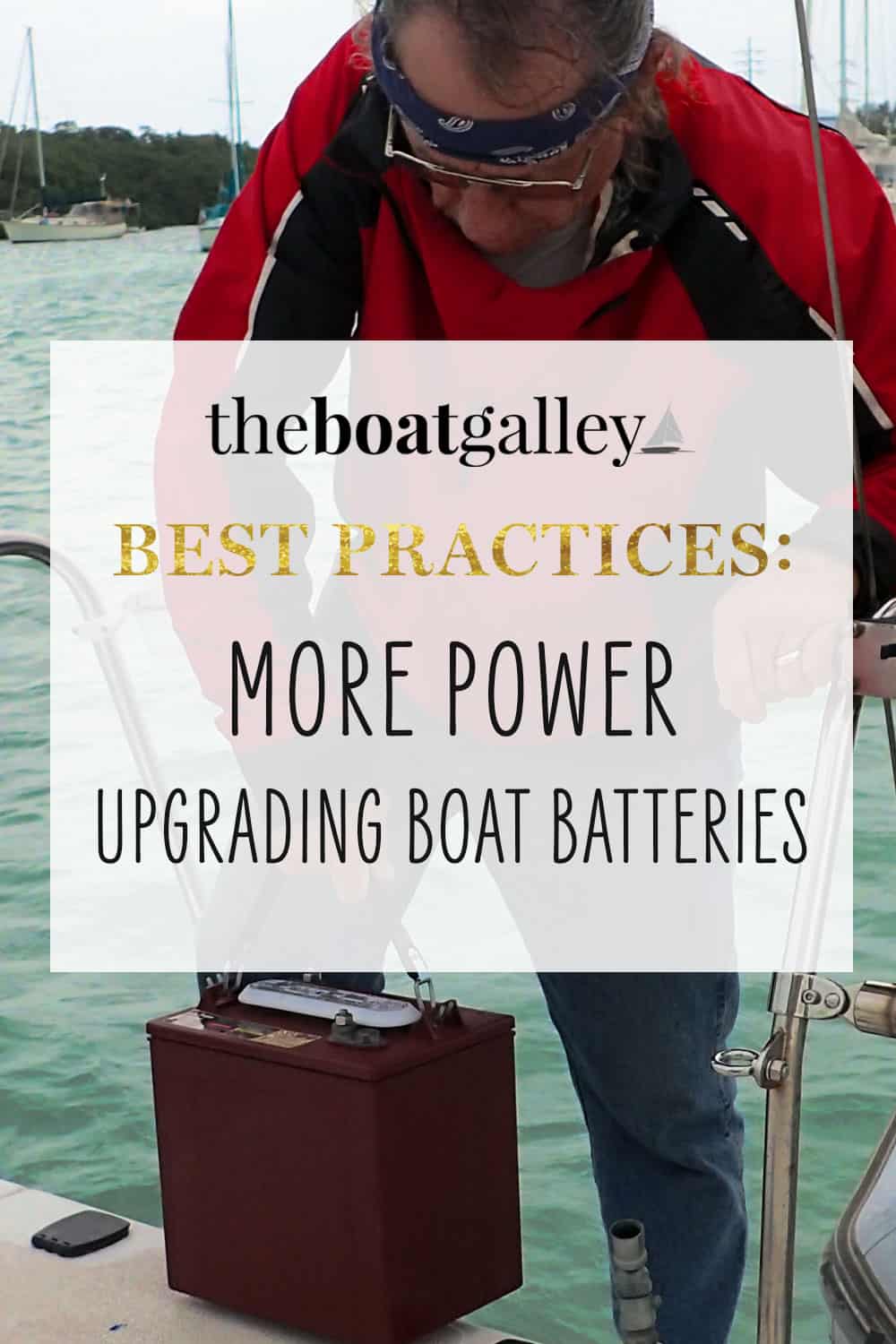 Making Boat Life Better
Some links in this article (including all Amazon links) are affiliate links, meaning that we earn from qualifying purchases.