I've come to the conclusion that I'll never have my boat perfectly organized. And so I periodically find myself pulling everything out of a particular area and trying something new . . .
Need help figuring out how to store everything on your boat? Storage Solutions for Life Afloat (online course) can help you make a seamless transition to living aboard.
I get a lot of questions about what should go where . . . or "where do I even start?" . . . but the real answer is that you'll probably periodically decide that something's just not working and change it around.
On our first boat, at first we found ourselves doing major rearranging maybe once a month, as we discovered that the cubby that looked so perfect for all the tools was really a pain to get anything out of since you had to remove the companionway steps to access it. Or that it didn't work to have the majority of my canned food under where Dave liked to sit while I was cooking. And so on. That first year was a straight-up learning curve!
I know that I've got a problem with how things are organized if things are never put back where they "go." If a particular item is always left out or just piled on top of something else, it usually means that I'm using it frequently but don't have it in a place that's easy to get to. So it gets left on top. That's a clue I need to find a better place for it.
If Band-Aids, antiseptic and so on keep ending up on the bathroom counter, and I don't put them back in the big box of first aid supplies, maybe that means that it's just too hard to get to for the "everyday" things. A small box under the medicine cabinet makes sense for the items we use all the time. A minor reorganization.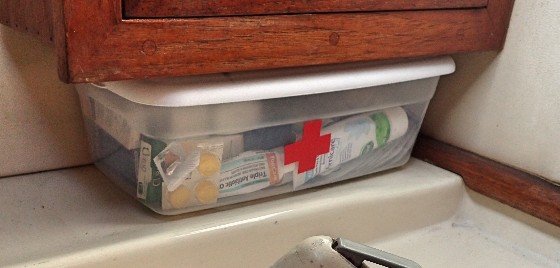 We've also learned that we tend to reorganize things by season of the year, or if we're making a longer stay in a marina. In cold weather, jeans and fleeces get put in the easy-to-access drawers. When we're out cruising, we rarely use the water hose but the bucket we use for rinsing the anchor chain stays at hand. In a marina, the opposite is true.
If we're working on Barefoot Gal in a boat yard, things get organized totally differently . . . then things have to go back to their "on the water" homes before we launch again. And yes, I arrange them slightly differently than I did before, hoping to fix the problems I had last year.
When it's just the two of us, we use the guest bed to make a lot of gear more accessible. But when we have a guest, we find other places to tuck that gear into.
In the galley, packaging can change from one place to another. When we cruised Mexico, in some areas all the wine was sold in bottles; 100 miles away it'd be mostly in boxes. And I'd have to store it in a different place. Ditto for products that were sold canned in one place and in Tetra packs the next time I provisioned.
I used to think that something was wrong with us that we couldn't find the one "right" place for everything. But now I think that it's a combination of what we're doing at a given time and how our lives change over time. And so I periodically reorganize.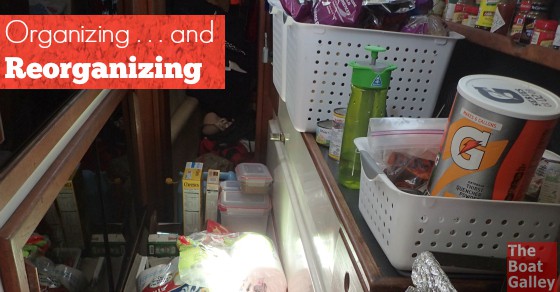 Get answers to all your storage questions in Storage Solutions for Life Aboard! Online course with all materials available immediately to help you end the piles of "stuff" that have no permanent places. Many of the ideas you can implement today. Real help, real fast.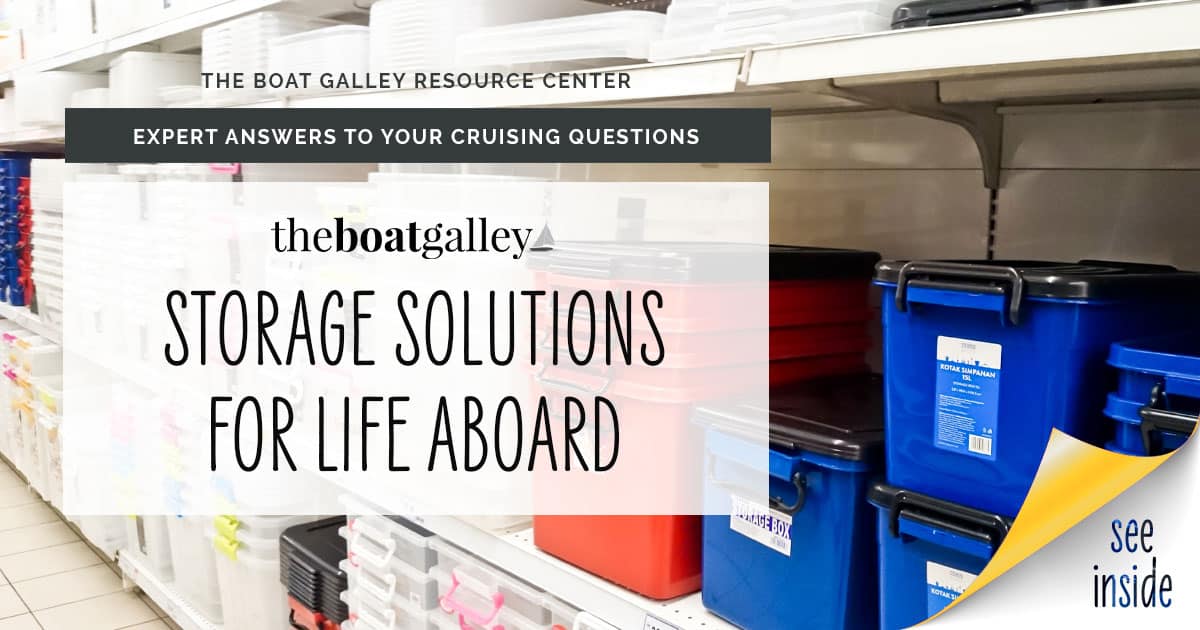 Some links above (including all Amazon links) are affiliate links, meaning that I earn from qualifying purchases. Learn more.