Over the years, I've used The Boat Galley newsletter to share what we've been up to and what we've learned while doing it. Here are two posts from a few years back sharing all the important little jobs we did to get Barefoot Gal (and us) ready for the trip.
---
Lots of stuff to do to be ready to head to the Bahamas at the beginning of May. Here's this week's behind-the-scenes look at what we're doing — making decisions, continued list-making, and buying a few things:
Planning to cruise the Bahamas? Don't drive yourself crazy trying to figure everything out. Get my self-paced online course, Get Ready to Cruise the Bahamas, for step-by-step details on 30 critical tasks. Just $39.
Decided that we want to switch from ablative bottom paint to hard, figured out the work involved and scheduled our haul out.
Researched problems with current outboard (let's hear it for YouTube) and Dave repaired it. No longer planning to buy new-to-us one.
Began researching options for internet in the Bahamas (articles coming on this)
Inventoried diesel, outboard and general boat spares, decided what we need to buy.
Ordered two Sport-a-Seats for the cockpit (review coming after we use them for a bit) as an alternative to new custom cockpit cushions.
Downloaded AquaMaps, a navigation app, and got familiar with using it (watch for review on this too!)
Quick tip: a list app that syncs between all your devices (phone, tablet, laptop) is wonderful for letting you add items to "the list" no matter where you are and sharing them between family members. Critical for keeping me organized!
[And in another newsletter post a short while later…]
Just a month until we're leaving for the Bahamas! The dinghy rehab has been the big project this past week, but today should be the last major day of work on it. Whew!
What else have we been doing to get ready?
Arranged for enough of all our prescription medicines and emergency medicines in the first aid kit. How to do this: Cruising and Prescriptions
When we bought Barefoot Gal, two of her floorboards had bad sections from hatch leaks. We finally felt confident that we had stopped the leaks and it was time to replace those. We contracted with a local woodshop to do the work (Dave and I aren't skilled at this type of work and the cost of teak and holly plywood is frightful so we're leaving it to the professionals).
With the watermaker install completed, I began stocking up on provisions for the Bahamas. Every time I go to the grocery, I pick up extra things!
Put in a big Amazon order for various spare parts, provisions that aren't available locally, spare sandals and more.
I've spent a lot of time poring over charts of the Abacos and reading Active Captain and Waterway Guide notes on various anchorages. The more I use it, the more I love Aqua Map on my iPad!
Chatted with other cruisers who have spent considerable time in the Abacos and have a cruising style similar to ours about favorite places. 
Purchased DAN Boater medical assistance/evacuation insurance, just in case.
P.S. It's Dave's 81st birthday this week. Cruising isn't just for younger retirees! Want to know more about Geezer Cruising? Read here or listen to the podcast.
---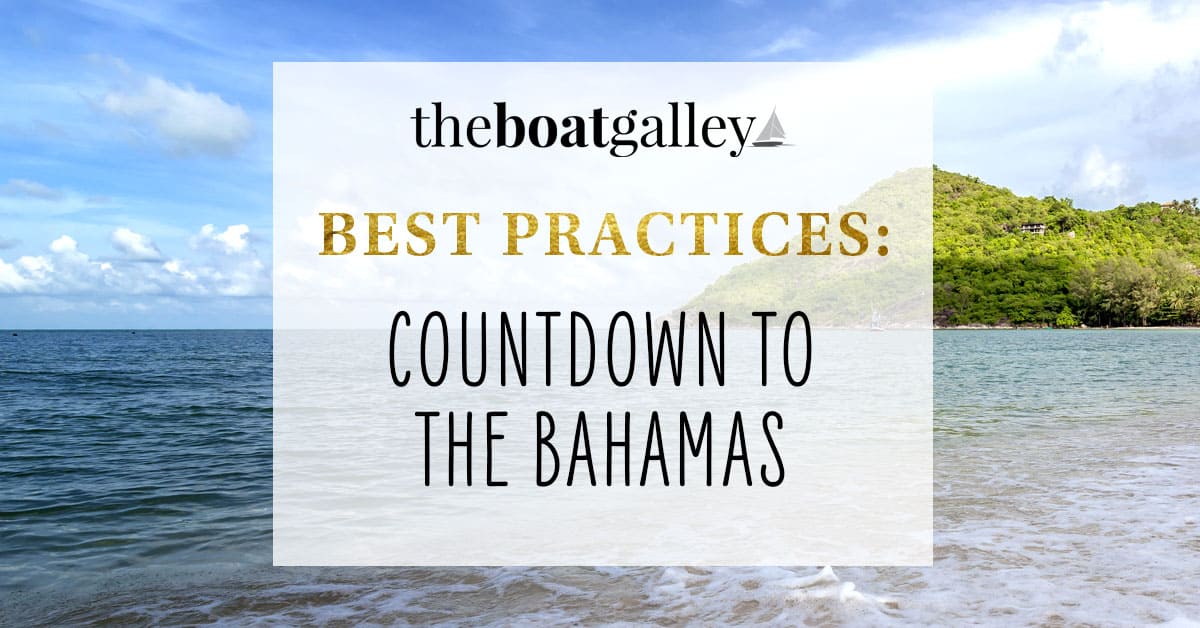 ---
Our FREE Provisioning Spreadsheet
Wondering how much of what foods to take on your next trip? Know just how much to buy of what — all arranged by grocery store aisle — with our handy Provisioning Spreadsheet. Includes detailed instructions to edit it for your favorite foods, how much your family eats, and how long you'll be gone. No spreadsheet skills needed!
It's FREE — get it here.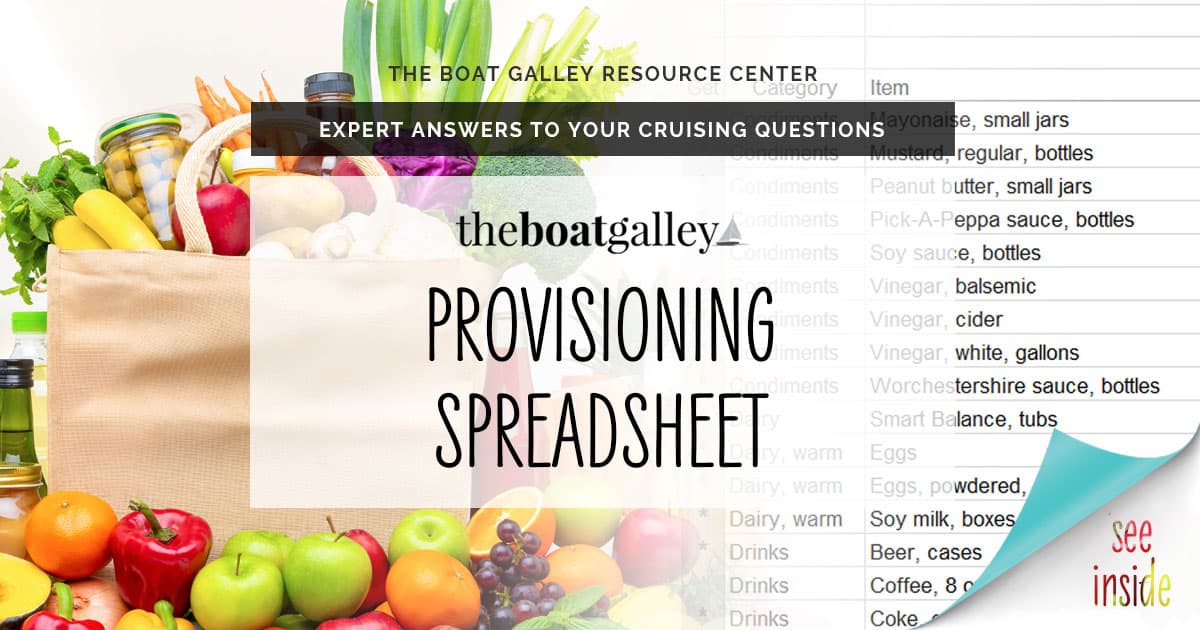 Want more information about going to the Bahamas? Learn everything you need to know with Get Ready to Cruise the Bahamas. Click to see all 30 topics covered!

Some links above (including all Amazon links) are affiliate links, meaning that I earn from qualifying purchases. Learn more.