If you take a daily prescription and are thinking of cruising more than a week or two at a time, one of your "logistical" questions is probably how you'll get your meds.
The good news is that there are ways to do it. The bad news is that it will likely involve more hassle, planning ahead and possibly expense than getting meds at your house. [Note: I'm writing this as an American — other nationalities may have different experiences.]
Get Discover Living on a Boat (free mini-course). Explore whether cruising is right for you, from the lifestyle to the cost and ways to afford it.
Over the years, Dave and I have used a number of different techniques. How you do it will be affected by:
are you cruising in the US or abroad?
are your medications covered by insurance?
does your insurance company have a mail order pharmacy?
how much more does it cost to get your meds at a local pharmacy as opposed to the mail order pharmacy?
how expensive is it to just pay for your meds out of pocket vs. the insurance co-pay?
if you're going to a foreign country, is your prescription available there? cost? difficulty?
Whatever the situation, do not wait until the last minute to get a refill! We've had it take as much as three weeks to get a prescription filled and once in Mexico discovered that a medication wasn't available.
REMEMBER: every insurance company, prescription and country is different. I am giving general information — you have to check on specifics as they apply to your situation but this will give you a starting point.
In the US
There are very few times in the US that you'll need more than a 90-day supply of medications — you'll almost always be back in a place where you can get more before you're out. If you do need more than a 90-day supply, see "Leaving the US."
Option 1: Use your mail order pharmacy and have the medications sent to a marina or mail drop. This works best if you can be a little flexible about where you are and when. Contact your marina ahead of time to be sure they'll accept and hold a package. Order meds "at the last minute" so that delays in your travel schedule don't result in you being a hundred miles or more from where your drugs are being sent. Best if you tend to stay in one place for a while.
Option 2: Use local pharmacies in your insurance network and transfer the prescription whenever you need a refill. Your doctor can uusually write a prescription for a 90-day supply, even at a retail pharmacy. The cost is usually a bit more than using a mail order pharmacy, but there are no problems with getting the medications to where you are. Best if you're on the move.
Leaving the US
If you are in the US and leaving to cruise say the Bahamas or Canada for a few months — with the intention of returning to the US — you have to do a bit of advance planning but it's generally not difficult.
First of all, you have to have enough refills left on the prescription for the time period you need. Since you may have to switch from a retail to mail order pharmacy or vice-versa, you may have to get a whole new prescription called or faxed in. This is one of those things that's almost a Catch-22: my insurance company wouldn't even tell me the procedure for a vacation override without me having refills left at the retail pharmacy, then once I had that called in so that I could get info, they told me I needed to get a new prescription faxed to the mail-order pharmacy.
Then ask your insurance about the procedure to get a vacation override. Using this terminology is important — it is basically asking for an early refill with the insurance company covering the refill.
Every insurance company handles them differently. You usually have to provide an itinerary — I draft up the date and place we intend to leave the US and attach a copy of our US Coast Guard documentation as proof that we do own a boat.
Sometimes the insurance company will fill the override through a retail pharmacy and sometimes through a mail order. You just have to ask and follow their rules.
The insurance company usually will tell you something like "you can't apply for an override more than two weeks before you're leaving." Well, twice it's taken closer to three weeks to get the approvals and then the refills (once it was being done by a local pharmacy and they didn't have an adequate stock of a medicine on hand; another time it just took longer to get it from the mail order pharmacy). Now we start about a month in advance of when we really intend to leave and create an itinerary that meets their requirements.
Most insurance companies will only allow you one vacation override per prescription per year. Some companies define "year" as a calendar year, some as a rolling 365/6 days.
So what if you need more than what you can get pursuant to a vacation override or the insurance company declines your request? Yes, they can do that.
You can get additional refills from a local pharmacy but you'll have to pay for them out of pocket. Yeah, the whole price. In Marathon, a jumping off place for many cruisers heading to the Bahamas, Mexico and the Caribbean, the local pharmacies are familiar with people wanting extra refills and are good at finding discount programs for certain drugs. But beware: some drugs — even generics — are quite costly. This is one of the hidden expenses of cruising.
If you are heading to Puerto Rico and the USVI, remember that these are US territories and your insurance may work at local pharmacies. Also, there is US mail service in both and most mail order pharmacies will ship to both. And of course, you can use local pharmacies and transfer your prescriptions.
Outside the US Indefinitely
If you are in foreign countries indefinitely, the situation gets tougher. There's no universal answer.
If you have US insurance, it is probably worthwhile to get as many refills as possible on trips back to the US (and get a vacation override if possible — you may get up to 6 months of your meds this way).
It is generally tricky to have prescriptions sent to you overseas — this varies by country and you will have to look up the regulations for the places you intend to travel. Our experience in Mexico was that the cost and delay of getting medications through customs just wasn't worth it.
What about having friends who are visiting bring a refill to you? It is generally a customs violation to have prescriptions with someone else's name on them — and also to have a prescription that is not in its "correct" bottle. Yes, I know: what are the chances they'll be caught? Well, do you really want to have a friend or relative put in jail over your prescription? I don't, so we just eliminated this option.
That leaves getting your prescription wherever you are. Plan ahead and don't leave things to the last minute until you know how things work locally.
In Mexico, it was quite easy to get most medications even without a prescription — but not nearly as inexpensive as we'd been told ahead of time. However, some meds — such as painkillers, even mild ones — are impossible to get without a local doctor's prescription (and most pharmacies cannot fill prescriptions for painkillers, either). I also had to switch my cholesterol medicine as the one I had been taking was not sold in Mexico. But it's been a few years since I was in Mexico, so check the current situation.
In the Bahamas, I'm told that you can get meds by taking your prescription bottle to a local pharmacy, but it has to have valid refills left on it. Further, you have to be somewhere that there is a pharmacy or clinic and they have to have access to your medicine. Many islands have only the bare minimum of access to meds and have to order them through the mail boat system. While there is a mail boat schedule, weather and break downs often mean that weeks can go by before items arrive. And the med has to be available at a pharmacy in Nassau — fine for common drugs but not less common (or expensive) ones. I would not count on getting refills anywhere in the Bahamas other than Nassau, and then only for fairly common prescriptions. You might get them elsewhere — it certainly doesn't hurt to try if you're desperate — but I wouldn't rely on easy availability.
Further, I wouldn't count on cruising guides having up to date info on getting drugs in foreign countries. If possible, check with cruisers who are currently where you are heading — SSCA station hosts are a wonderful resource as are many Facebook groups for cruising specific areas. Just make sure that you are not getting outdated info as things can change quickly.
NOTE: In many countries, you will need a prescription from a local doctor, which will add days or weeks to getting you medications — especially if it turns out that you have to switch drugs.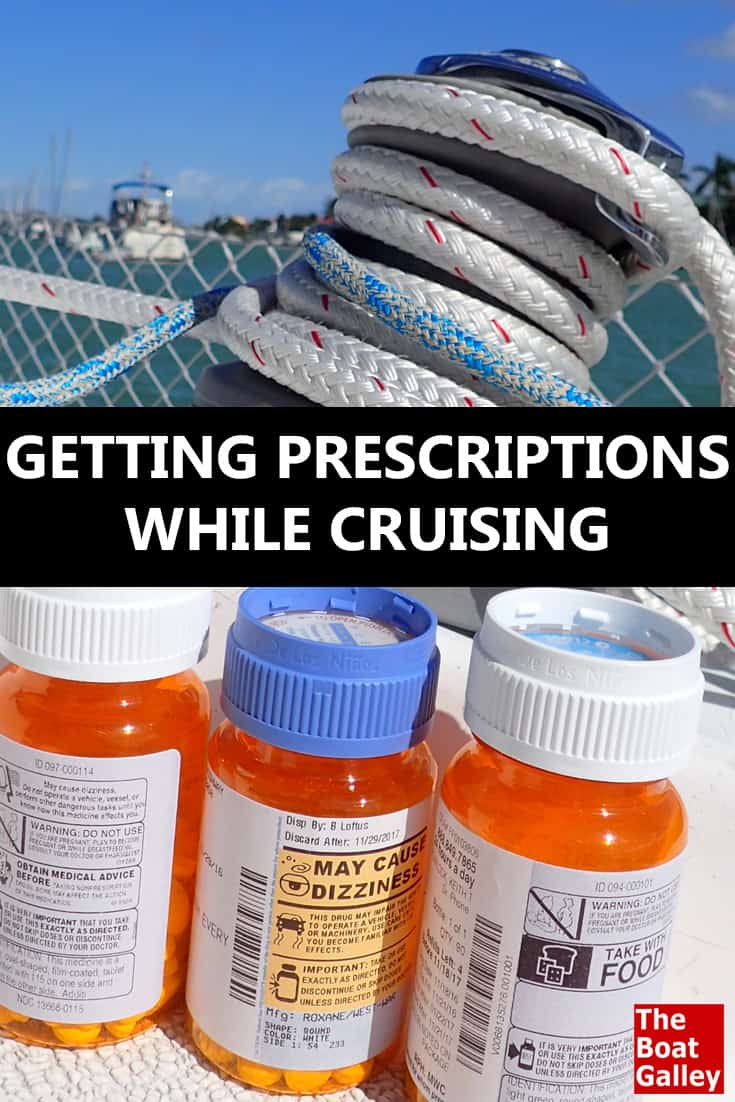 Some links above (including all Amazon links) are affiliate links, meaning that I earn from qualifying purchases. Learn more.