Aqua Map is, quite simply, the best route-planning and navigation app that I have found, at least for the east coast of the US and the Bahamas. I would assume that it's equally good in other places but I can't speak from first-hand experience.
Let The Boat Galley help you get ready to cruise with a FREE mini course: Prepare to Cruise. Click to learn more and sign up.
Background
Planning our trip to the Bahamas, I knew that I wanted a way to get Active Captain data overlaid onto our charts. And last week I wrote about how I'd figured out how to do it.
Now, one reason that I've liked our Garmin charts is that they use Explorer chart data for the Bahamas. Well, Garmin just bought out Navionics and will be using Navionics chart data for the Bahamas in the future. Right now, they say that it's with the g3 charts and g2 are still Explorer chart data. Most cruisers will agree that Explorer charts are more accurate than Navionics for the Bahamas.
I learned about Garmin switching to Navionics about a day after I posted that article about how to get Active Captain onto Garmin charts. And while we're still okay as we have a g2 chart, I'm completely convinced that Navionics data won't eventually be used on them and I'll lose the Explorer Charts data when I update my Garmin charts..
The same day I learned all that, I also learned about a great alternative. Giorgio Ghiggini, the CEO of Aqua Map, read my article and contacted me to tell me about his product. I also heard about Aqua Map from another cruiser at a meeting we had to discuss travel to the Bahamas.
Aqua Map is an Android/IOS app that you can use on a phone or, preferably, a tablet such as an iPad. The app itself is free but you have to buy the charts for the area(s) you're cruising. Chart prices are in the very reasonable range — more on this below. If you're searching for it, be sure to look for Aqua Map and not Aqua Maps.
Aqua Map Benefits
Aqua Map has several benefits over using either the Active Captain app or Garmin Home Port for boats in the US and/or Bahamas:
The Bahamas Charts are Explorer Charts. The real, true thing. (US Charts are NOAA charts)
Active Captain data overlaid right on the chart. I find Active Captain information to be extremely valuable as to current conditions. In the Bahamas, things change faster than cruising guides are published. Active Captain told us what stores were still open or had recently opened, where we could actually get propane and where channels had been closed by hurricanes. I never want to rely on just one source of information and thus consider AC one tool in planning our cruising, but an important one.
AlsoWaterway Guide information overlaid right on the chart. This includes navigation alerts, fuel prices, marina and anchorage info, plus bridge and lock info. A wonderful feature is that phone numbers and hailing channels are included as are the date of the last update to the info (very nice for fuel prices). The nav alerts are highly valuable as most of us don't check the Notices to Mariners, even though we know we should.
Current tide state right on the chart. Click on the symbol and you can see when slack tide will occur as well as state of tide any day and time in the future. Sunrise, sunset and moon rise/set are also included. (There aren't many tide stations in the Bahamas and thus not much data there.)
Free chart updates as long as you have current rights to the chart (either one-year or forever).
If you have an internet connection, you can get online satellite maps of a chart area. No more having to flip to Google Maps to see less-surveyed areas!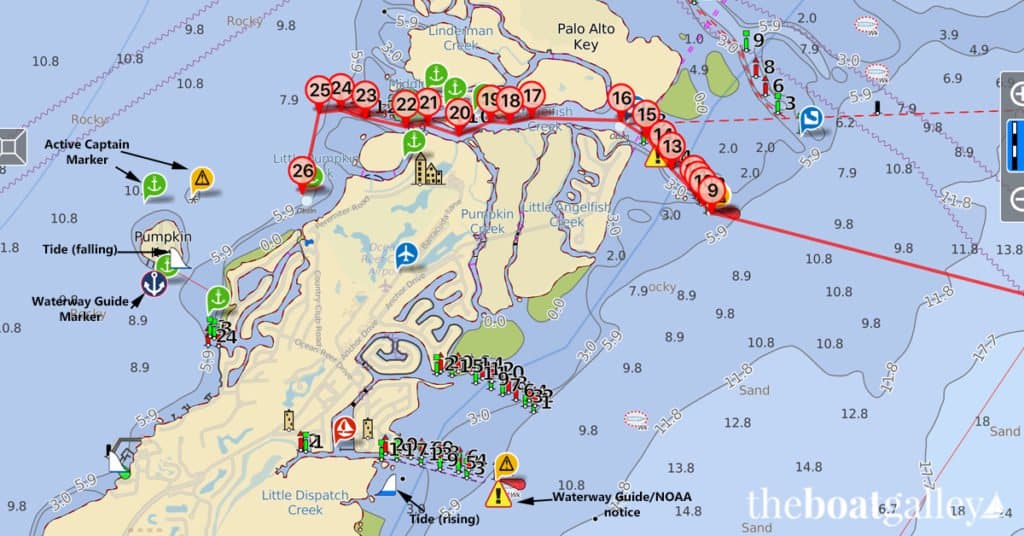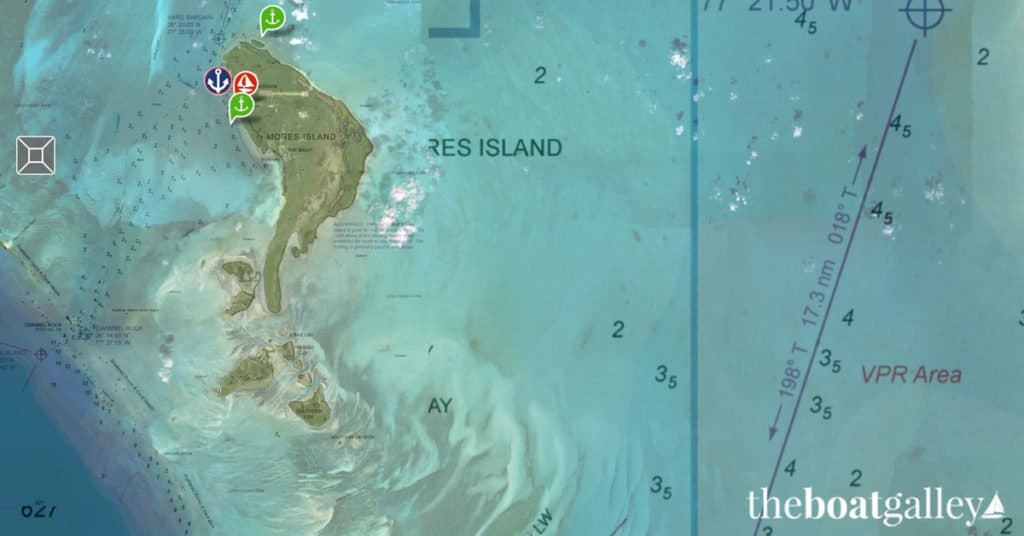 Aqua Map Chart Cost
Aqua Map's charts cost less than many other apps and they tell you exactly where the charts come from. There is one price if you want access to the charts for one year (nice if you're just transiting an area) and another for "forever" access (nice if you're in an area more or less permanently).
Aqua Map has charts for much of the world, although it does not yet cover Pacific Mexico and Central America (most of the Caribbean side is covered in Caribbean South). Much of Cuba is included as are most areas of Europe, Australia and New Zealand. If you are interested in a particular area, you can download the app for free and then go to Settings/Chart Store to see if the charts you want are available. New chart areas are being added constantly. For example, the Bahamas Explorer charts were added just last week!
As of February 10, 2019, chart prices for the US, Canada, Bahamas and Caribbean are as follows:
| | | |
| --- | --- | --- |
| Location | One year | Forever |
| US (NOAA) | 9.99 | 24.99 |
| Bahamas (Explorer) | 35.99 | 69.99 |
| Caribbean South | 14.99 | na |
| Canada (CHS) | 9.99 | 24.99 |
| US + Canada | 14.99 | 39.99 |
The one-year charts are actually subscriptions so be sure to turn off the auto-renew before the year is up if you do not want that chart for the following year.
Active Captain, Waterway Guide and tide info (where available) do not cost extra, nor do you need an Active Captain or Waterway Guide account to view their info.
You can choose what areas of your purchased charts you want to download, so you do not have to take up storage space for charts you'll never use (for example, I downloaded only charts for southern Florida, not the entire United States). Chart areas can be deleted once you pass out of an area and then re-downloaded once you return (helpful for conserving storage space if you're doing the Great Loop, say). You do not need an internet connection except when you are downloading charts.
If chart tiles that you previously downloaded are updated, you can see this as a badge on the Download Charts icon. You can download updates to any charts you own for free — and yes, if you purchased "forever" charts, you can updated them year after year with no extra fee. I don't know about other charts, but Garmin only gives you one free update of their charts.
My Experience
I downloaded the app plus the US and Bahamas charts to my iPad and then started exploring all the information that I had at my fingertips. Full disclosure: Aqua Map gave me the charts for free so that I could test out the app and review it. Don't tell them, but having checked it out, I would happily pay for their charts even though I'd already figured out how to get Active Captain onto my Garmin Charts. Having both Active Captain and Waterway Guide info and the true Explorer Charts is just that much better. Being able to access satellite maps in the app is icing on the cake.
Route Plotting
I next decided to plot a route that we'll use to cross to the Bahamas in May. I have never before plotted a route on my iPad instead of using a mouse on my laptop and there was a bit of a learning curve. The Aqua Map very short tutorial, website help and some experimenting taught me everything I needed to know.
I would highly recommend plotting a route or two while you have internet access so that you can refer to their website help if you need it, although the offline help covered everything I needed.
Beware of Changing Units When Changing Chart Areas
The only potential problem that I noted is when you switch from a vector to raster chart area — such as when going from the US to the Bahamas. I had set my preference to show depth in feet and the chart did just that for the US. But the Bahamas were still in meters.There's a simple reason for this — the Explorer charts are raster charts, which means they are essentially scans of paper charts. And Aqua Map does tell you of this limitation when you set your preference. Either you have to remember that the units change when you switch from one set of charts to the other or you can set your preference to meters and then the US charts will show in meters and at least the units will be consistent.
Features
Like most nav apps and chartplotters, you can set your average cruising speed and fuel consumption. There's an anchor alarm right in the app — my minimal testing shows it to work well. Tap two points with two fingers will tell the distance between them.
One feature that seems nice but I haven't yet had a chance to use for real is what Aqua Map calls mapXpan — essentially the center of the chart is at whatever zoom level you select, and the edges go to a lower scale so that you can see 64 times the area. I think this will be helpful when trying to orient where an anchorage is in relation to other places or check out the route ahead to see where you are in relation to things like bridges. So many times with other programs you have to zoom in and out and I, at least, lose track of where I am.
Additionally, you can not only name your route (not sure what the character limit is, but it's considerably longer than the 10 characters that Garmin gives me) but you can add a route description. This last is very useful if you're creating several variations on a route.
Navigating with Aqua Map
Aqua Map is designed so that you can use it at the helm while navigating a route. I haven't yet used it in this way but it looks very straightforward. Tapping on the route info button will tell you time between each waypoint and from your current position to all the waypoints ahead. My chartplotter only tells me the time to the next waypoint and the final destination. So many times I want to know about an intermediate point, such as a bridge that only opens at certain times. Aqua Map seems to understand what type of information is most useful at the helm!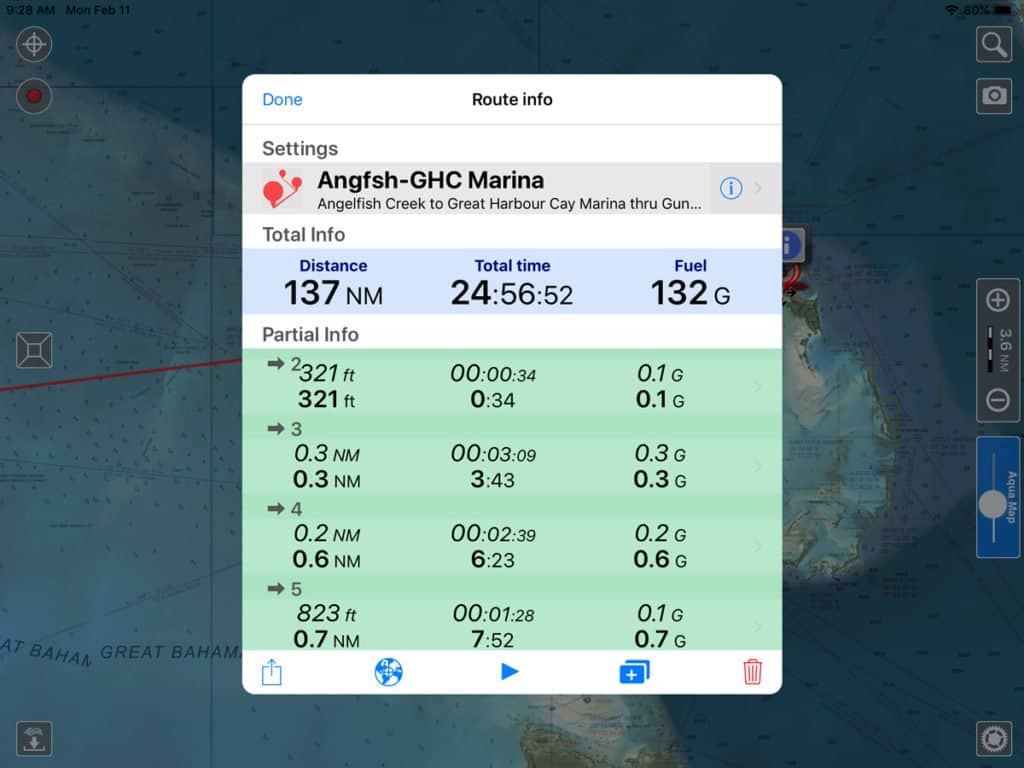 As with most chartplotters and nav apps, you can navigate a route either in the direction you entered the waypoints or in the reverse order.
Transferring Route to Garmin Chartplotter
I'm a belt and suspenders type of girl. Even though I can navigate using the iPad, I want to also be able to transfer the route to our chartplotter and use it there so that I have a totally redundant backup in case either one fails.
Let's face it, Garmin doesn't exactly play nice with non-Garmin apps and Apple doesn't like anyone but Apple. And everyone expects you to have internet all the time, everywhere.
So the challenge was on: could I transfer a route from Aqua Map on the iPad to the Garmin chartplotter when in a location where I didn't have internet (and my chartplotter isn't wifi-enabled so it's not even on a local network)?
The answer is somewhat convoluted, but yes, it can be done. Aqua Map will export a route in .gpx format, used by Garmin. Here's how I did it:
You must have Garmin Home Port on a laptop, and set up iTunes to sync files between the iPad and laptop.
From Aqua Map, click on the route you want to transfer and then on the Route Info button.
In the popup screen, click on the Save/Share button in the lower left.
Click Save to Files and then choose a location (it will have to be in some other program that has a folder in files; I made a subfolder in Word). Tap the folder you want and click Add in the upper right corner.
Use iTunes and the lightning-usb cable to transfer the route to a folder on the laptop.
Launch Garmin Home Port on the laptop.
In Home Port, press Cntl+i to import a route. Select the route from the folder you put it in and import it to Home Port.
Put your Home Port to chartplotter SD card in the laptop (see more about this in my article on using Home Port).
In Home Port, right click on the route you want to transfer. Choose "Send To"
Choose the device you want to send the file to (click on the device name, not the folder name)
Either choose an existing ADM folder or create a new one. I always use the existing one. Click okay and your new route will be added to the SD card.
After the route is saved, remove the SD card and take it over to the chartplotter and load the route as described in my article on using Home Port.
It does NOT work to put the .gpx file straight from the iPad to the SD card in the laptop. It must be imported into Home Port and then saved to the SD card using Home Port.
TROUBLESHOOTING: If your route does not import onto your chartplotter from the SD card, check your route in Aqua Map to ensure that it does not have any "markers" (round pink circles) as opposed to "waypoints" (numbered points). Garmin chartplotters can't read markers and thus refuse to import the route. Thanks to Sharon Poarch (reader) and Claudio Bo (Aqua Map) for figuring this out — some of Sharon's routes would import and others wouldn't. The ones that wouldn't all started with a marker instead of a waypoint.
Aqua Map on Multiple Devices
You can put Aqua Map on up to five devices — Apple, Android or a mix. Here's how to do it as sent to me in an email from the company:
The procedure to share any Aqua Map product with up to 5 devices (Apple and Android) is through the GEC Account.
Register your GEC Account – http://www.globalaquamaps.com/AquaAccount.html
Login from the Aqua Map Marine (free) to your GEC Account (this operation will register all the Aqua Map apps you bought, into your GEC Account)
Download Aqua Map Marine (free) to the next device.
Login from your other device to the same GEC Account…this will assign to your new device all the previously registered apps
Be careful, over 5 devices the user will be blocked and will be required to contact AquaMap.
Bottom Line
A week ago I'd never heard of Aqua Map. Now I love it and pore over charts every day to learn what I can about places and routes we might go in the Bahamas. There is a bit of a learning curve, as with every nav program I've used. After using both it and Garmin's Active Captain app, Aqua Map is the hands-down winner for the amount of information it contains.
Learn more about buying and owning a boat, gaining skills, working on your boat, buying stuff for your boat and moving aboard in Prepare to Cruise (free mini-course).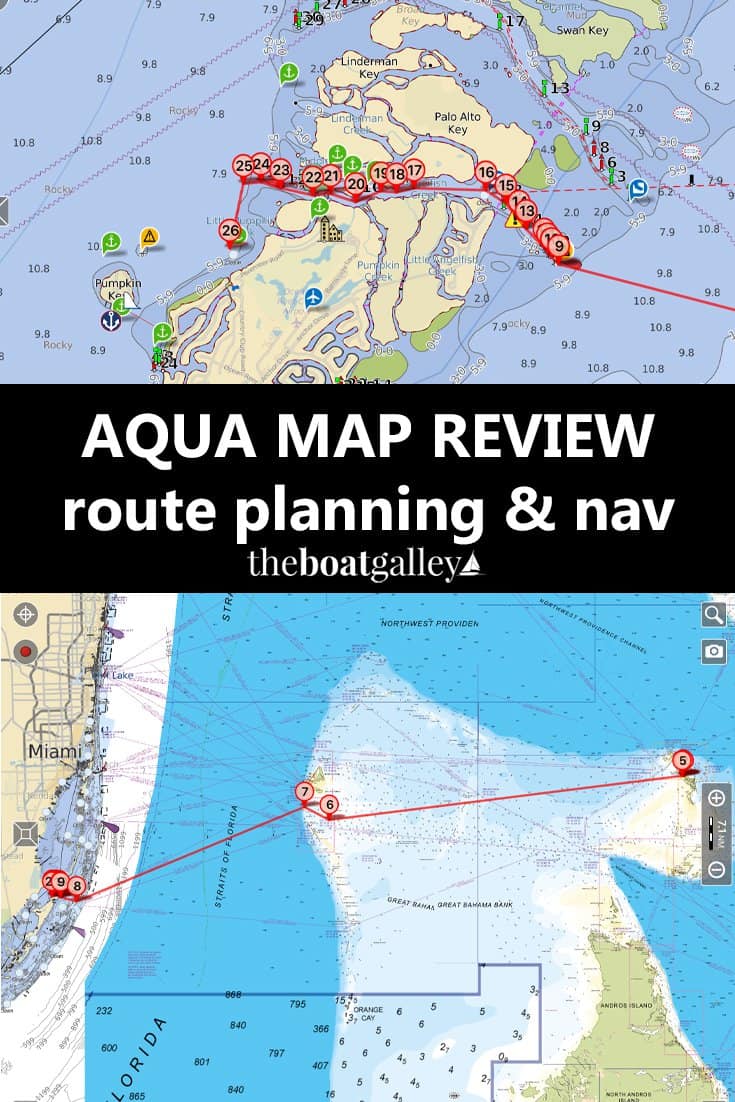 Some links above (including all Amazon links) are affiliate links, meaning that I earn from qualifying purchases. Learn more.