These pork chops are SO good! Very tender and moist — easy to make, yet fancy enough for guests.
The recipe was originally written for a pressure cooker, but you can also make it in a skillet. It's another one that was brought to my attention by Diane Dashevsky, aboard S/V Always $umthing. She originally got it from ifood.tv, a recipe-sharing site.
I've added a bit to it, with substitutions for some of the ingredients if needed, and directions for making it not only in a pressure cooker, but also in a skillet.
Using a pressure cooker cuts the cooking time considerably — to about one-third of what it would be otherwise. Not only is it faster to the table, it will also use less fuel and put less heat in the galley. If you're thinking about getting a pressure cooker, check out my pressure cooker buying guide.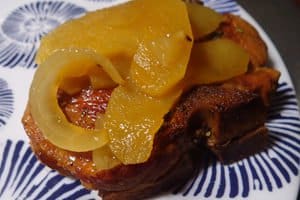 Pork Chops in Cider
These pork chops are SO good! Very tender and moist — easy to make, yet fancy enough for guests.
Print Recipe
Pin Recipe
Ingredients
1

tablespoon

shortening OR canola oil OR vegetable oil

4 to 6

pork chops 1/2″ thick

2

medium onions, diced or cut into larger chunks

2

apples — cored, peeled and either sliced or diced

, peeled and either sliced or diced

1/2

teaspoon

salt

dash of pepper

1/2

cup

apple cider OR apple juice (try to find some with little or no added sugar)
Instructions
Heat shortening in the pressure cooker. Brown chops on both sides. (NOTE: For lower fat cooking, omit the oil and sprinkle the salt in the pan and heat it to medium-high. Place pork chops in pan until browned on one side, then flip over and brown on second side.)

Add the onions, apples, salt (if not used to brown the pork chops) and pepper. Pour the apple cider over it all.

Following the specific instructions for your pressure cooker, lock the lid into place and bring the pan up to 15 pounds pressure, then lower heat and cook for 15 minutes. If your cooker does not get up to 15 pounds pressure, convert the cooking time using the conversion chart that came with your cooker — I know that if it only gets to 12 pounds, cooking time is 18 minutes (an extra 20%).

Again following the instructions for your particular pressure cooker, cool immediately under running water, then unlock the lid and serve.
Notes
If you do not have a pressure cooker, simply cook this in a skillet following the same basic plan — brown the meat, add the other ingredients, cover the pan, bring it to a boil, then turn down to simmer. It will take about 3 times as long, or 45 minutes.
IMPORTANT: since more steam escapes with a skillet lid and it will cook longer, you need to monitor the amount of liquid in the pan and add some water if needed.
If you're not using a pressure cooker, cooking time will be about 45 minutes for a total of just under an hour.
Green beans and mashed potatoes (see instructions for making mashed potatoes by hand) are great with this!
Nutrition Facts
Pork Chops in Cider
Amount Per Serving
Calories 111
Calories from Fat 27
% Daily Value*
Fat 3g5%
Cholesterol 0mg0%
Sodium 295mg12%
Potassium 207mg6%
Carbohydrates 21g7%
Protein 0g0%
Vitamin A 50IU1%
Vitamin C 8.5mg10%
Calcium 18mg2%
Iron 0.2mg1%
* Percent Daily Values are based on a 2000 calorie diet.
Some links in this article (including all Amazon links) are affiliate links, meaning that we earn from qualifying purchases.