Are you wondering how to make mashed potatoes without an electric mixer? Or are you using instant and not really liking them — just as I did the first year we cruised?
I had sort of given up on the idea of having mashed potatoes on the boat. Then I saw a friend using a hand masher — something I'd almost forgotten existed — and I tried it. YUM! Mashed potatoes the "old-fashioned way" from real potatoes — so much better than instant — and not at all difficult!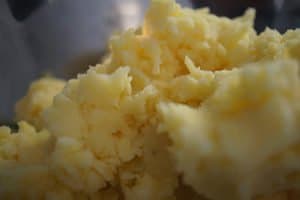 Hand-Mashed Potatoes "Recipe"
Yes, you can make delicious mashed potatoes without an electric mixer. Don't settle for instant ever again.
Print Recipe
Pin Recipe
Ingredients
1

medium potato per person

(adjust number for kids or if potatoes are particularly large or small)

1

teaspoon

salt

(OR bouillon powder to add flavor)

4

tablespoon

butter

(OR margarine)

1/4

teaspoon

pepper

1/3

cup

milk

(OR evaporated milk OR cream)
Instructions
Peel potatoes and cut into 1-1/2″ pieces. Place in saucepan with just enough water to cover the potatoes. Generously salt. Cover the pan.

Bring potatoes to a boil over high heat, then turn heat down so that the water is just boiling. Cook about 10 minutes, until a fork pierces them easily but they're not mushy.

Remove from the stove and drain the water (save the water to use in bread, other cooking, or at least to soak gunky pans in).

IMPORTANT: Let the potatoes sit in the hot pan, uncovered, for 3 to 5 minutes. Lots of steam will rise from them, helping to dry out the potatoes. This will really improve the texture of the mashed potatoes.

If the pan has a nonstick coating, transfer the potatoes to a steep sided bowl before mashing. Otherwise, mash them right in the pan.

Use your potato masher with an up-and-down motion to break up the potatoes a bit. (If using a ricer, rice all the potatoes before adding other ingredients, and then stir them in.)

Add 1 tablespoon butter per person (again, adjust if you've got half portions for kids) and sprinkle with pepper. Mash until potatoes are close to the finished texture you'd like. Note that they'll be a little lumpier than you're used to with an electric mixer.

Add just a little milk — the exact amount will depend on how wet or dry the potatoes were and your own personal preference. Mix either with the masher or with a sturdy mixing spoon.

Serve and enjoy!
Notes
This "recipe" is very flexible. You can adjust any ingredient for servings or taste. 
For example, some people like the consistency of their mash thinner. Just add more milk.
Nutrition Facts
Hand-Mashed Potatoes "Recipe"
Amount Per Serving
Calories 113
Calories from Fat 108
% Daily Value*
Fat 12g18%
Cholesterol 32mg11%
Sodium 690mg29%
Potassium 26mg1%
Carbohydrates 1g0%
Protein 0g0%
Vitamin A 385IU8%
Calcium 26mg3%
* Percent Daily Values are based on a 2000 calorie diet.
Want over 800 boat-friendly recipes, over 100 substitutions, and tons of tips for cooking on a boat?


Some links in this article (including all Amazon links) are affiliate links, meaning that we earn from qualifying purchases.