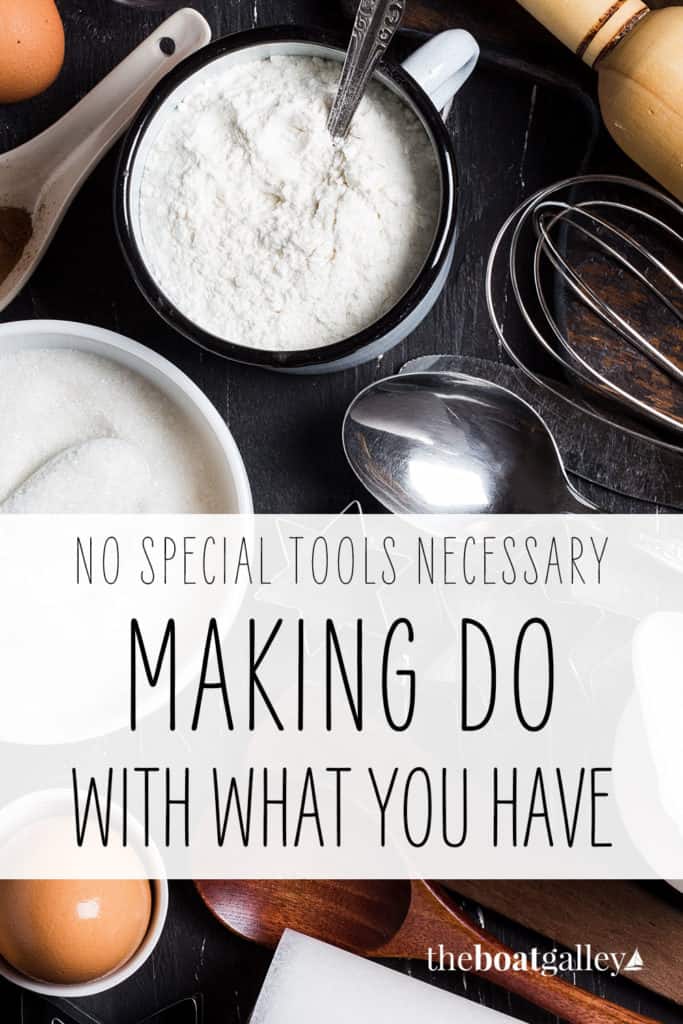 A lot of cooking on a boat is making do with what you have. For example, I've never seen a brownie recipe that called for baking in a pie pan. But why not?
My recipe called for an 8″ x 8″ pan, but I don't have one. The closest thing I have is either a pie pan or part of my nesting Magma set — but I was planning to use the Magma one for another dish, so didn't want to use it. So I used the pie pan.
And my brownies turned out just fine —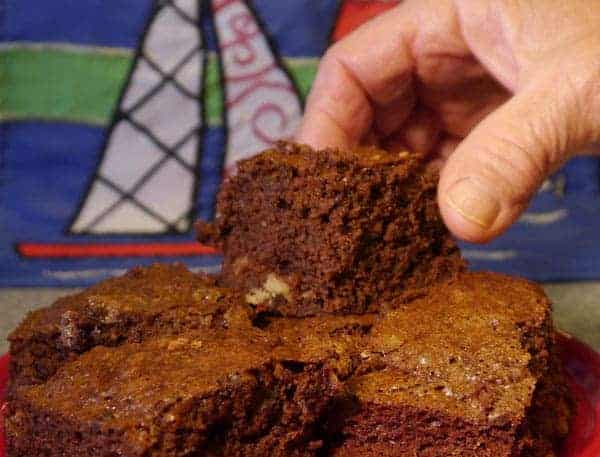 One thing I learned long ago on the boat is that less is better. And so, before rushing out to buy another pan or piece of galley equipment, the first question I ask is whether I can get by with what I already have. Galley space is very, very precious and I want to use it wisely.
A few bits of "making do" that I've learned over the years:
Wok. Anything that calls for a wok can be made in a skillet.
Bread Pan. Bake bread in anything that can go in the oven—a casserole, a Pyrex bowl, a cake pan, a cookie sheet, or even on aluminum foil.
Cookie Sheet or Pizza Pan. Turn a cake pan upside down, or use a piece of aluminum foil.
Bread Machine. It's not hard to make bread by hand — see Yeast Bread Making 101 for detailed directions and photos of every step.
Cooling Rack. If the stove is not on, set things on a burner so air will flow underneath. Otherwise, place a couple of table knives on hot pads on the counter and set the hot pan on top. If you have a fan in the galley, move it so it blows on the food.  You can also get a silicone trivet that allows air to circulate under the pan and it will serve two or more purposes (plus, the silicone makes it non-slip, keeping your pan on the counter and not on the floor).
Corkscrew. Screw a large screw into the cork, then use a pair of Visegrip pliers and pull straight out on the screw. If the cork crumbles into the wine bottle, put a clean cloth or coffee filter over the mouth of the bottle and hold it firmly around the neck as you pour the wine—it will act as a strainer. Pour slowly!
Electric Mixer. A good mixing spoon will mix anything, although it may take a bit more time and effort (I prefer just to find recipes that are designed to be made by hand).
Garlic Press. Use a knife and finely mince the garlic, or use the side of the knife and crush it.
And you can change pan sizes for most baked goods — see how to change the baking time and temp here.
The funny thing is, with most of these I don't miss having the "real" tool — it's just as easy to use the alternate and the end result is just as good.
Read Next
Want some help with that tiny refrigerator? Check out our step-by-step how-to:


Making Boat Life Better
Some links in this article (including all Amazon links) are affiliate links, meaning that we earn from qualifying purchases.