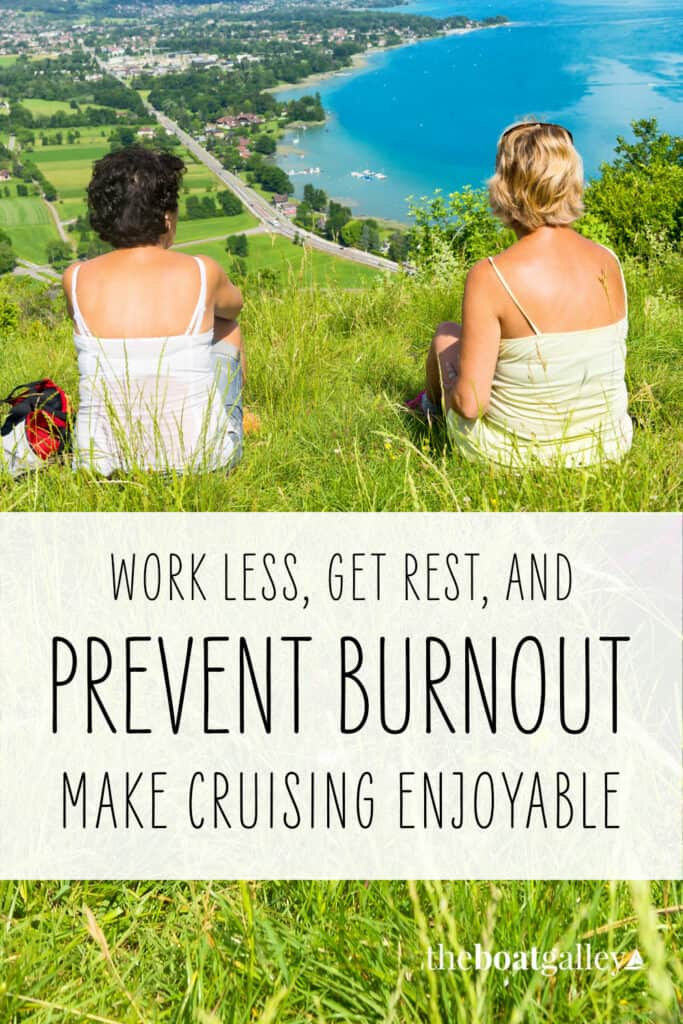 Let's talk about ways to make living on boat more enjoyable today! Here are the things I think will make your cruising life fare more comfortable and satisfying:
Comfortable bed – sleeping well is HUGE for having a good time. Spending the money for a decent mattress and pillows could be the best money you ever spend on the boat. It might be a whole new mattress, it might be that just a mattress topper (Amazon) will do the trick. And for me, the pillow may be even more important than the mattress. Read more. 
Great ground tackle and confidence in using it is the second part of sleeping well. Being comfortable at anchor – even if a 50-knot squall blows through – is crucial. Read more. 
Ventilation – if you're in a hot climate, staying cool is critical for keeping tempers even and – once again – sleeping well. Fans and wind scoops (I love the 4-way ones) are key. Read more. 
Sufficient power – for most of us, having an enjoyable lifestyle requires having power. There's a big difference between conserving power and rationing it and not being able to use certain things you want (say, a laptop) because of its power requirements only brings frustration. Read more. 
Internet – we may not have internet 100% of the time on board, but always having to seek out Wi-Fi ashore isn't satisfactory for most of us. A cell phone or cell router with a large amount of data to hotspot to other devices raises the quality of life for most of us. 
Good galley equipment – cooking in the typical boat galley is challenging enough, with limited counter space, a smaller stove and oven, less power, a smaller refrigerator, and less convenient food storage. One thing you do have control over is your galley equipment – pots and pans, bowls, cooking utensils. You don't need a lot of fancy equipment, but you do need good quality. Get items that meet your needs; you'll use this stuff three times a day. I've written lots of galley gear reviews. And you can check out all our recommended galley gear and more on our Amazon store.
Standard Operating Procedures – having set ways of doing things and where things are stored lows the stress for everyone immensely. Not that you can't change things over time, or try a new approach, but knowing where the jelly is, or how the dinghy is tied off removes a lot of little irritants every day. 
Everyone sharing the work – not everyone has to be good at everything, and it's fine if there is a division of labor. And we know that the workload won't be shared evenly every day. It's the overall picture that matters, and even kids should have some responsibilities appropriate for their age. Everything counts, including earning money, being responsible for homeschooling or watching younger kids, even taking care of pets.  
 
Through the years, I've seen numerous couples where one takes on the lion's share of the work, and it just doesn't work in the long run. Usually, the one who takes on the larger share rationalizes it as "this is my dream and I'm willing to do extra to pursue it." The problem is that the person who is doing a lot less never feels invested in boat life and making it work and almost always the person doing the work eventually feels resentful. 
Everyone's wants being met – different people want different things out of living on a boat and cruising. You may enjoy travelling to new places while your partner loves to sail. One of you may like hiking and photography while the other lives to snorkel and play music. And any kids aboard have their own desires, too. Making sure that everyone gets to do some of the things that are important to them makes boat life sustainable. 
And finally, the Boat Galley's graphic designer, Julie Tijerina suggested one more thing that makes cruising so much better. And I agree entirely.
"Get involved with the local cruising community – find a group of friends to swap stories, commiserate, help with technical boat projects, and take the sting out of rough passages. Listen to the local morning cruisers' nets, join the Facebook cruiser's group in your area, and frequent the cruiser hangouts. Cultivating friendships – especially when you are far from home for long stretches of time – can make the difference between a storm season spent in frustration at the yard and a season of shared labor, delicious dinners, laughter, and bonding over that time the stray dog ran off with the pizza at Nat's." 
Oh, and if you're looking for a gift for the cruiser (or future cruiser) you love, maybe this will give you some good ideas.
Hope you have a wonderful life aboard! 
---
Be sure to subscribe to The Boat Galley newsletter to keep up with what we're up to and get helpful tips and encouragement from the water.
Some links in this article (including all Amazon links) are affiliate links, meaning that we earn from qualifying purchases.