Holiday season approaches and people want gift ideas. Every year, I get questions about appropriate gift ideas for family members who are in the middle of downsizing for a life afloat or have recently begun cruising. What would be really appreciated and not take up more room than it was worth?
Eleven of my favorite things for a cruiser or soon-to-be cruiser, ranging in price from less than $10 to several hundred:
Garmin inReach (Amazon). Give the gift of communications anywhere via two-way satellite text messaging. Can send a text message to any smartphone or email address from even the most remote location and get an answer back, as the inReach is powered by Iridium satellite communications. Also includes a tracker so that family and friends can see where the boat is. Can get basic weather forecasts and also has a search and rescue function, although not a full substitute for an EPIRB. The best model for most cruisers is the SE+ as it includes GPS (which the Mini doesn't) but not the maps (Explorer does, designed for hikers). Bluetooth to phone or tablet to make messaging easier. Must purchase data plan separately; most cruisers opt for unlimited data plan.
Marine Weather Center subscription. Accurate weather information and forecasts are simply critical to cruisers' safety and comfort. Chris Parker's weather service is simply the best there is for boaters on the US East Coast, Bahamas, Caribbean and points between.  Get the forecast either by SSB or email or both — I particularly like the email for being able to refer back to it and digest it slowly; others prefer SSB as you get to talk with Chris and ask questions. Chris also offers one-time custom forecasts, routing services and can send a custom forecast or route to your email or inReach (above). Prices start at $99 for a month; $199 for a year.
Luci Light (Amazon). Wonderful solar light for the cockpit; can also work as a dinghy light (not legal in some places) or emergency anchor light. We've also used it inside the boat when we needed extra light when working on something in a dark corner. Clear is best for places where you want the maximum light; frosted is nice for soft light in the cockpit; mult-color is also fun in the cockpit and makes it easy to find your boat after dark in a crowded anchorage.
Luci Clear   •   Frosted Luci   •  Multi-Color Luci
Lunatec Odor-Free Dishcloths (Amazon). Ideal for life without a dishwasher. Enough texture to really get dishes and pans clean, yet food particles rinse out easily and they're made of a very fast-drying material so they never, ever get stinky or sour-smelling. Don't laugh — these will be seriously appreciated and are definitely budget-friendly (formerly called Scrubbr dishcloths; they're the same thing).
Fast-drying towels. I have two suggestions for fast-drying and space-saving towels. Marmara Imports' Turkish towels for a bit of true luxury and TaLii Towels' microfiber towels for their ability to be customized with the boat name with a laser process. Both are decidedly higher quality and longer lasting than most that you'll find — I use both and love them!
Marmara Imports Turkish Towels
FastSeas Passage Planning subscription. FastSeas is a weather routing and passage planning tool. It will calculate the fastest route to take a boat from point A to point B given the current weather forecasts, ocean currents, vessel performance, and the cruiser's desired comfort (max wind and wave conditions, for example). Basic routing is free; but a subscription for just $10 per month ($60 for a year) allows unlimited passage and departure plans and the ability to get updates via email or the inReach when at sea.
FastSeas Passage Planning subscription
Subscription to Good Old Boat, Cruising World or SAIL magazine. All three are great magazines, each with a different focus on the cruising life. All have digital subscriptions so can be read anywhere with no issues to have to be mailed or take up physical space aboard. And they're great for those who are still ashore, planning and preparing for a life afloat.
Good Old Boat   •   Cruising World   •   SAIL magazine (digital)   •   SAIL magazine (print)
Towing service. No one likes to think about the possibility of a mechanical breakdown or running aground and needing a tow, but it happens. A towing membership gives free tows (with certain limitations on distance and severity of grounding, etc.) versus the hundreds of dollars that one would otherwise cost. Both TowBoatUS and SeaTow have excellent operations.
Mantus Anchor. Give the gift of a good night's sleep with a great anchor, chain hook and other ground tackle. The Mantus just plain sets the best of any anchor I've ever used and re-sets quickly with any wind or tide change. Customer service is top-notch, too!
Utility Anchor Light. Make life a little easier with never having to remember to flip on the anchor light at dusk or turn it off in the morning. The Cruising Solutions version with the super-bright LED bulb is a nice upgrade from the more well-known Davis Megalights that are not nearly so bright. Great to hang from the backstay or lazy jacks as it's much more visible than a light at the top of the mast (Coast Guard where I am actually recommends lower lights as opposed to masthead). Can be plugged into a cigarette lighter or cut the plug off and hardwire it.
Utility Anchor Light with super-bright LED bulb (Cruising Solutions)
Q Flag (Amazon). Show them you believe in their dreams to sail away from their home country. Any time you arrive in a foreign port, you're required to fly the Q (quarantine) flag until you have completed all the customs and immigration formalities.
I could easily list another 20 or 30 items, but I'll leave it here.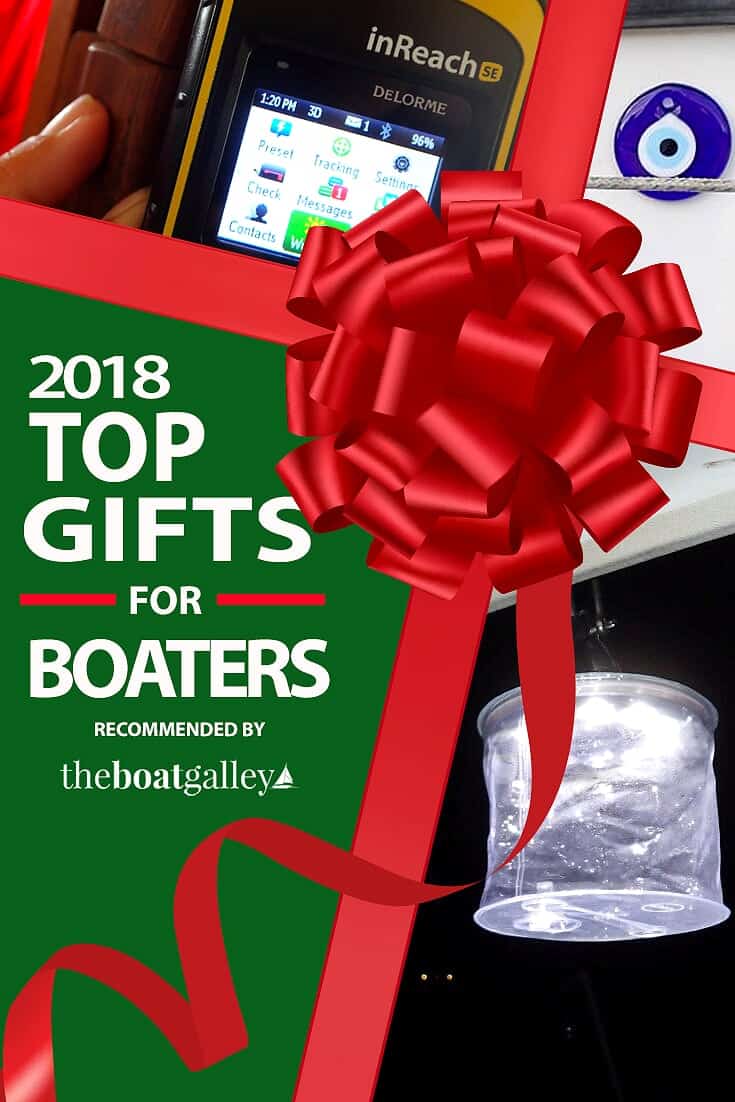 Wondering how to store everything on your boat? Don't worry, we've got you covered:


Make Boat Life Better
Some links in this article (including all Amazon links) are affiliate links, meaning that we earn from qualifying purchases.