Dave and I strongly believe in anchoring as if we know it's going to blow 50 . . . because sometimes it does. It's not usually entirely unforeseen, typically a squall, but it's rare that the initial blast was forecast to be that strong.
We've probably had about one 50-knot blast from a squall each year we've been cruising, and numerous ones over 40, some sustained. I'm not counting tropical storms and hurricanes, just "normal" weather in places not known for extreme conditions.
Our anchoring technique and ground tackle are our number-one form of insurance (we only carry liability insurance, but even if you have hull insurance I doubt you want to drag into another boat, go on the rocks or even "just" go aground on sand). It's also how we sleep well . . .
EQUIPMENT
When we began preparing for our first hurricane anchoring, one of the books that we were referring to made an excellent point that has stayed with us: anchoring isn't one piece of equipment, it's a whole system. And if there's a weak spot, it doesn't matter how good all your other gear is, the system is going to fail.
So we start with a good anchor. For us, that's a Mantus (disclosure: I do earn a bit on Mantus sales through links here, but we chose Mantus for our own anchor before we had that relationship; my life may depend on my anchor choice and no amount of money will encourage me to use one I think is inferior). Mantus has a great reputation for setting, with a very sharply pointed weighted tip and a roll bar to assure that it is right side up so it can dig in – we have never had it fail to set first time, even in light grass (we haven't encountered an area with only heavy grass).
Many older anchors just don't set as well (or at all in challenging conditions) or don't reset if the wind or current changes. We did ride out a hurricane on a Bruce anchor, but ever since then we've had a "new generation" anchor (first a Spade with our previous boat, now a Mantus . . . Rocna are good too). Fortress and Danforth are good in certain conditions but do very poorly at resetting when wind or current changes the direction of pull.
Then comes the rode and snubbers/bridle – we use 125 feet of chain followed by 150 feet of Brait on our primary anchor. We got it new last winter – what had come with the boat from the previous owner was woefully short, particularly on the chain. We are somewhat regretting not going with all chain – when we have more than 125 feet of rode out, our chain hook bridle (also from Mantus) won't work and we have to use two dock lines attached to the rode with rolling hitches as our bridle (this is harder to remove in an emergency). While the rope rode alone would provide the needed shock absorption, it would quickly chafe through on the bow roller, hence the need for a bridle or snubbers (they provide a smoother ride on a catamaran, too). Read more about our bridle here – note that a bridle or snubbers are crucial for shock absorption and must be sized properly to provide a certain amount of stretch. This is one case where bigger isn't necessarily better!
Attachment points on the boat are next. Beefy cleats with solid backing plates are best, as are hawse holes for the snubbers to pass through to reduce chafe. This is the weak point on Barefoot Gal – the cleats are good sized but the backing plates could be better.
Additionally, we consider a properly sized electric windlass to be vital safely gear.
With an electric windlass, we're willing to anchor and re-anchor as many times as necessary to get a good set and in a location where we are both comfortable. We have a rule that if we are not both comfortable where and how we're anchored, we do it again . . . it's no good if one of us is worried!
It also has allowed us to up anchor when the wind direction suddenly changed and we needed to leave in a hurry.
Finally, since we are not worried about how much chain we'll have to pull by hand, we are willing to anchor in slightly deeper water, which usually gives us a much greater safety margin from shore in the event that we do drag. It also lets us use a heavier (larger) anchor as our everyday anchor.
We use Sena Bluetooth headsets (Cruising Solutions, Sea Dog Boating Solutions, and Amazon – Update:This set is different from the ones I own. But it's the latest version and a little less money!) in normal anchoring situations to talk things over. On our previous boat, we used hand signals and occasional cockpit huddles to discuss what we wanted to do; we much prefer headsets. We do not use them when anchoring in rain . . . there, we fall back on hand signals and years of anchoring together so that we know what the other is likely thinking. Here in the Bahamas where we are often trying to drop the anchor in a small sandy spot in the middle of grass, being able to talk is especially helpful as Dave often has just a 5-foot circle to drop the anchor and verbal directions are much more precise than hand signals.
Finally, we use a smartphone anchor alarm to let us know if the anchor drags. There are many available for both iPhones and Android, as well as on many GPS/chartplotter units. We actually set the range to be slightly smaller than our distance from the anchor so that it goes off in a major wind shift, not just if we are dragging (a major wind shift usually precedes a squall . . . and we'd like to know in any case with a big shift). Different alarms have different sounds and some let you choose between several. Be sure to choose one that will wake you!
TECHNIQUE
In an ideal situation, we come into an anchorage and motor around a bit while discussing where we might anchor. Things are not always ideal, however.
First, it is unlikely that where the chart has the little anchor symbol is the only place to anchor . . . but it is likely that there are a cluster of boats there! We prefer to anchor a little bit away from other boats, where we have full 360-degree swinging room if possible. And we consider the forecast wind direction, swell direction, where other boats may transit the anchorage (say local fishermen when anchored off a village) and anything else that may be pertinent.
Dave is almost always on the bow doing the anchor work and I am at the helm. When we decide where we want to drop the hook, I go in neutral and coast up to the spot and Dave drops the anchor and plays out the rode as we drift backwards (in very light winds, I'll put the boat briefly in reverse to get it moving slowly astern). We use at least 5:1 scope (high tide water + free board) and usually closer to 7:1.
We do not pull on the anchor at all at this time above what the wind might do.
Dave puts the bridle on. This gives the anchor a bit of time to settle in. Once the bridle is on, I slowly (idle speed) reverse the boat to stretch out the chain . . . Dave is always convinced that the chain is fully extended before the GPS shows 0.0 as the speed; I always continue the slow reverse until the GPS shows 0.0 knots.
I then slowly increase the RPMs (still in reverse) until we reach our typical cruising RPMs and hold it there until the GPS again shows 0.0 knots. As I raise the RPMs, I usually see a little movement at first as the anchor really digs in, all the catenary is taken out of the chain and the snubbers are stretched. The GPS may show 0.4 or 0.6 knots, then will fall back to 0.0. We're set!
I return  the engine to neutral, confirm that we're both happy with where we're anchored, turn the engine off  and set the anchor alarm.
Of course, if the GPS does not go to 0.0, we don't have a good set . . . so it's time to raise the anchor and do it again in a slightly different spot.
Yes, I've heard people say they don't want to back down hard on their anchor because they might break it out. I'm not quite sure of the reasoning, to be honest. Part of backing down hard is to set the anchor, but it's also to see if it will break out in a severe gust. I'd much prefer to know if we have a good set right then rather than at 2 AM in a squall!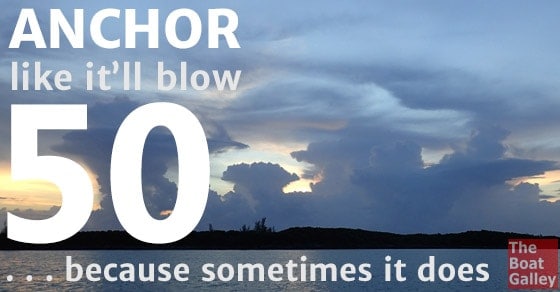 Some links above (including all Amazon links) are affiliate links, meaning that I earn from qualifying purchases. Learn more.