Que Tal, our Tayana 37, had one hanging locker that was over three feet wide and another just over a foot wide. But we didn't have any hanging clothes aboard! What to do with this space?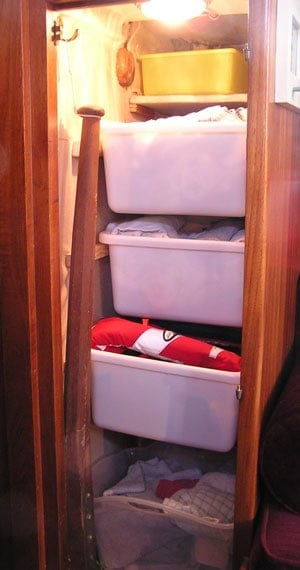 I do understand that if you're living aboard while working, you probably do have some hanging clothes. But many weekenders or full-time cruisers don't.
For a year, we just sort of stuffed things in both. I don't have any "before" pictures, but I had a few milk crates on the bottom with canned goods, then a layer of paper towels and bags of rags, then some t-shirts hanging on the rod.
It was hard to find items and I kept thinking that if we converted at least part of that space to drawers, I could rearrange a bunch of other things so that everything would be easier to get to. The only problem was that the space wasn't really square and neither Dave nor I would ever be mistaken for a fine carpenter. It had to be easy!
I also didn't want to use wire shelves or drawers as they are prone to rust in salt air, and also can leave marks on clothes. Small items will also drop through.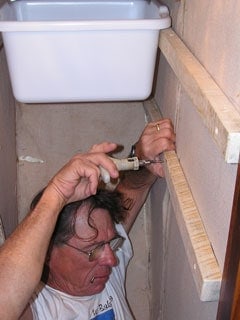 I was able to find a bunch of heavy-duty plastic dish pans that were just slightly narrower than the locker. They were sized so that I could put two deep. The front one wouldn't slide out easily (particularly with the emergency tiller in there on the left side), but with a bit of wiggling it could be removed so that I could get to the back one. Due to the hull curvature, I had one bin on the floor too.
Because they were harder to get to, I used the back ones for things that we needed to have aboard but didn't get out that often such as guest towels, extra PFDs, and old tax records.
Dave got a bunch of furring strips and put them along the sides (yes, if you're working in a locker like this, it helps to be skinny and a bit of a contortionist). The bins just sit on the wood pieces.
Using plastic bins like this, you can't put heavy items into the bins or they'll warp or break. But generally you want the heavy stuff as low in the boat as possible, so it's not really a problem.
While you might not be able to exactly duplicate this in your boat, it just might give you an idea for converting an under-utilized locker to an efficient storage space.
Some links in this article (including all Amazon links) are affiliate links, meaning that we earn from qualifying purchases.