Cruising Stories are little snippets of the cruising life, telling about the ups and downs, triumphs and challenges of this life. In this episode, Michele Watson tells of the challenges of cruising with lymphedema and her personal triumph, with a heavy emphasis on "you can do anything you set your sights on."
Thanks to Michele for telling her story. Many of the photos here she hasn't shared publicly before, and I appreciate her willingness to do so here.
---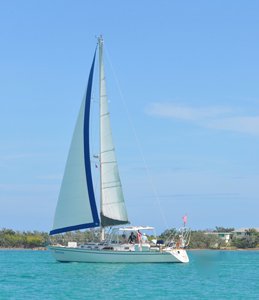 My husband, Al, and I had a dream that we would retire and go cruising "someday." Al was raised on the coast of Connecticut and has always been on the water, either power or sail. We remodeled and sailed four sailboats together and finally realized our cruising dream on the fourth boat, a 1987 Morgan 43 Center Cockpit. We carefully remodeled Kindred Spirit for living aboard and sailing south. Our intention was to do extended cruising south to the Bahamas for 8 months but maintain our small home in Connecticut and spend summers there.
In 2011, before we retired, I was diagnosed with ovarian cancer, fortunately at an early stage. Following my surgery and six months of chemotherapy, I worked another 18 months and then retired so that we could go cruising. The decision to go cruising was complicated by my new disease, lymphedema, a consequence of the cancer surgery. The removal of lymph nodes throughout my abdomen led to the development of lymphedema (LE) in my right leg. Lymphedema is an abnormal buildup of lymph fluid in the tissues under the skin when the body's lymphatic system is unable to transmit the fluid. The standard removal of lymph nodes during cancer surgeries puts the patient at risk for developing this incurable and progressive disease. The incidence among gynecological cancer survivors is between 20-40%, and between 6%-25% for breast cancer survivors.
I had never heard of lymphedema before my own diagnosis and this possibility was never discussed with me during my cancer treatment. Lymphedema, both primary and secondary, has been an invisible disease among the medical profession as well as the general public. And yet, LE affects 10 million Americans, more than AIDS, Parkinson's Disease, Muscular Dystrophy, Multiple Sclerosis and ALS — combined.
WHAT IS LYMPHEDEMA?
The lymphatic system transports lymph fluid, a mostly clear fluid consisting of white blood cells that help fight infection, water, waste products, fats and proteins. This fluid is drained from tissues and circulated throughout the body through lymph vessels and is filtered though the lymph nodes.
Lymphedema (LE) is the result of trauma to the lymphatic system or an abnormal development of the lymphatic system. The symptoms can vary from individual to individual but include swelling of the affected limb(s), thickening of the skin, feeling of heaviness and tightness to the skin, fatigue, discomfort and sometimes pain. I will never forget the first time I googled photos of lower limb lymphedema – the advanced cases were frightening and disturbing to see. I vowed to never let my lymphedema reach that stage.
Lymphedema is incurable and can only be managed by 24/7 vigilance and knowledge. The "gold standard" of treatment for LE consists of:
The height of fashion with my wrapped right leg

Intensive treatment phase: Complete Decongestive Therapy (CDT) by a certified lymphedema specialist:

Daily sessions for a period for 2-3 weeks (or however long it takes depending on severity)
Each session includes "manual lymph drainage" (MLD), a specialized massage technique to move the lymph fluid out of the affected area.
Compression wrapping with layers of foam and bandages that remain for 24 hours, until the next day's appointment.

Self-care maintenance phase:

Wearing compression garments daily, and usually every night
Regular exercise while wearing compression garments
Meticulous skin care
WHAT DID THIS MEAN FOR OUR CRUISING PLANS?
No one told me I could not go cruising, but I also don't think there were many other folks out there trying it. To this day, I have not met another person with LE who lives aboard, cruises extensively or even cruises for a few weeks each summer. In the summer of 2013, I had been dealing with the lymphedema for only 18 months and knew a lot less about the disease then. After surviving cancer, I didn't want anything else to hold us back from realizing our dream, even if that dream would require some adaptations and modifications.
I began a blog Kindred Spirit as a journal for our trip and have maintained it for the past 5 years, mostly for our cruising adventures, 2013-2014 and 2015-2016. Of the 230 blog posts to date, only 8 mention my lymphedema. Photos are usually cropped to conceal my leg. Although I was generally open and honest about the lymphedema, I was also self-conscious.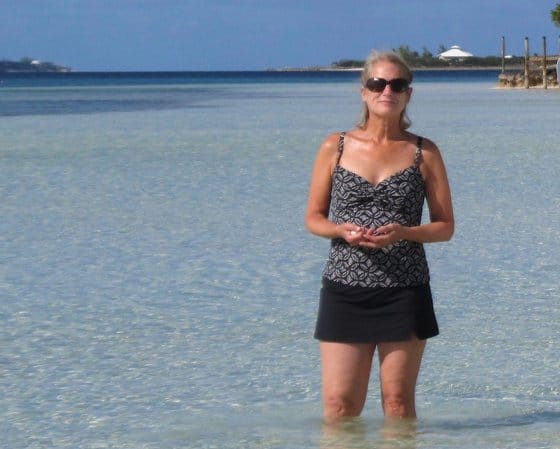 There are no medications or pills for LE. Each person's LE can vary – what triggers it, how much swelling is "normal" and when serious attention is needed. You need to know your own lymphedema. Although there is no scientifically proven lymphedema diet, it is important to eat a balanced and healthy diet. Excessive weight will add greater demands on the lymphatic system and make things worse.
I did not have CDT before we departed on Kindred Spirit for the first time in 2013, only MLD twice a week, for 4-6 weeks, periodically throughout each year. I wish I had had the proper treatment earlier in my LE journey, but that's another story. Finding a certified lymphedema therapist can be a challenge anywhere, but it could be quite difficult when cruising, especially considering the time commitment for CDT. I was able to cruise for 8 months without treatment, but I now only go 6 months without a tune-up.
MANAGING LYMPHEDEMA – COMMITMENT AND DILIGENCE, ON LAND OR AT SEA
The most important thing I did, faithfully, every day, was to wear my compression garments. The "over-the counter" less expensive options do not fit me well so I wear custom-made, heavy-duty compression stockings, usually full pantyhose without toes or a capri-style down to my foot. My private insurance covered 8 pairs per year, but Medicare does not cover any, even with supplemental insurance. The cost for each pair ranges from $500 to $1100, depending on the type of fabric, thigh high for one leg or full pantyhose.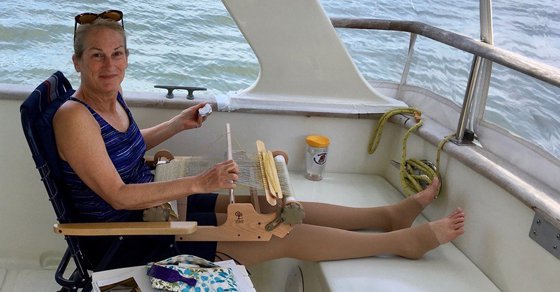 The compression garments aren't all that comfortable, but I did get used to them, except in the heat. While everyone else beats the heat with shorts and bare legs, I usually wore a skort or active skirt/dress with my compression. Sometimes my black compression garments can even look stylish.
When worn daily, a compression garment should last 4- 6 months. Needless to say, at these prices one takes very good care of them! Proper care includes daily washing and hanging to dry. That is quite a challenge while cruising. Laundry day was usually every 2-3 weeks and it just isn't possible to have 15-20 pairs of compression stockings! Handwashing was an option but doesn't clean them as well. To be honest, I didn't wash my compression garments every day while cruising. I would literally hold my breath each time I used a laundromat hoping that the washer would not destroy my precious garments.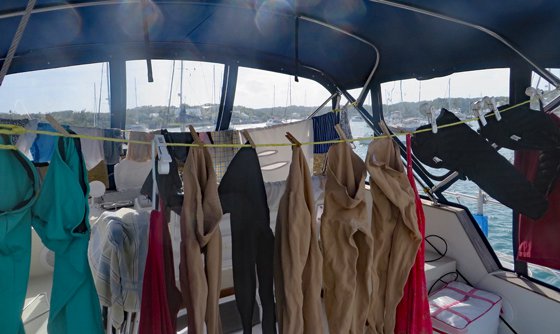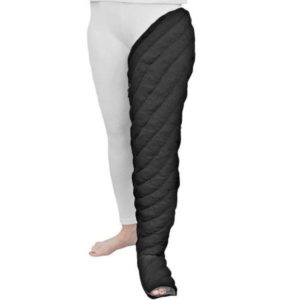 The daytime compression cannot be worn at night. Some folks with LE do not need a night garment, but I find a special night garment to be an effective addition for controlling my LE. The specialized compression with quilted channels helps to move the lymphatic fluid. Admittedly, it is not very sexy and it is rather warm in the heat. Needless to say, I do not have a photo of myself wearing one. 😉
Skincare is a critical component of LE care. The first rule is to protect your skin from sunburn, which everyone should do! Insect bites, cuts and scrapes while cruising can have more serious consequences because of the compromised lymphatics. Cellulitis, when bacteria infect the deep layers of skin and tissue beneath the skin, can be extremely serious, requiring an immediate trip to the emergency room or hospital for antibiotics. Fortunately, I have never suffered from cellulitis. I immediately cleaned any cut, scrape, or insect bite and covered it in an antibiotic ointment. Much to my surprise, mosquitos DO bite through compression stockings!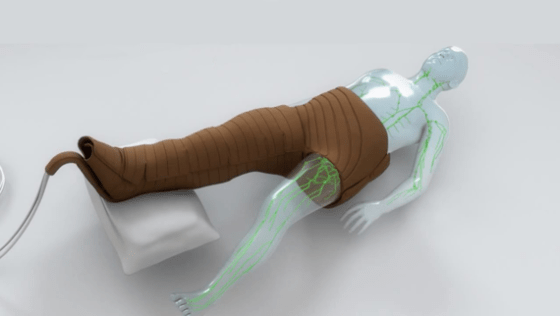 Exercise is just as important for lymphies as anyone else, perhaps even more so. Exercise makes the muscles contract and pushes lymph through the lymph vessels, but compression garments must be worn. At home, I would walk two miles 4-6 times per week, but that wasn't always convenient or possible traveling back and forth on the Intracoastal Waterway (ICW). I have a pneumatic compression pump system that mechanically moves lymph fluid. It is not a replacement for Complete Decongestive Therapy or Manual Lymph Drainage, but it was better than nothing. Five to six times each week I would spend an hour in the "machine" as we fondly called it. The Flexi-Touch was in our second cabin and out of the way. I really didn't mind that hour each day because it gave me a little"quiet time" for reading or a nap. I just wish I had taken a photo of me using it!
Physical activity is more challenging than before I developed lymphedema. I tire more easily, my leg is less flexible, and my balance is sometimes off. I could usually plan on one big activity a day, with perhaps a rest day in between. Long walks to a grocery store or touring an interesting port that require hours of walking was sometimes exhausting, resulting in more aches and heaviness in my leg. Biking was a great alternative for exercise, touring a new port, or fetching groceries.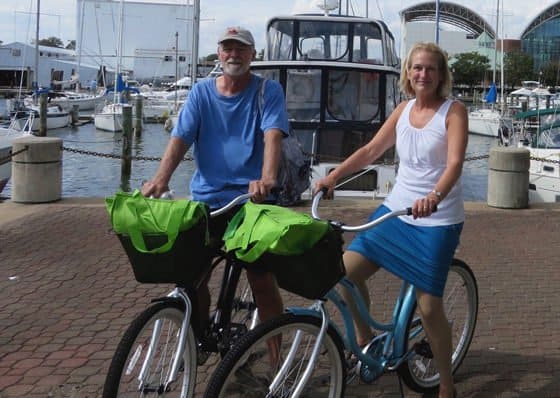 I missed the spontaneity of walks on the beach and jumping into the waves. If I wore the footless compression, I could feel the sand between my toes and walk on the beautiful white beaches in the Bahamas. That counts for a lot. Full disclosure – While in the Bahamas and here at home during New England summers, I do take 2-3 hours off from my compression and spend time sitting on the beach. A girl has to live, right?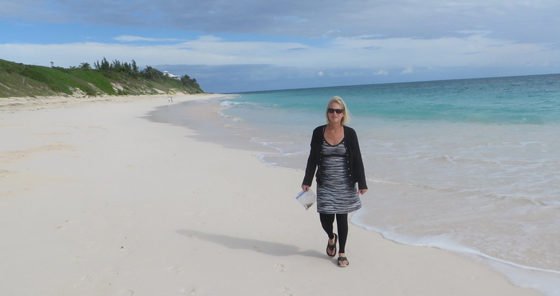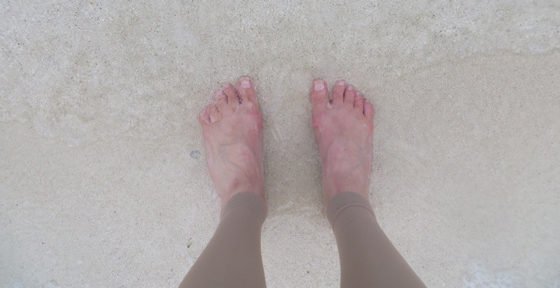 Once we were in the Bahamas, snorkeling and exercising in the water was my preferred activity. No compression garments are needed because the water provides a good level of pressure on its own. The water is a place where I can truly feel "free." Oh, to be a mermaid!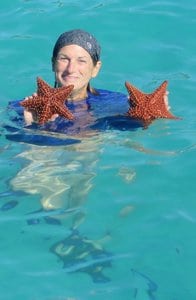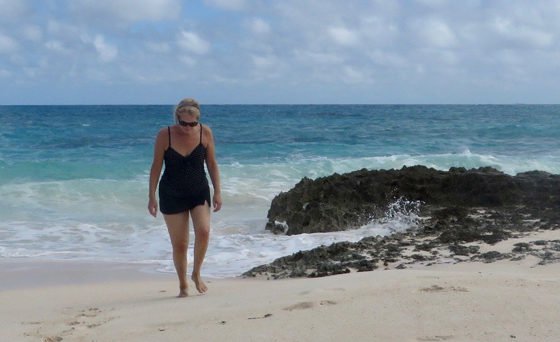 After our first adventure to the Bahamas, we sold our beloved sailboat, Kindred Spirit, and purchased a 2003 Mariner Orient 38 trawler. She is our third Kindred Spirit. Although we loved sailing, the trawler is more comfortable for me and my lymphedema. After 12 months of transforming the trawler, we made our second voyage to the Bahamas in 2015-2016.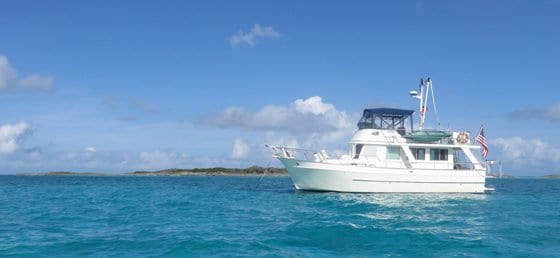 Without a doubt, lymphedema made cruising more challenging, but I have no regrets about our two trips to the Bahamas and back. It took a little more determination and a patient husband, but I did it. I did it.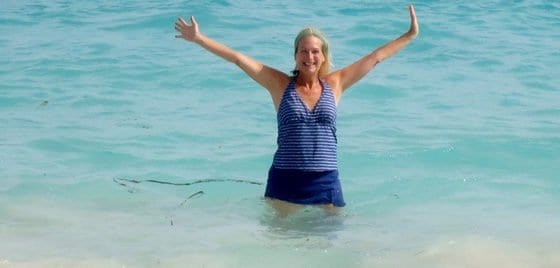 Information and Resources for Lymphedema
Lymphatic Education and Research Network https://lymphaticnetwork.org
The National Lymphedema Network https://www.lymphnet.org
10 Things LE http://10thingsle.info
The Lymphedema Treatment Act https://lymphedematreatmentact.org
Lymphie Strong https://staylymphiestrong.com
Some links above (including all Amazon links) are affiliate links, meaning that I earn from qualifying purchases. Learn more.