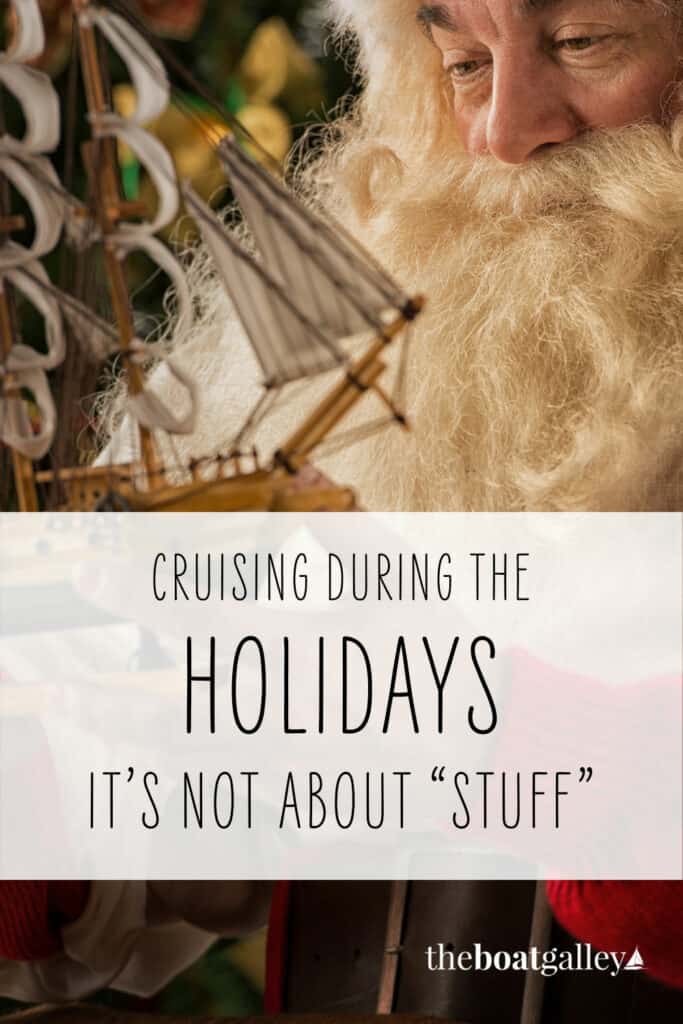 How do you celebrate the holidays on a boat? How do you decorate? Bake holiday treats? Don't you miss family? What sort of gifts do you give?
The holiday season gives rise to lots of questions for new and prospective cruisers. Some cruisers budget for a trip home to celebrate with family. Others celebrate wherever they find themselves.
To me, living on a boat means that holidays are a lot less about "stuff" and a lot more about sharing moments with the people around you. We don't go through that hectic buying frenzy. Instead, we go to the celebration of lights at the local park, watch the lighted boat parade, spend evenings talking with friends (old and new). Gifts tend to be of time, help on a project, doing things together . . . or maybe a plate of cookies.
We had to make a trip to Ft. Lauderdale just before Thanksgiving and needed to get something at the large shopping mall near our motel. Honestly, I hadn't been in a mall of any size in at least five years. It really threw me for a loop with the barrage of "you need this to fit in" and "you have to buy something for everyone you know" messages.
Frankly, I was glad I'd left that behind. Our holidays are more low-key, a lot less frantic and far more enjoyable now. And our family extends way beyond blood relatives to friends we've made from around the world. While we won't be sharing Christmas dinner with blood relatives, we will be surrounded by "family."
A few articles I've written that may help you envision celebrating the holidays aboard your boat:
And there are plenty of boat-friendly holiday recipes, too.
Wherever you are and whatever holidays you're celebrating, have a wonderful time!
---
Be sure to subscribe to The Boat Galley newsletter to keep up with what we're up to and get helpful tips and encouragement from the water.
Here's your "Quick Start" to everything you need to know when living on a boat:


Making Boat Life Better
Some links in this article (including all Amazon links) are affiliate links, meaning that we earn from qualifying purchases.