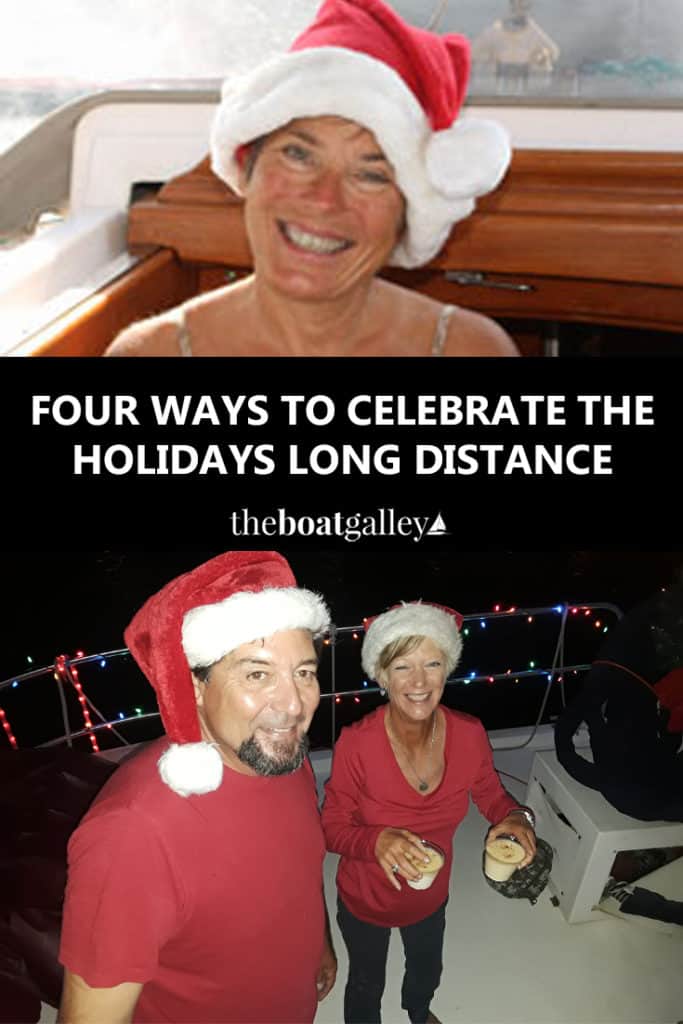 Somehow, someday, you're going to be in one place for a holiday . . . a birthday . . . a new baby . . . a graduation . . . a wedding — and the people you want to celebrate with are going to be somewhere else. It happens to everyone, and even more often when you're cruising. So how can you celebrate from afar?
Admittedly, it won't be the same as actually being there. But you can develop some new traditions for your family and friends. Cell phones, FaceTime and Skype can help — if you've got internet or cell phone coverage. Many boats on extended cruises have e-mail, too. But many of us want something more to actually feel connected with our distant family and friends.
Here are four traditions that some of our cruising friends have developed:
1. "Share" a Meal
Maybe you can't sit down at the same table, but you can sit down to the same meal. It takes a bit of coordination ahead of time to make sure you have the same recipe(s) and all the necessary ingredients aboard, but it can be a fun way to feel connected. Be sure to take photos to exchange!
2. Celebrate the Occasion with Cruisers
One day, we were invited to a birthday party for another cruiser's adult son. No, he wasn't there — we were in a remote anchorage in the Sea of Cortez and he was in Alaska. But she baked a birthday cake, complete with candles, and invited 6 of us over to sing "Happy Birthday" and have a slice.
3. Celebrate When You Are Together
Other friends "saved up" special occasions and then celebrated them with family when they were together. Yes, a true "Christmas in July" with all the traditional food, presents and even a (fake) tree! You might not be there to see the grandkids' faces when they see their Easter basket, but how about an Easter egg hunt when you are there? Or if they won a trophy, why not use it as a centerpiece for dinner one evening on your next visit?
4. Exchange a "Party in a Box"
A couple on another boat knew they were going to be apart on their anniversary — he was on a delivery while she was tending to their boat. Before they left, they exchanged boxes for the other to open on the big day. Not just a present, but a "party in a box" for them to have a bit of a celebration with friends where they were. We were invited to share her "box opening" — a Happy Anniversary banner (in Spanish, since we were in Mexico), some of her favorite chocolate, a picture from their wedding, a CD with party music, margarita mix and a bottle of tequila. Having a box gave her something to look forward to as well as a reason to invite a bunch of friends over. And the box she sent off with him made a fun diversion for the delivery crew — mostly treats, but a few old photos of the groom in his oh-so-70's tux for the guys to laugh over!
Of course, big holidays often have parties for cruisers at a marina or local hangout. And your cruising friends are only too willing to help celebrate your birthday. These are great fun, but many of us feel the need to connect to friends and family "back home," too.
So how do you celebrate from afar??
Some links in this article (including all Amazon links) are affiliate links, meaning that we earn from qualifying purchases.