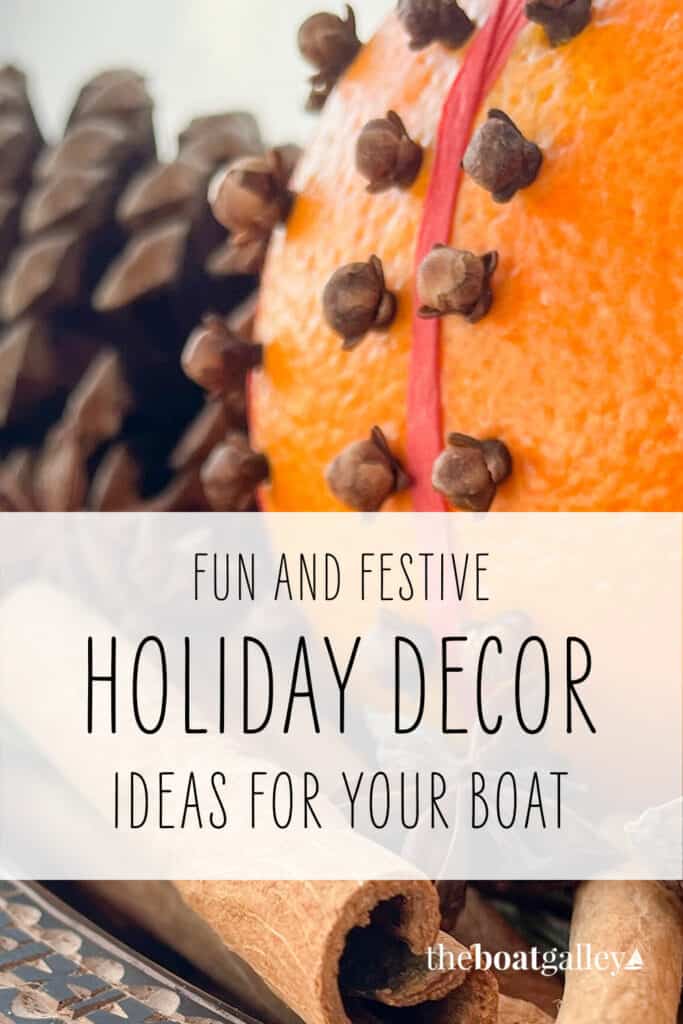 We're getting to that time of year when many of us yearn to recreate happy, holiday memories. But in the limited space of a boat, just what can you do to create a festive atmosphere?

Cruiser Amy Alton has some great ideas for holiday decorations that don't harm the environment and take up very little space.
---
The holidays are a peak time for homesickness around our boat. While we are (hopefully) in an exotic and beautiful location, it often doesn't feel like the holidays.
We miss the cold weather, the dusting of snow, the cheer of holiday parties, and the comfort of friends and family. After five Christmas holidays on our boat, Starry Horizons, in various locations around the world, I've learned that decorating the boat can be a defining moment. It's time to play Christmas carols, enjoy holiday meals, and make plans for celebrating with our fellow cruisers.
As an environmentally conscious sailor, I cringe to think of the amount of trash generated around the holidays. At the same time, I don't want to stuff our boat with items we will only use one month out of the year.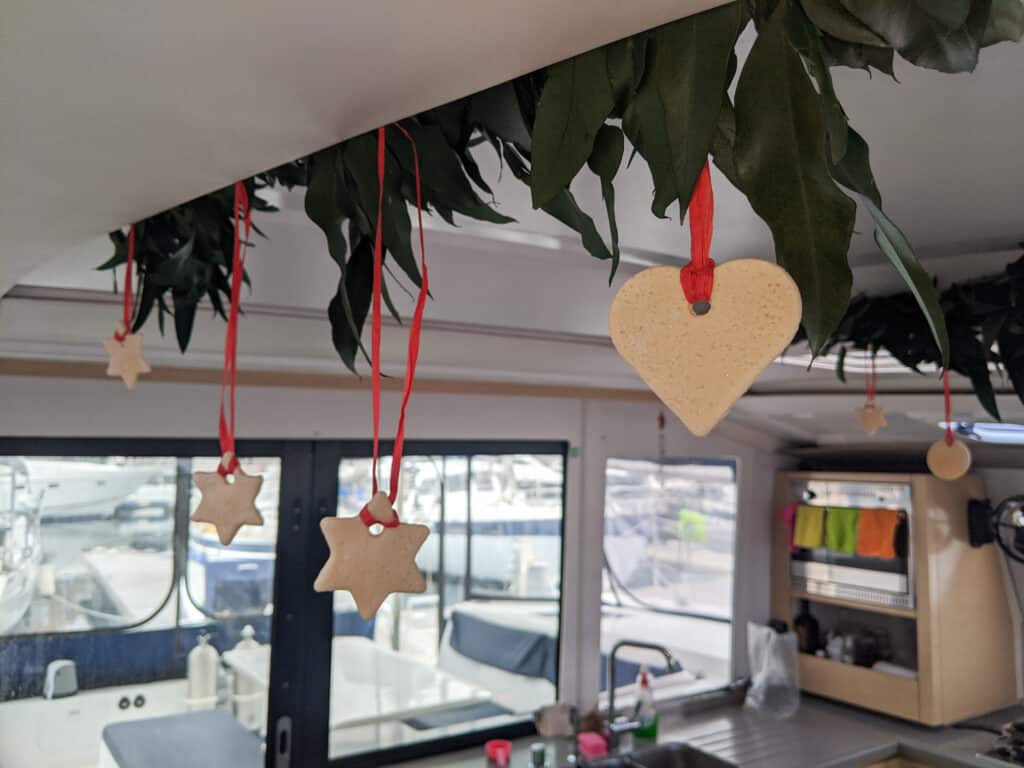 Instead, I've found ways to decorate our boat while only storing a small bag of supplies. I dig out these items, make a trip to the grocery store and florist, and our boat is ready to go for the holidays.
Most of the items I use are natural products that will decompose unlike plastics that will sit in the landfill. This makes me feel better after the holidays are over. All of these decoration ideas take a bit of time and effort to craft but are easy to learn. And they are great ideas for boats with kids onboard.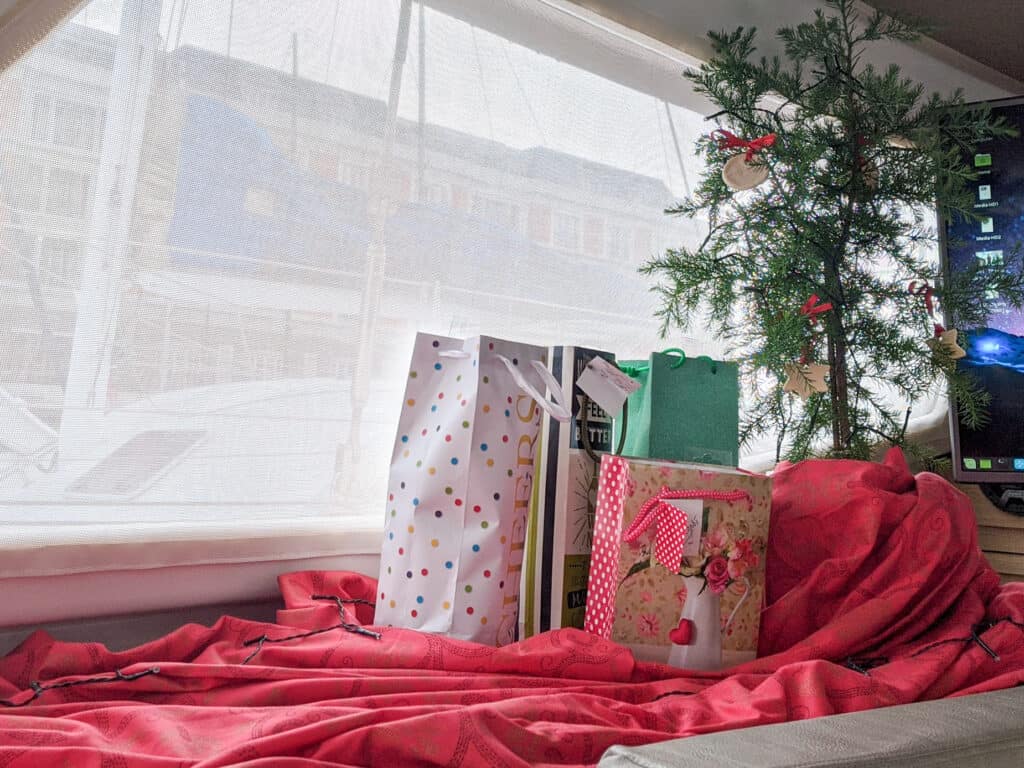 Or if you are looking to spread holiday cheer, invite other cruisers or locals to your boat, serve some Christmas cookies, and have a decorating party.
Fairy Lights
My cockpit gets the year-round fairy lights treatment. I have a string of solar-powered lights (Amazon) wound around my support posts and strung up from the ceiling. The lights draw the eye in a crowded anchorage and give our cockpit a party atmosphere when lit up at night.
Fabrics and Ribbons
I have a cotton tablecloth in a festive red pattern that easily adds a pop of color to my main salon.
Ribbon, in addition to being useful for many of the below projects, can also be wound around stainless steel or made into simple bows.
Flowers, Garland, and Other Plants
I may not be able to fit a full Christmas tree into the boat, but I can buy a small potted evergreen and make that my Christmas tree! While I celebrated the holidays in Cape Town, South Africa, I was able to find a small tree and put it in our main salon. It helped that we spent the holidays in a marina.
I also bought garland, which I was able to wedge into the headliner of my boat. Cruisers may also want to consider buying other winter-themed plants like poinsettias or a Christmas cactus. After the holidays the plants can be given away, donated, or chipped for mulch. Some communities have organized programs for disposing of Christmas trees that would take similar items.
Florists and supermarkets also carry holiday-themed cut flowers. I have a Modgy vase that stores flat. It's very stable when in use, and makes for a lovely addition to the holidays.
Salt Dough Ornaments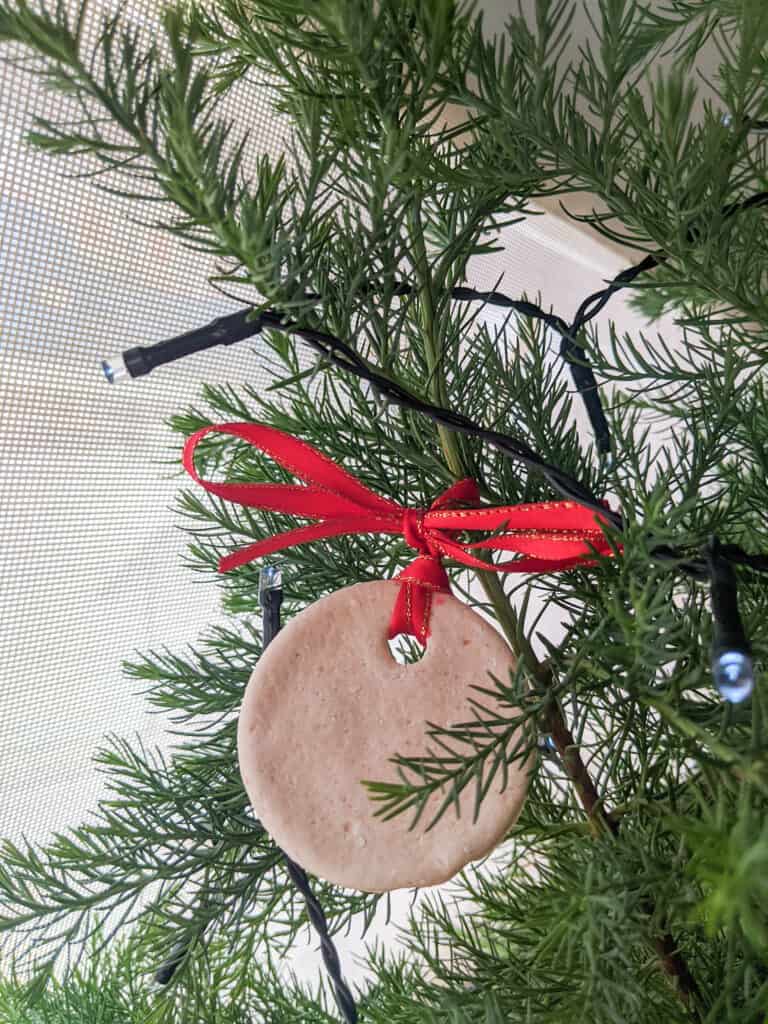 Mix flour, salt, water, and spices together to make this dough. Once everything is mixed, roll it out, cut it with some cookie cutters (I like a star one), and bake it. My salt dough ornaments have lasted through three Christmases so far.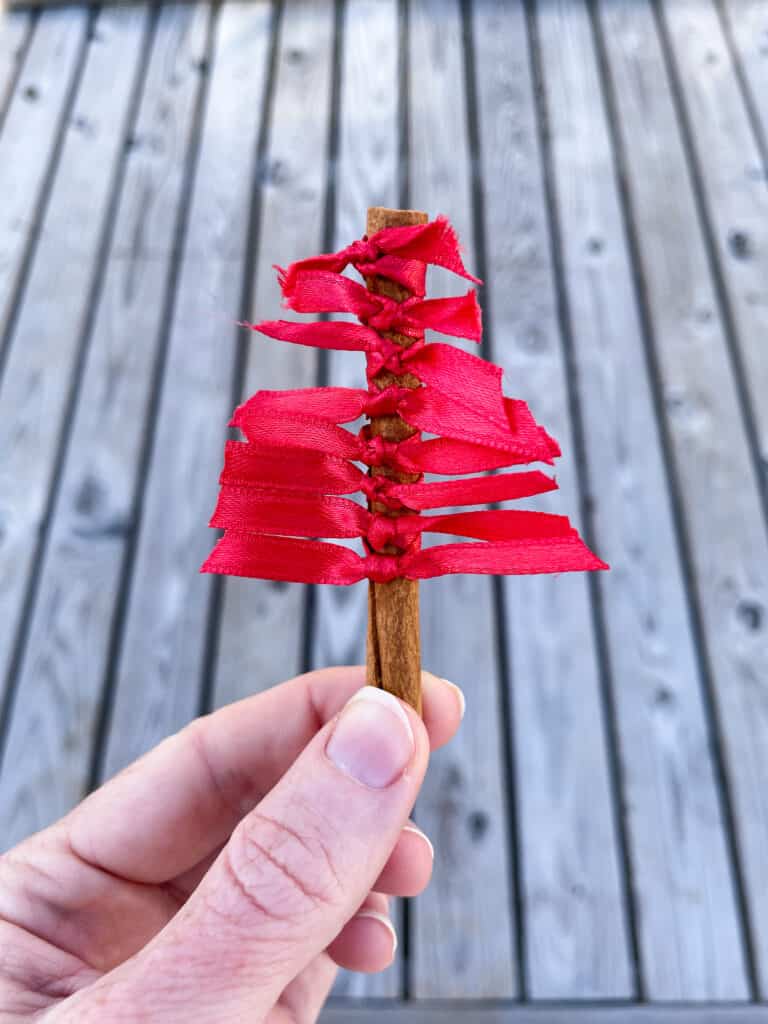 Ribbon Trees
A simple craft project, ribbon trees only require a stick and ribbons. I used a cinnamon stick, tying several strips of ribbon to the stick and then trimming the ribbon down into the shape of a Christmas tree. Using a variety of green ribbons would look even better. Multiple trees can be strung together to make a garland.
Foraging
Within reason, you may be able to find public spaces where you could gather a few items for your holiday decorations. Pinecones, holly, and pine needles are great additions to a decorative collection for the winter season. For fall, cattails or goldenrods would be interesting to collect and display. Of course, this is going to depend on where you are, but keep an eye out for things you see in nature that might be interesting to you – and make sure to stay away from private property.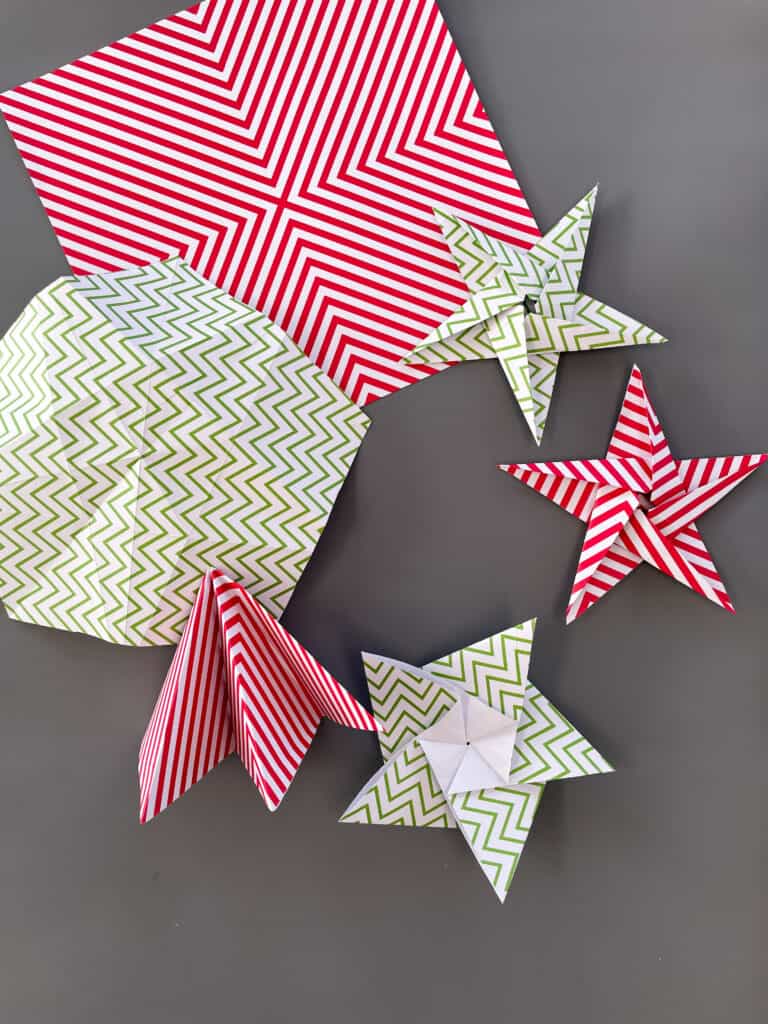 Origami and Paper Crafts
A book of craft paper may have many uses on the boat. Origami stars are easy to make and can be strung together with ribbon to make a garland. I used red and green striped craft paper to make a garland of stars over our main doorway. I've also made Star of David ornaments out of blue patterned paper. Don't have origami craft paper (Amazon)? Do your origami with brown paper or printer paper. The white printer paper is especially good for making stars.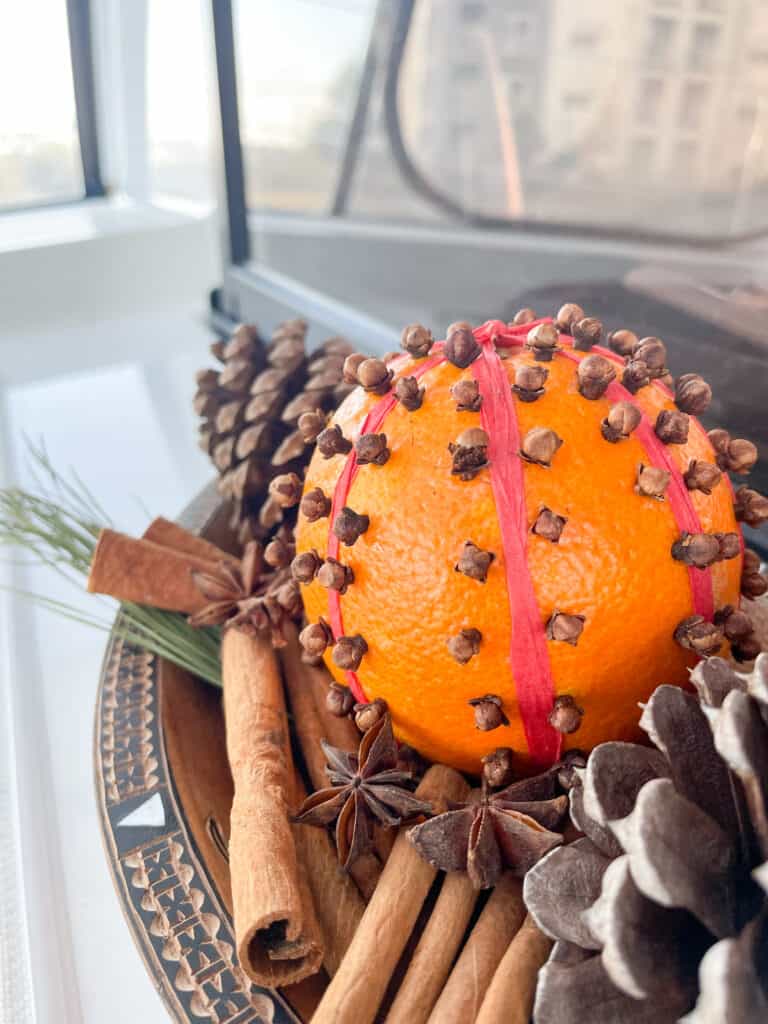 Pomanders
Today, pomanders are a decorative way to infuse the air with scents of orange and clove. I wrapped my orange with ribbons and then poked holes in a pattern before pushing cloves into the holes. Pomanders should dry out and keep for years. Old pomanders can be supplemented with clove or orange oil to refresh the scents. However, with the humidity and warmth in the tropics, pomanders can mold. Powdered orris root should help preserve it.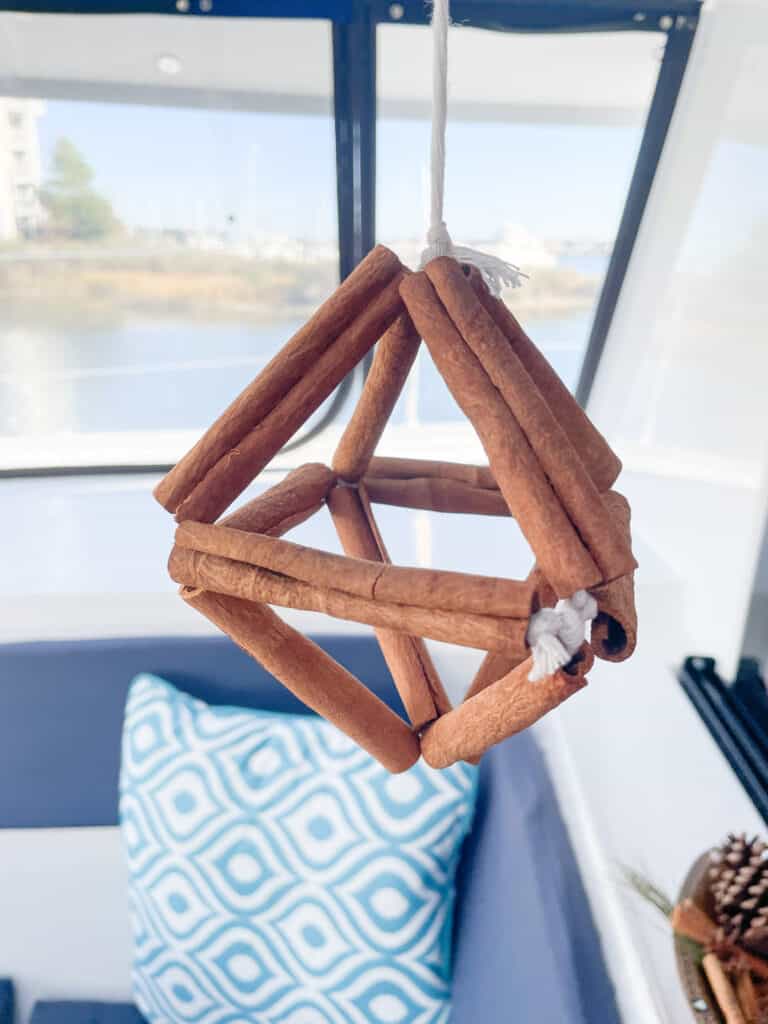 Himmeli
A traditional Finnish winter decoration made out of hollow straw, Himmelis are easy to make. While I don't have any hollow straw lying around, I did have cinnamon sticks (Amazon). A dozen cinnamon sticks threaded through with twine form an octahedron, and the cinnamon stick fragrance wafts towards me every time I walk past. These could also be made with bamboo sticks or cardboard straws.
Essential Oils
Many of the items I've crafted have their own scents, such as cloves or cinnamon sticks. However, those scents tend to fade with time. A few drops of cinnamon or clove oil (Amazon) bring back the pungency of smells we associate with the holidays. You can also use them to infuse items that don't naturally smell, such as the paper ornaments or salt dough ornaments.
Happy Holidays
However you choose to decorate your boat, we hope you have a safe and happy holiday season with good friends in a beautiful location!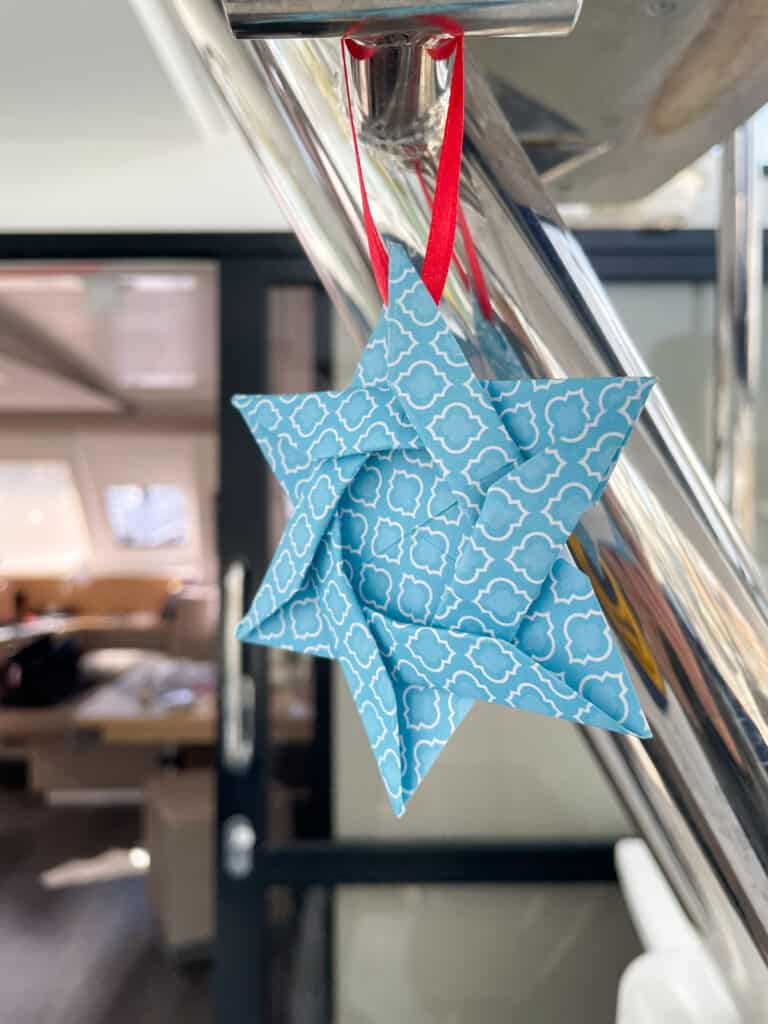 Sources & Instructions: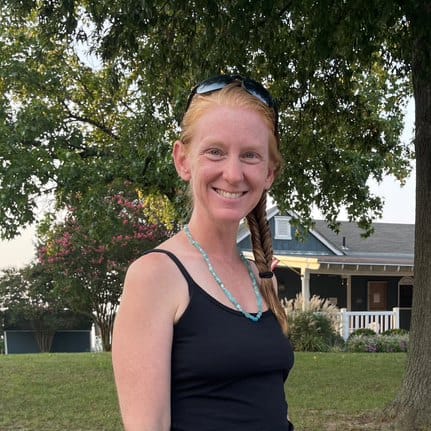 Amy Alton writes the blog Out Chasing Stars. She and her husband circumnavigated the world on their 44-foot catamaran, Starry Horizons. Their adventures over the past seven years have brought them through the Caribbean, South Pacific, Southeast Asia, and the Indian Ocean. They share their adventures on YouTube and Facebook.
Here's your "Quick Start" to everything you need to know when living on a boat:


Making Boat Life Better
Some links in this article (including all Amazon links) are affiliate links, meaning that we earn from qualifying purchases.