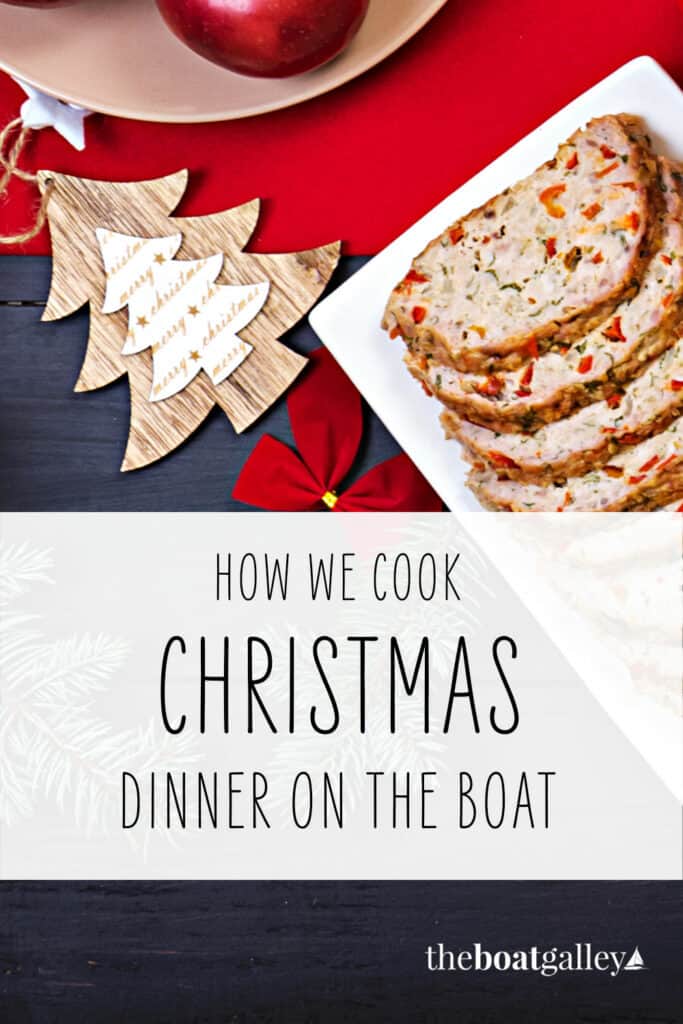 Last Christmas we hosted a Christmas dinner for one other couple – our "bubble buddies" – aboard Barefoot Gal. A little different from the usual marina potluck or going out with a bunch of friends. 2020 has caused many of us to alter our plans!
Linda texted me, "How about prime rib? Publix has gorgeous ones. My treat!"
So how do you have something like that with a typical boat galley?
The first thing is to only have one sort-of complex dish. It's a good rule in general, to have one dish that's the star and keep everything else simple. Let the one special dish shine.
On a boat, it's even more important to only have one dish that needs special attention, when there's not a lot of space in the galley or even in the refrigerator for preparing dishes ahead.
So our menu will be prime rib, baked potatoes and a tossed salad.
The next problem is that prime rib likes to be seared at very high heat, then slow roasted at low heat. My oven won't reach the 500⁰ F.-plus needed to sear, but my grill will. However, my grill won't go low enough to slow roast at 300⁰ F. Solution: sear on the grill, then transfer to the oven.
But the prime rib will take up the entirety of my tiny oven. How to cook baked potatoes at the same time? I'll either do them on the grill or in my Omnia Stove Top Oven.
Boat cooking is different, but you can prepare most dishes with just a little creativity.
Whatever holidays you celebrate I hope they are/were wonderful!
---
Be sure to subscribe to The Boat Galley newsletter to keep up with what we're up to and get helpful tips and encouragement from the water.
Want some help with that tiny refrigerator? Check out our step-by-step how-to:


Making Boat Life Better
Some links in this article (including all Amazon links) are affiliate links, meaning that we earn from qualifying purchases.