Yesterday, I read Windtraveler's blog about Brittany's trials and tribulations baking Christmas cookies on a boat. And it reminded me so much of my first holiday season on the boat where I tried to do everything exactly the same as I had ashore. As we continued to cruise, each year got a little easier as I began to develop some new traditions. Here's a few quick ideas to make holiday baking a little easier.
It can be a real pain to make cookies in the typical galley. The oven is smaller, so it takes a lot longer to bake them all. In turn, that puts a lot more heat into the boat. Counterspace is typically pretty limited, making it hard to make one type of cookie while baking another. If you don't have a mixer aboard (and power — such as shore power — for it), it can be a real workout to make traditional cookie doughs by hand. And hot weather (and no air conditioning) can instantly melt the prettiest frosting.
Cooking on a boat is different, with a much smaller workspace and often no convenient stores. Make the transition easier with my FREE online course, Cooking for Adventures.
Rather than be a Grinch and just abandon the idea of Christmas cookies, here are several ways to simplify the operation. Admittedly, many involve starting some new traditions and finding new family favorites, but there are also ways to adapt old favorites to be more boat friendly.
Make bars instead of individual cookies. It's a lot faster to bake one 9″ x 13″ pan and cut the cookies into 24 or 36 squares than to bake 4 small batches of 8 or 9 cookies each. Not only will you cut down the time spent, you'll cut down the heat in the boat.
The obvious choice here is brownies, but you can bake many more traditional "cookies" as bars. A "single recipe" of Toll House Cookies (the traditional chocolate chip cookie recipe, made with 6 ounces or 1 cup of chocolate chips) can be patted down into a greased 9″ x 13″ pan (which will fit inside most boat ovens, but check yours) and baked for 20 to 25 minutes at 375° F.
Sugar cookies also work well baked this way (dough should be about 1/2″ thick in the pan). Sprinkle the top with colored sugar (put white sugar and a few drops of food coloring in a zippered plastic bag and carefully shake) so you don't have to make frosting by hand . . . or have it melt if you're in a hot climate.
I've also done peanut butter cookies and ginger snaps this way. Typically, they take between 20 and 25 minutes to bake, but start checking early rather than risking burnt cookies.
While gingerbread men are a Christmas tradition, why not make a pan of cake-like gingerbread? If you have powdered sugar, an easy way to decorate it is to either cut strings of "gingerbread men" out or one large gingerbread man, lay the paper on top of the gingerbread, and sprinkle the powdered sugar around the cutout. Remove the cutout and its outline will remain. See my "Gingerbread Pan Man!"
No-Bake Cookies. While most no-bake cookie recipes require some cooking on the stove top, it's usually only for a few minutes, keeping the galley cooler and also not taking nearly as long as baked cookies. Some ideas:
Rice Krispies treats — color them red and green or roll in colored sugar or little silver balls, if desired.
Booze Balls — a Christmas tradition where I grew up, it was only later in life that I decided they could be made at other times of the year. And you can make them very quickly by pressing into a pan and cutting in squares instead of making balls.
Chocolate-Oatmeal No-Bake Cookies — not as pretty as some of the other options, but everyone always loves them. And you probably already have the ingredients aboard!
Recipes that use oil. Whatever you're baking — bar cookies or traditional cookies — if you don't have a mixer, find recipes that use oil instead of calling for you to cream shortening. You generally need recipes that are designed for oil; it doesn't usually work to just substitute it for butter or shortening. These recipes are usually meant to be made by hand and are much easier on the arms! Another trick is that if your preferred recipe does require butter or shortening, leave it out for a few hours to get really soft before trying to cream it with the sugar.
Alternatives to frosting. Cream frostings are tough to make by hand, and if you're in a hot climate they're likely to melt and drip some even if you do go to the effort of making them. Far easier decorations include:
Powdered sugar, dusted over the top in a random pattern or over a paper pattern to leave an outline when the paper is removed.
Colored sugar sprinkled over the top.
Press a candy into the top of each bar, either flat or standing up (Life Savers work well, as do peppermint candies — and don't melt).
Mix a thin drizzle frosting of powdered sugar and milk or water (color if you wish) — drizzle over the top of cookies or bars.
No matter what you do for the holidays, stay safe! Don't try to bake in a rolly anchorage — you're very likely to burn yourself getting food in and out of the oven as the oven swings. Even if it seems calm, watch out for sudden wakes from passing boats and more.
Happy Holidays!
---
Our FREE Provisioning Spreadsheet
Wondering how much of what foods to take on your next trip? Know just how much to buy of what — all arranged by grocery store aisle — with our handy Provisioning Spreadsheet. Includes detailed instructions to edit it for your favorite foods, how much your family eats, and how long you'll be gone. No spreadsheet skills needed!
It's FREE — get it here.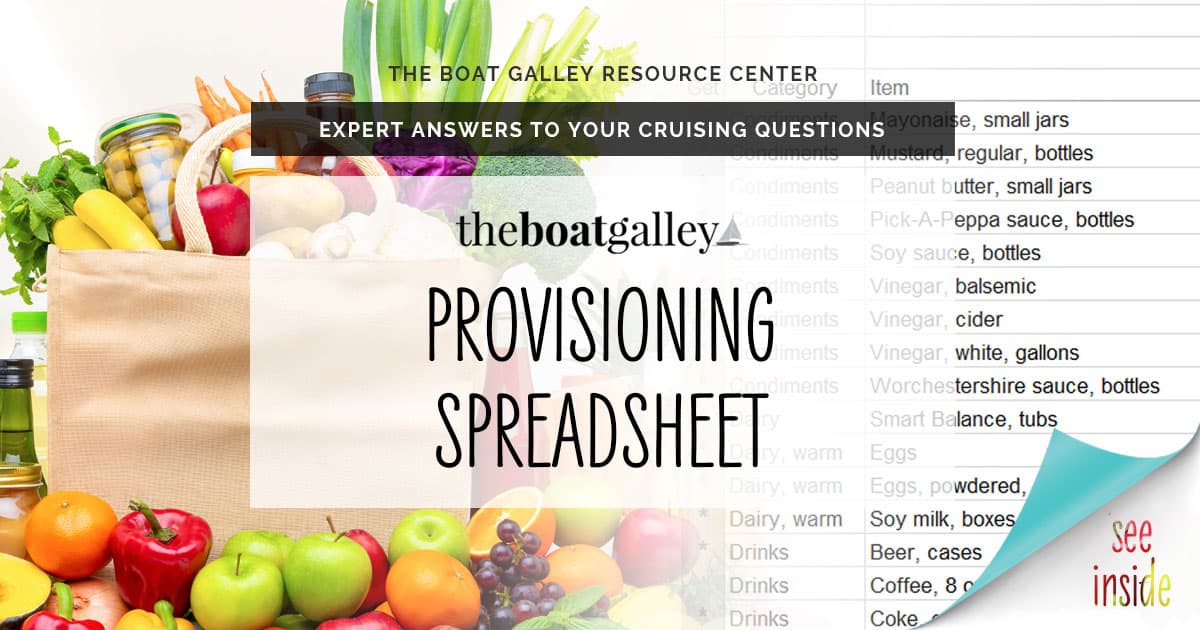 Some links above (including all Amazon links) are affiliate links, meaning that I earn from qualifying purchases. Learn more.