Are green potatoes safe to eat? Do I have to throw them out? Can I just peel the green skin off? Big questions when you're on a boat and there isn't a store nearby. You don't want to throw away food!
Why do potatoes turn green?
Exposure to light makes potatoes turn green. The green itself isn't a problem — it's chlorophyll. But the same conditions that cause the potato to produce chlorophyll also cause it to produce solanine. Solanine is a mild natural toxin that causes nausea and other intestinal upsets. If you get enough of it, it can cause neurological problems. You can't see solanine but since it accumulates in the same areas as the chlorophyll, it's easy to know where it is.
Can you eat green potatoes?
So the question is "Can you eat green potatoes?" If you want to be totally safe, you'd never eat a potato that has even the tiniest bit of green on it. So here's my disclaimer: I'm offering the following information to help you make your own decision, but I won't be liable for your decision.
Bottom line: Unless you go wild eating green potatoes, you're not going to get enough solanine to do harm. One report that I saw said that an adult would have to eat about 4-1/2 pounds of unpeeled green-skinned potatoes at one sitting to suffer serious consequences. Another one said that it would take 1 pound of a totally green-fleshed potato to make a person sick. Yeah, right, who's going to eat a totally green potato? To be honest, I've never even seen one.
What to do with green potatoes
If you've got a green-skinned potato, peeling it will remove most of the solanine, as it accumulates primarily in the green skin. A few green spots can also be cut away. Those potatoes are fine for most people to eat.
Only potatoes that have really "gone green" have to be totally thrown away. Use your own judgment, however, if you know that you have any underlying medical conditions that could cause you to be more susceptible to solanine.
If you have some potatoes that are turning green, use them in dishes where they are peeled instead of baking them or otherwise leaving the skin on. Experts also suggest that even peeled, don't eat more than a couple of greenish potatoes per week as your body takes about one day to clear any trace amounts of solanine. Eating them every day could cause the toxin to build up.
Can you eat potato eyes?
There's solanine in the eyes too — in fact, it's more concentrated there. So be sure to completely cut any eyes out. Don't just break off any growth, actually cut the eye itself out of the potato.
Storing potatoes correctly
Here's the good news in all this:  store your potatoes correctly (read how) and they won't turn green or grow eyes, so you won't have to worry about them!
Read Next

---
Our FREE Provisioning Spreadsheet
Wondering how much of what foods to take on your next trip? Know just how much to buy of what — all arranged by grocery store aisle — with our handy Provisioning Spreadsheet. Includes detailed instructions to edit it for your favorite foods, how much your family eats, and how long you'll be gone. No spreadsheet skills needed!
It's FREE — get it here.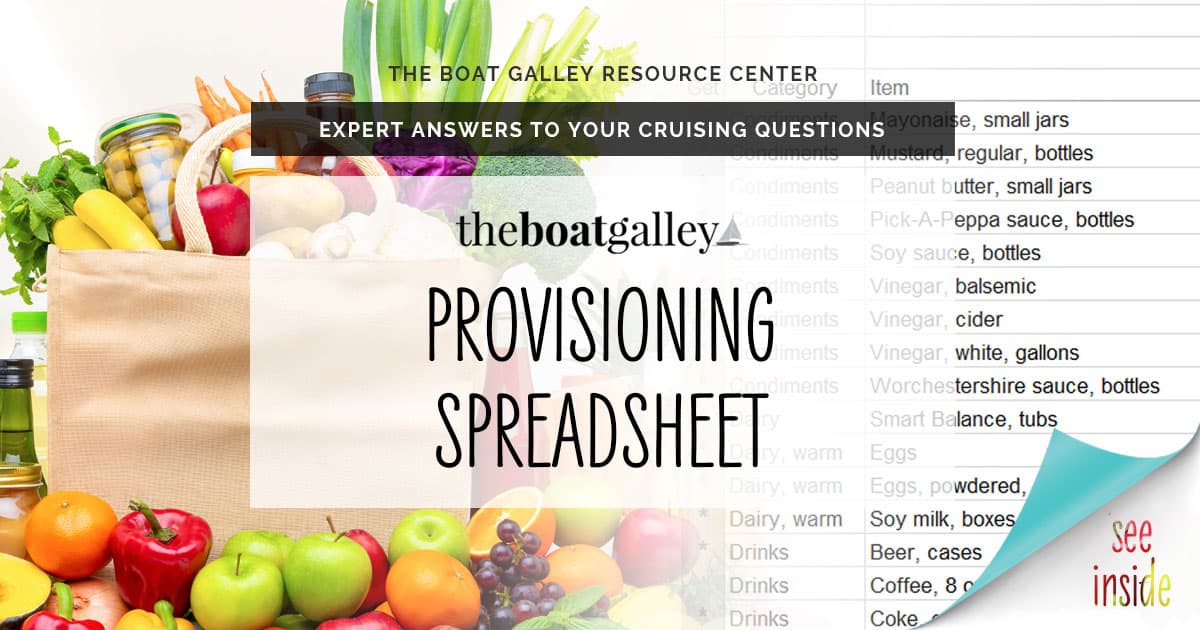 Some links above (including all Amazon links) are affiliate links, meaning that I earn from qualifying purchases. Learn more.