I'd never thought of cooking veggies on the grill until our friends David and Jan Irons came to spend a week aboard our boat in the middle of summer. It was hot – in the high 90's – but we stayed cool by swimming, snorkeling and lounging in the water.
Jan and I discussed what we'd have for dinner while "noodling." I had planned grilled chicken breasts and had bought some sweet potatoes that we could bake. The only problem was that I didn't feel like using the oven and heating up the boat. Maybe we'd just have a veggie salad.
"Why not just grill the potatoes and veggies along with the chicken?" said Jan. And so she gave me a crash course on how they did it. We loved the potatoes — delicious, super easy and no heat in the boat. (Now you know why I wrote a cookbook with Jan!)
Since then, we bought a grilling sheet to make it even easier – it doesn't tear as foil can, pieces don't fall through and clean up is a breeze – and have grilled a wide variety of vegetables.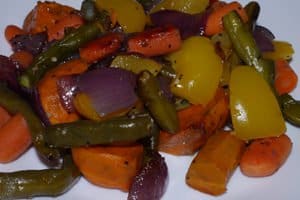 Veggies on the Grill
What's not to love? Delicious, easy, no running to the kitchen while the grilling is going on– and no heating up the kitchen, either!
Print Recipe
Ingredients
4

cups

mixed fresh vegetables such as carrots, onions, mushrooms, zucchini, summer squash, bell peppers or sweet potatoes

(any combination or even all of one)

2

tablespoons

olive oil or canola oil OR non-stick spray

1

teaspoon

Mrs. Dash, Montreal Steak Seasoning, Garlic Pepper, Italian seasoning or just salt and pepper
Instructions
Peel (if necessary) and cut vegetables into roughly 1" cubes or ½" slices as appropriate. Place into a medium bowl.

Add oil or spray generously with cooking spray, then toss to coat. Add chosen spice(s) and again toss to mix thoroughly.

If you have a grilling sheet, a vegetable basket, or a metal pie pan, use that to hold the vegetables. Otherwise, use a layer of heavy-duty aluminum foil or a double layer of regular foil. Folding the edges up will help keep the veggies on it when turning them.

Grill the veggies over medium heat for about 15 to 20 minutes until they are tender, turning once after about 10 minutes. If there is room, you can place them around the outside of the grill while grilling meat in the middle; otherwise, grill the vegetables first and keep them covered and warm while grilling the meat.
Notes
You can also use foil to encase the veggies in packets, but then they get more steamed than roasted.
It's also possible to put potato slices, whole carrots, large mushroom caps and whole onion slices directly on the grill if the grates are closely spaced so they don't fall through.
Nutrition will vary by vegetables chosen.
Nutrition Facts
Veggies on the Grill
Amount Per Serving
Calories 180
Calories from Fat 63
% Daily Value*
Fat 7g11%
Cholesterol 0mg0%
Sodium 86mg4%
Potassium 394mg11%
Carbohydrates 25g8%
Protein 6g12%
Vitamin A 9240IU185%
Vitamin C 18.9mg23%
Calcium 45mg5%
Iron 1.7mg9%
* Percent Daily Values are based on a 2000 calorie diet.
Want over 800 boat-friendly recipes, over 100 substitutions, and tons of tips for cooking on a boat?


Some links in this article (including all Amazon links) are affiliate links, meaning that we earn from qualifying purchases.