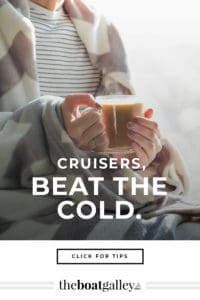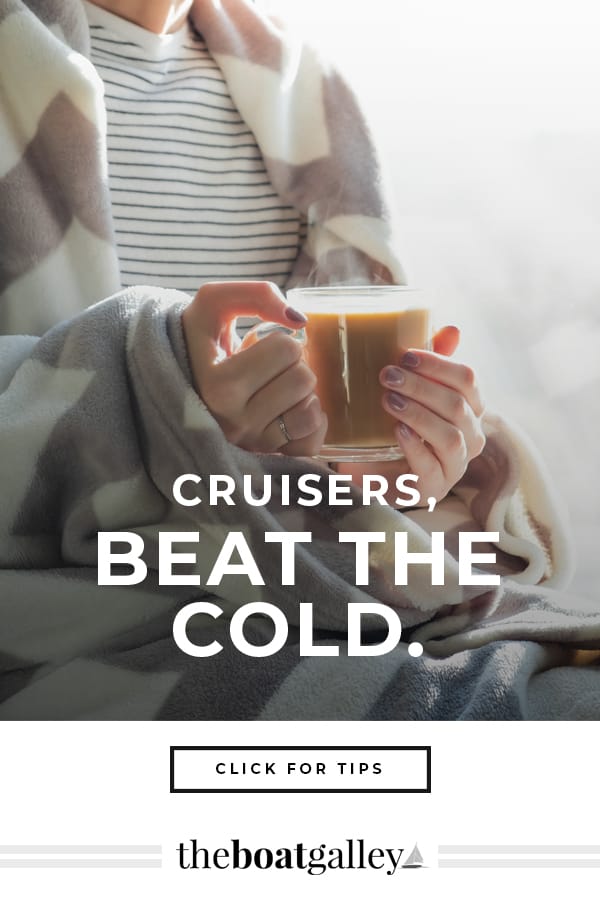 Ever since we announced that we're planning to leave the Florida Keys and head north on the ICW starting in late December, I've been getting questions about how we're preparing for the cold. I've also been getting some questions about whether we're crazy!
We have cruised in cool weather before: cruising in Alaska in 1999 and in 2001 while helping a friend take his boat from the Bahamas to Rhode Island one spring, and we learned quite a bit from both of those. And we've done a lot of near- and below-freezing tent camping over the years.
So here's our favorite gear for staying warm:
Cockpit enclosure. This will keep us out of the wind and rain and will also create a little greenhouse if there is even a tiny bit of sunshine. Read how I made ours for about 5% of what the local canvas maker quoted.
Little Buddy propane heater. This runs on the little one-pound propane canisters. You can't let it run overnight or unattended, but it's great for taking off the chill in the morning and evening. Makes breakfast and dinner — when there's no sun helping to heat the boat — a lot more enjoyable. Read my full review or check it out on Amazon.
Merino wool long underwear. For years, I had the cheap long underwear that you buy at Wal-mart or Target. Then I discovered merino wool. Yes, it's considerably more expensive, but it's also a lot warmer! It is not at all scratchy or itchy (my complaint with most wool) and it doesn't stink — important when it can be a while between laundry days. The real plus is that it can be machine washed and dried. See what we bought on Amazon: women's top, women's bottom, men's top, men's bottom.
Wool socks. Wool keeps insulating even if it's wet and I love how soft these socks are — you don't need a liner. See on Amazon.
Reusable "Click" hand warmers. You can put these warmers in your pocket to keep your hands warm (or to warm them up after handling lines). I like that they can be reused over and over unlike the disposable ones; you just toss them in a pan of boiling water to bring them back to where they can be clicked again (you don't boil them to heat them; you boil them to return the chemical to it's "ready-to-be-activated" state. No electricity required! The larger pads are also good to put in bed down at your feet (no worries of spilled water as with a hot water bottle!) Read my full review or buy on Amazon.
Thermos. A good vacuum-sealed Thermos is crucial. In fact, I have two: one for coffee and one for soup. Both keep the contents steaming hot for up to 10 hours. My coffee Thermos is the most rugged one I could find (drops can separate the seal and destroy the vacuum that insulates), and at one quart it's just the right size for two people; see it on Amazon. My soup Thermos is larger and a wide mouth, making it easy to pour chunky soup into it without spills (still, always place the Thermos into the sink when pouring hot food or drinks into it in case of spills); see my soup Thermos on Amazon.
Watch cap. A watch cap isn't cute but it keeps you warm without trying to blow off your head the minute you step into the wind. They just work. See ours on Amazon. I also just bought a pair of warm, waterproof, touch-screen fingered gloves but haven't had a chance to really test them out yet so can't give an opinion. But I think they will help to keep my poor hands warm, even if I handle wet stuff (they're not as tough as sailing gloves so can't be used for lines under tension). And all our navigation is touchscreen (chartplotter and iPad) so not having to take gloves off for that would be wonderful!
Good foul weather gear. Foul weather gear protects you from the rain and, maybe more importantly, the wind. Pants/bibs and a jacket are essential. What brand? It's really a matter of what fits you best and every brand fits differently. This is one item that it really pays to buy in person from a store that carries several brands. Foul weather gear generally comes in three different categories: inland, coastal and offshore. Match yours to where you'll be traveling; we find coastal to be a good "all-around" choice.
Waterproof boots. I have neoprene sailing booties from the days when I raced small sailboats but I've never worn them on our cruising boat. Instead, I wear waterproof lightweight hiking boots that I can also wear ashore. The key is getting boots that are waterproof and also slip-resistant. I love my Merrell Moab 2 (see on Amazon); Keen, Columbia and several other companies make similar boots if Merrell doesn't fit you.
Down quilt. I like real down much, much better for keeping me warm than any synthetic down I've ever tried. About 20 years ago, we had Feathered Friends make two custom queen-size down quilts for us, using waterproof sleeping bag material instead of cotton for the outer shell. Down is a great insulator as long as it doesn't get wet, hence the need for a waterproof shell due to condensation in the boat. We use one for temps down to about 40 degrees F. and pile the second one on top when it's below that. Feathered Friends no longer does custom work, but their rectangular "Condor" sleeping bag can be unzipped to make a similar "quilt." They are not cheap but ours have lasted 20+ years and show no signs of wearing out; we consider buying them to be one of the best things we've ever done for cold weather camping and boating. See the Condor from Feathered Friends. I am not affiliated with the company; just a very satisfied customer.
I've written quite a bit about ways to stay cool in hot weather (see here); it's kind of fun to be thinking the opposite way around now!
BONUS: Check out my favorite cold-weather recipes and maybe serve up a mug of Hot Buttered Rum for happy hour at anchor or the marina.
Here's your "Quick Start" to everything you need to know when living on a boat:


Making Boat Life Better
Some links in this article (including all Amazon links) are affiliate links, meaning that we earn from qualifying purchases.