My husband, Dave, teases me about being a Michigan girl and tells me I'm not supposed to get cold in the winter. I reply that it's not that we don't get cold, we just know how to warm up!
I first had Hot Buttered Rum after the end-of-year regatta at the Indianapolis Sailing Club, where I'd crewed on a friend's boat. Instantly, it was my favorite winter warm-up, reserved for special times with friends.
When Dave and I were invited to try ice boating close to twenty years ago, I brought along the makings for Hot Buttered Rum. It was a huge hit, and every time the lake froze solidly and smoothly enough, we'd get a call inviting us to join in – "oh, and can you bring the Hot Buttered Rum?"

Ice boating is an absolute riot. Think of a Hobie Cat on ice skates!
Got a late start heading south and feeling it as you come down the ICW? Hot Buttered Rum is a great end-of-day reward for miles gained.
This winter, we're cruising Florida. While we may not get any sub-freezing days, it's still the perfect warm-up drink after a chilly day on the water!
If you're a weekend boater who's still sailing in the chilly fall, this is a great make-ahead recipe. Keep a big batch in your home freezer and take a smaller container on the boat.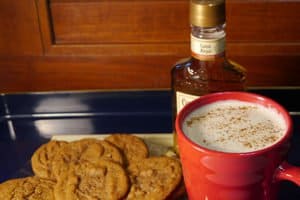 Hot Buttered Rum
The perfect warm up after a chilly day on the water!
Print Recipe
Pin Recipe
Ingredients
Hot Buttered Rum mix:
½

cup

real butter (do not use margarine or butter with oil), softened

1-1/4

cup

firmly packed brown sugar

1-1/2

cup

powdered sugar

1

teaspoon

cinnamon

1

teaspoon

nutmeg

2

cups

(1 pint) vanilla ice cream, softened

(see notes if not available)
For each 12-ounce mug of Hot Buttered Rum:
boiling water

1/3

cup

Hot Buttered Rum mix, above

1 to 2

ounces

(2 tablespoons to ¼ cup) dark rum

ground nutmeg or cinnamon stick for garnish
Instructions
To make the mix, cream the butter, brown sugar, powdered sugar and spices until well blended. Add the soft (not-quite-liquid) ice cream and thoroughly mix it in.

The mixing is easiest with an electric mixer, but can be done fairly easily by hand if you let the butter and ice cream get very soft – and be sure to read the tip of the month about a wonderful gizmo for hand mixing.

The mixture can be kept up to two days in the refrigerator or on ice in a cooler. For longer storage, put it in the freezer.

To serve, use standard 12-ounce mugs. Warm the mugs by filling with boiling water and letting sit for a minute, then pour the water back into the kettle and reheat to boiling while adding the mix to the mugs.

Place the mix and rum in each mug and mix with a spoon. Fill with boiling water and stir to completely mix. Garnish with a dash of ground nutmeg or a cinnamon stick.
Notes
For children and those who don't drink alcohol, this is also great with the rum omitted (we call it a "Hot Buttered").
Hot Buttered Rum is a very rich drink, and pairs best with simple cookies or snacks.
*If you cannot carry ice cream on your boat, substitute an equal amount of (unwhipped) whipping cream or Media Crema. The resulting mix will be less sweet than the original mix, and some people prefer that.
Nutrition Facts
Hot Buttered Rum
Amount Per Serving
Calories 312
Calories from Fat 108
% Daily Value*
Fat 12g18%
Cholesterol 36mg12%
Sodium 104mg4%
Potassium 59mg2%
Carbohydrates 17g6%
Protein 1g2%
Vitamin A 395IU8%
Vitamin C 0.2mg0%
Calcium 43mg4%
Iron 0.1mg1%
* Percent Daily Values are based on a 2000 calorie diet.
Want over 800 boat-friendly recipes, over 100 substitutions, and tons of tips for cooking on a boat?


Some links in this article (including all Amazon links) are affiliate links, meaning that we earn from qualifying purchases.