When overnight temps dip into the 40's (Farenheit) or a norther comes thru with winds over 20 knots, pouring rain and a daytime high around 60, it can get a little chilly on the boat. Okay, a lot chilly.
Let me say right at the outset that this post isn't for people who are wintering over in cold places, such as the Chesapeake or further north. No, we're in south Florida where it's usually warm during the daylight hours and only cools down after sunset.
Yesterday, I woke up to a boat that was 41 degrees on the inside. YIKES!
Time for some serious action.
We needed a heater. For safety reasons, we weren't going to let it run all night (read about a boat fire from a heater) – but to warm up the boat in the evening and again when we first wake up, yep. While Dave and I aren't exactly luxury cruisers, we do believe in having a decent lifestyle. And that means not freezing.
I first figured I'd pick up a cheap electric heater for use in the boat yard and whenever we were at a marina. But that would leave us "out in the cold" when we were at anchor.
We learned that several people here in the boat yard use small propane heaters that run off the 1-pound camping/grill canisters. A-ha! Thanksgiving morning, one even gave us two propane canisters as an incentive to go buy a heater!
We got the Mr. Heater Little Buddy and it has made a huge difference in our quality of life. Yes, we still take other measures to stay warm but having the boat in the mid-60's during the evening instead of the mid-50's is so much more pleasant. And 61 in the morning after running the heater for a half hour and making a pot of coffee means that I can type without my fingers going numb.
The Mr. Heater Little Buddy runs off a single propane canister (you can also rig it to run off your main propane tank – for us, that's not practical) and at least around here, is the heater that most boaters are using.
A one-pound canister will last 5-1/4 hours – for us, that's two to three days of use.
There's no thermostat – it's on or off.
It has two important safety mechanisms – it turns itself off if tipped over or if it senses low oxygen.
It looks top heavy but isn't at all.
Convenient handle on the back for moving it when it's lit.
Easy to use.
Admittedly, you probably couldn't use it in a rolly anchorage (particularly in a monohull) where it might tip over, but otherwise it's great.
No, it doesn't turn the boat into a sauna . . . but it makes it comfortable to sit and read. And if I'm warm when I go to bed – and the sheets aren't freezing – my body heat warms up the bed and I'm comfortable to fall asleep. Without the heater, when I was cold when I went to bed and the sheets were also cold, it took forever to warm up enough to fall asleep.
Wish we'd known about this before we came down and went through not one, but two cold snaps! From talking to friends here, a heater is almost a necessity not just in Florida, but the Bahamas as well. And I know there were a few days we wished we had one in La Paz in the Sea of Cortez.
The Little Buddy can be hard to find, particularly if you are trying to find one in the middle of a cold snap. Around here, home improvement stores only carried the larger models that are too large to be practical on most boats. Walmart and Target only carry electric heaters in the stores. Ace Hardware and Tractor Supply (the two other local stores we tried) don't carry propane heaters. We happened on one (the last one) at Northern Tool & Equipment, where we'd gone to get a Honda generator on a Black Friday sale – if they hadn't had one, I already had one in my Amazon cart and was prepared to pay for overnight shipping to get it ASAP!
Best price I've found is on Amazon:
Walmart offers the consistent best price on the one-pound propane bottles that we've found (others may beat them at times with sales). Mr. Heater also offers a refill adapter so that you can refill the small bottle from your primary tank.
I'm serious, get a heater BEFORE you need it.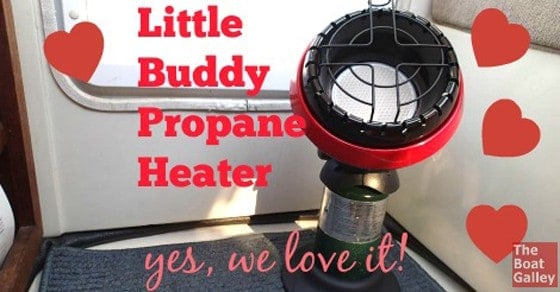 ---
Our FREE Provisioning Spreadsheet
Wondering how much of what foods to take on your next trip? Know just how much to buy of what — all arranged by grocery store aisle — with our handy Provisioning Spreadsheet. Includes detailed instructions to edit it for your favorite foods, how much your family eats, and how long you'll be gone. No spreadsheet skills needed!
It's FREE — get it here.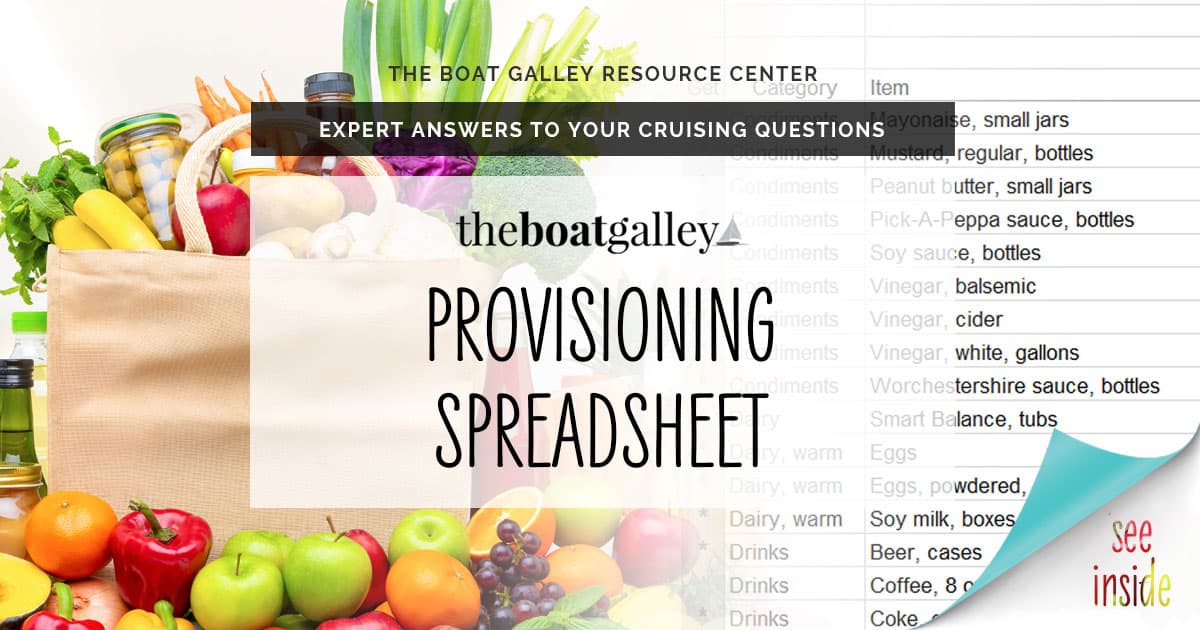 Some links above (including all Amazon links) are affiliate links, meaning that I earn from qualifying purchases. Learn more.