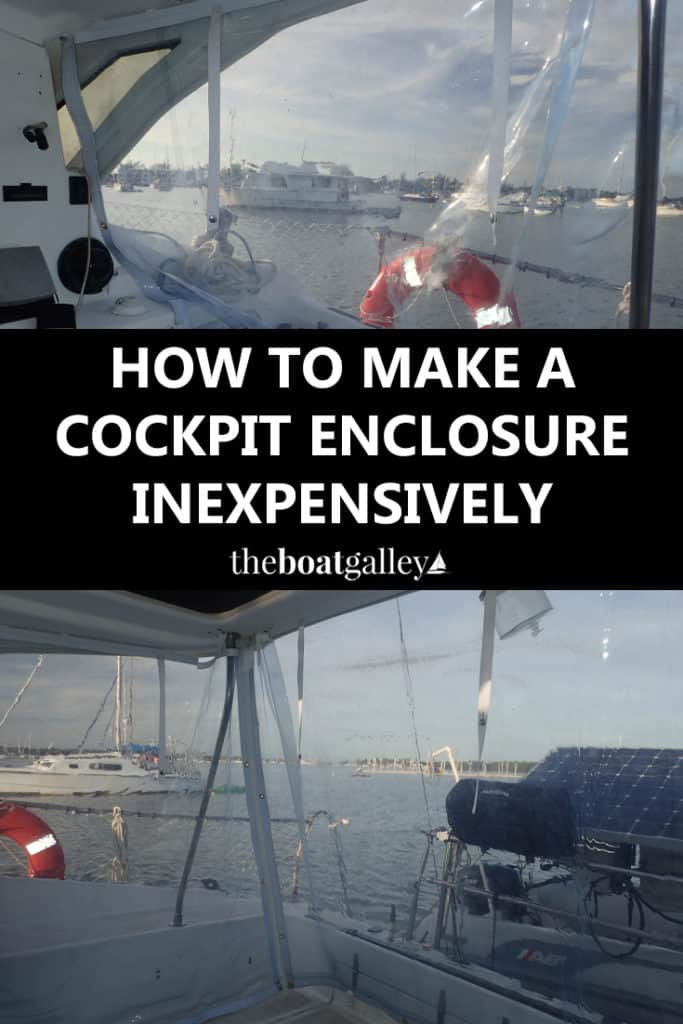 Dave and I are planning to leave the Florida Keys around the first of the year and want to be in Washington, DC about March 15. We know it's going to be a chilly trip and possibly rainy. A cockpit enclosure seemed the perfect way to keep us a fair degree warmer and drier.
When I got bids for a cockpit enclosure from a couple of local canvas shops, I was floored. $8,000 to $10,000 for a custom cockpit enclosure. We have a catamaran, with a decent-sized cockpit, but it's not huge. The whole boat is only 34 feet long by 14 feet wide; the cockpit about 5 feet long by 8 wide. We could buy an awful lot of long underwear for that kind of money! It was totally out of our budget.
A few days later, I dinghied by a friend's catamaran and was intrigued by the shade enclosure they had on their cockpit. They'd gotten shade tarps such as are used in commercial growing operations and draped them over their hard bimini and tied them into place.
Hmm. Could I get clear plastic tarps and do something similar?
A few internet searches and I decided that I could make a serviceable cockpit enclosure for less than $500!
Admittedly, it wouldn't be as fancy or "perfect" as one made by a canvas shop. And it would be unlikely to last as long. But we envision this trip as a one-time thing, not something we do every year. So I only need something that will last a year, for the trip north this winter/spring and the trip south next fall/winter.
Every boat is different, but here are photos and a parts list for what I did. Hopefully, it will give you ideas for what you might be able to do on your own boat.
Including paying for the sewing, the total cost of this project was just under $550 and we are thrilled with how it turned out.
Basic Idea
I bought three clear plastic 30-mil tarps — one for each side of the cockpit and one for the rear. We put track on the underside of our hard bimini and sewed awning rope to the top of the tarps, which then slid into the tracks. On the curved sections, I used webbing straps with snaps to hold the tarps up. I put full-length zippers in both corners to make it easy to get in and out of the cockpit. And we added a few more straps with snaps and bungee hold-downs to keep the front and bottom edges of the tarps in place.
NOTE: Now having done this project, I think tracks are the way to do it to distribute the weight of the tarps. I had originally thought of just using snaps and I don't think they would have held, particularly in any wind.
Before you get the wrong idea, these tarps aren't thin like cleap drop cloths. They're very heavy duty, such as you see at outdoor restaurants for use on cool or rainy days. Admittedly, they're not as optically perfect as Strataglass but they will work for us — we look out through a true windshield for steering. The view out is pretty good and they turn the cockpit into a greenhouse of warmth!
IMPORTANT: I had planned to do all the sewing myself on my trusty Singer sewing machine. The Singer simply wasn't up to the task, and I ended up paying Keith Portman — aka "Stitch" — $120 to do the sewing. I did all the design and basting, and helped with handling the large panels on the table, which reduced his time.
TIME: It took about 25 hours of Dave's and my time, plus the sewing that I hired Keith for, to complete this project.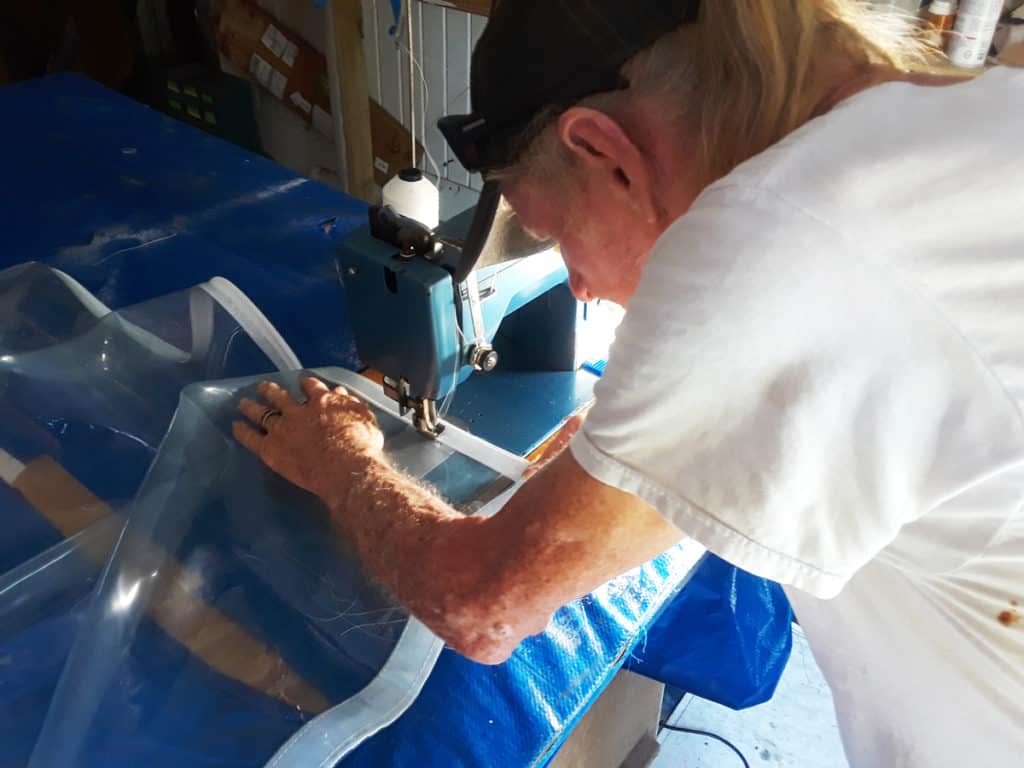 Pictures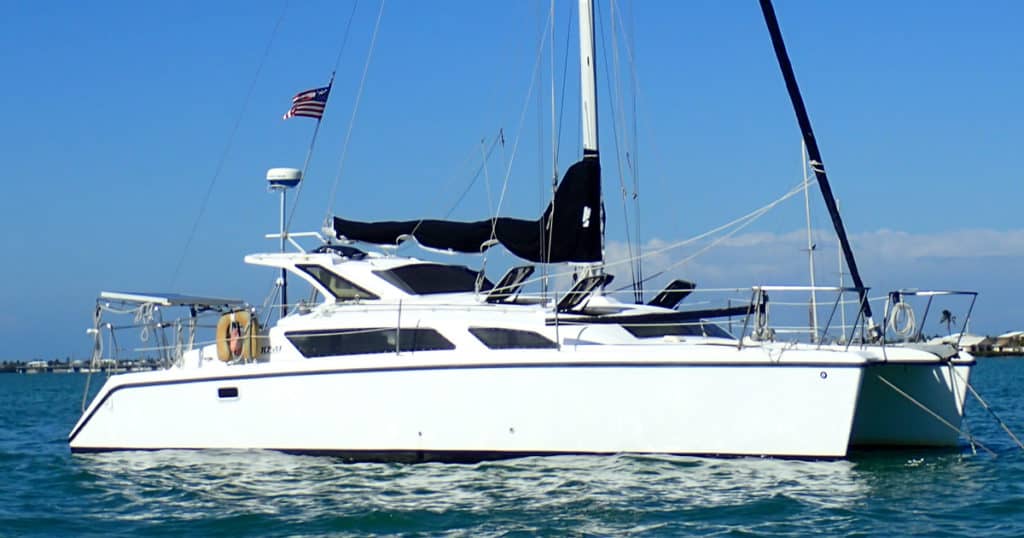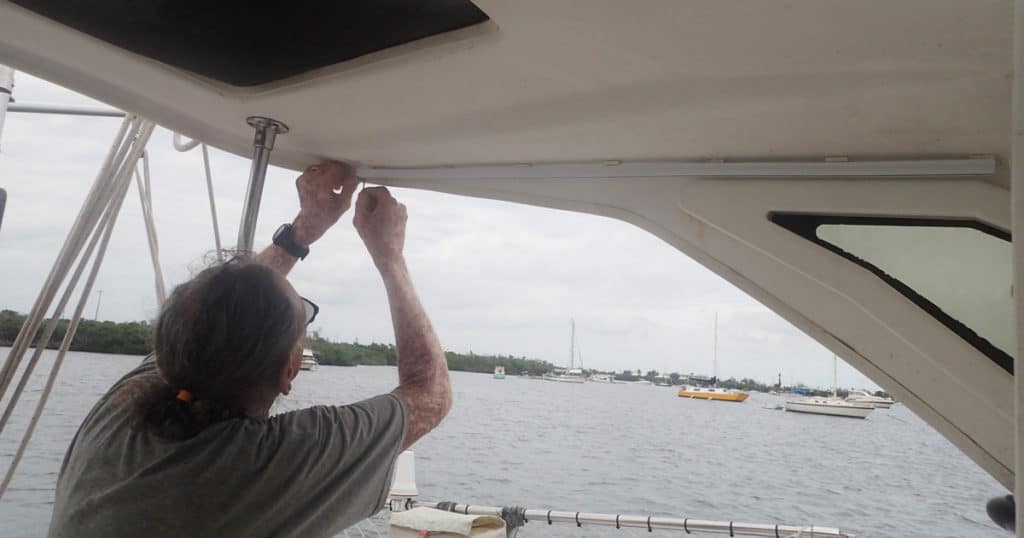 I cut off the top hem on the tarps and attached the awning rope where it would fit into the track and added roll-up straps. We sewed webbing along the top edge of the tarp where there wasn't the awning rope to reinforce it. Then I made webbing straps and used snaps to hang the ends of the tarps and go around curves. I also used a few snaps to attach the front edge to the cockpit "wall." Instead of trying to match the enclosure to the curve of the front edge of the bimini, I simply hung it inside and kept the angles all fairly square.
NOTE: if you have a fabric bimini, you can also get track that you can sew onto your bimini and hang tarps from that.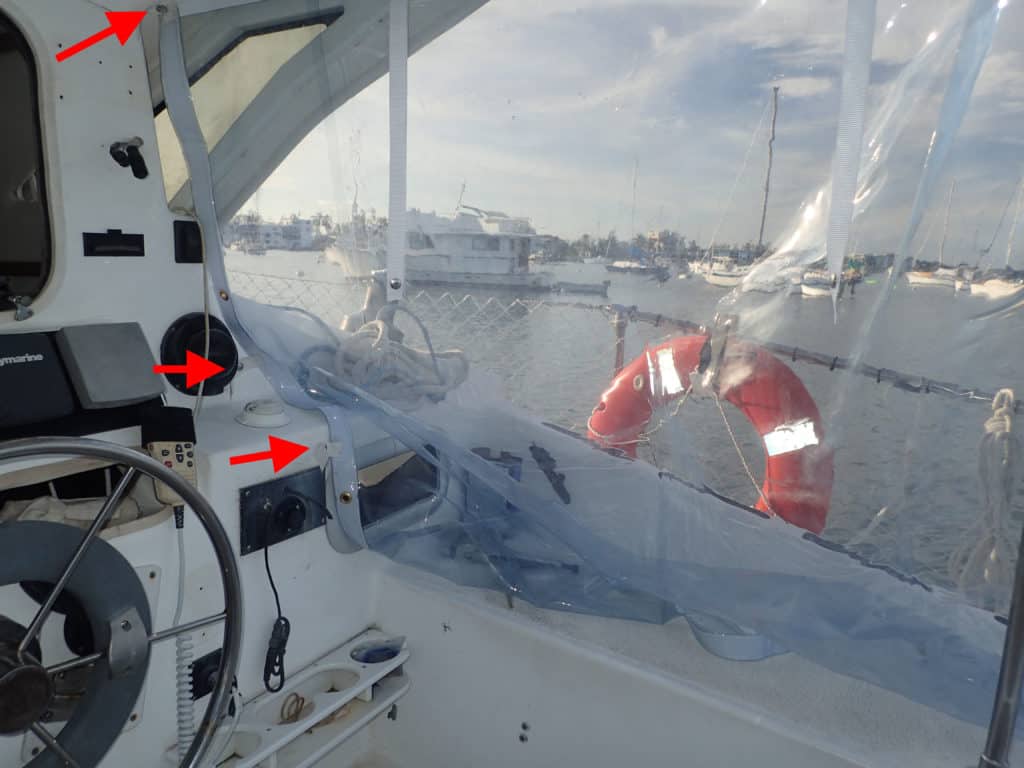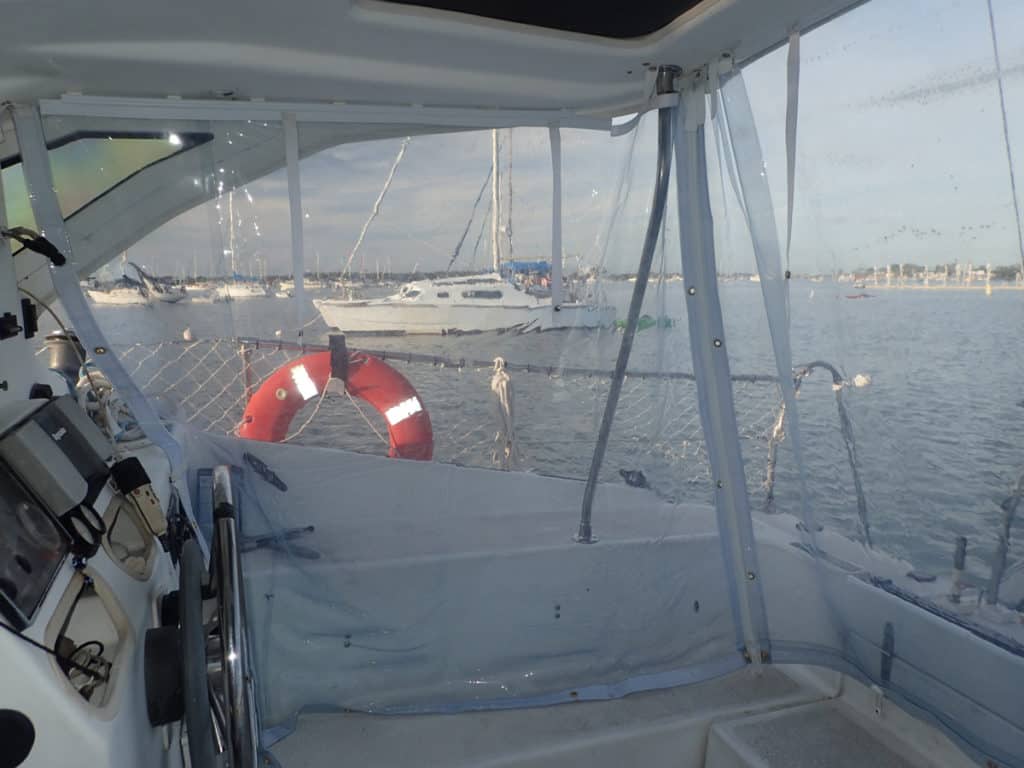 The back tarp was a foot longer than the side tarps, and once I verified that it would be okay with the shorter length, I cut it to match. I then cut the hem off the discarded piece and sewed it back on in order to have a reinforced lower edge. Finally, we added heavy zippers to both corners.
I had never used basting tape on a project before. It is essential to a project like this — there is absolutely no way you can pin anything to the tarps as they are so thick. Basting tape makes it all so easy — I absolutely love it!
Back to the boat where we installed the enclosure and put all the snaps onto the webbing tabs and on the boat. Keith, the local canvas maker who helped me, loaned me his Press-a-Snap tool, which is infinitely easier to use than having to hammer each one in (I've done that on previous projects and it works and is a lot cheaper if you can't find someone to loan or rent the Press-a-Snap tool).
Finally, we put the bungee loops on the bottom. These are extremely easy to install and work really well in places where you want a little give so as not to strain the material.
Sailrite has extremely good videos on how to install the awning track and rope, snaps and the bungee loops (called shock cord cover loops). Watch them before doing any of the work!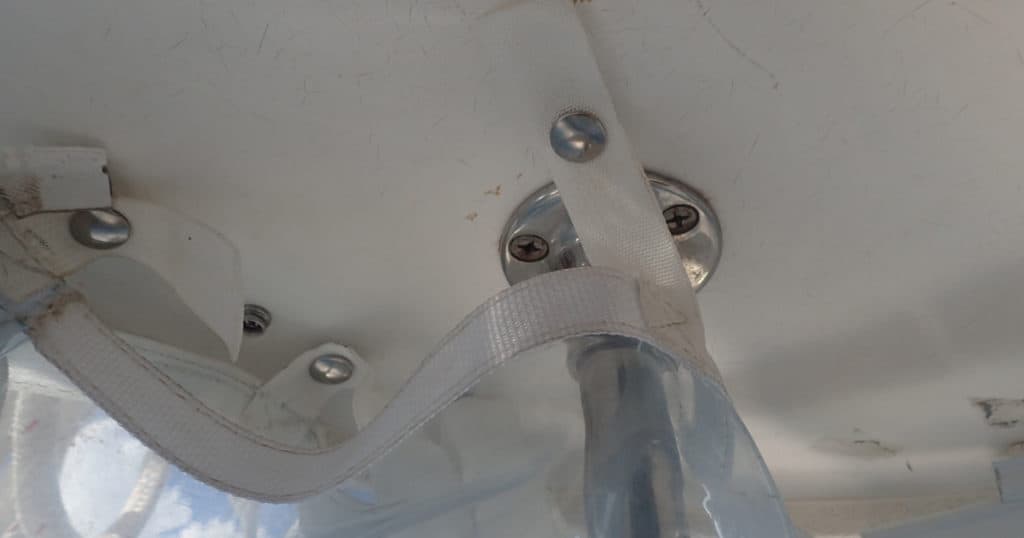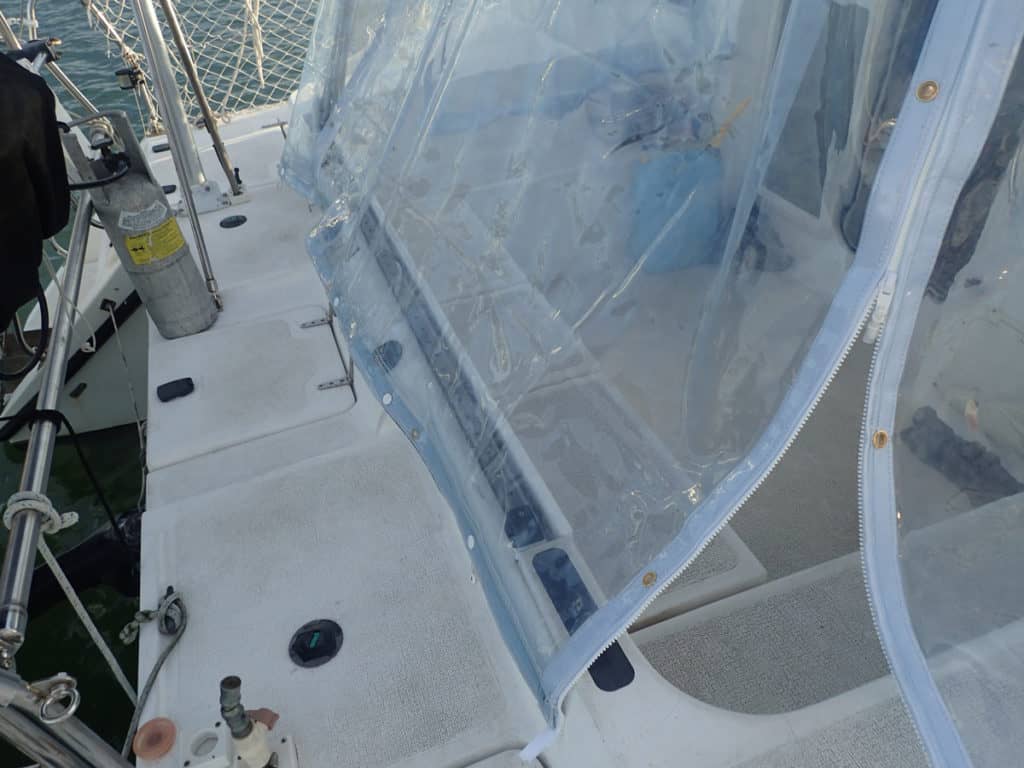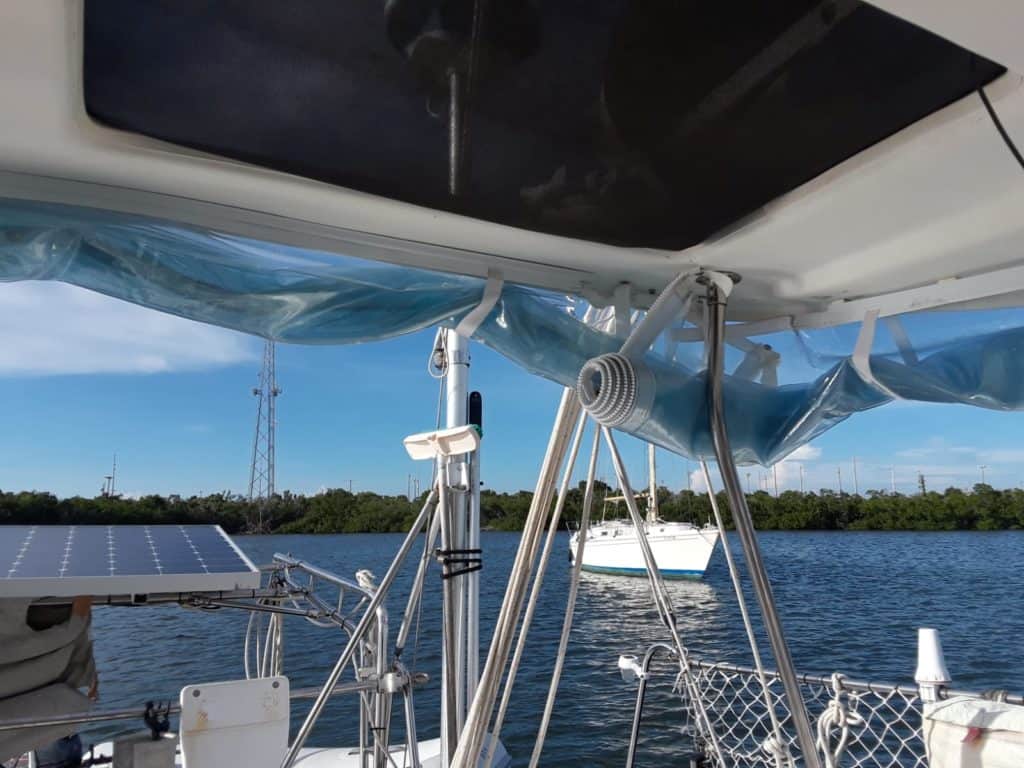 While I had the basic idea in my head when I bought the materials, it's important to note that the fine points of the design were decided as I worked on the project and put it up for numerous test fittings.
Materials
Tarps
TarpsNow had the best selection and pricing on heavy-duty clear vinyl tarps I could find. I used two of their 5×5 tarps and one 6×8, for a total cost of $220, including shipping.
Sailrite
I purchased everything else from Sailrite. I actually ordered too much of some things and was able to sell the surplus to other cruisers, but my best guess for the cost of what I did use was about $200. This included:
If you'll be doing your own sewing, don't forget thread and heavy-duty sewing machine needles. While a hot knife would have been handy on all the webbing pieces, I cut it with scissors and then melted the ends with a butane lighter.
The zippers are stiff and hard to operate at first. I put a little zipper lubricant (Amazon) on both and they slid much more easily.
Clean and protect the clear plastic with a product such as Imar Strataglass cleaner (Amazon). In a pinch, you can use Pledge as a protectant but clean the plastic first so that you don't scratch it with any dirt that is on it.
Always let the plastic dry before rolling it.
Bottom Line
For my first time doing a project like this, I'm thrilled with the results. Obviously, I'll know more once we've used the enclosure this winter. But I think it will keep us basically warm and dry (yes, there are places that air and rain can still get in) for a fraction of the cost of a "perfect" solution. From the outside, you almost can't tell it's there since there is no canvas.
If you're looking for a one or two-year enclosure and don't have to have it be perfect, I highly recommend using the clear plastic tarps and figuring out how to hang them on your boat.
Some links in this article (including all Amazon links) are affiliate links, meaning that we earn from qualifying purchases.