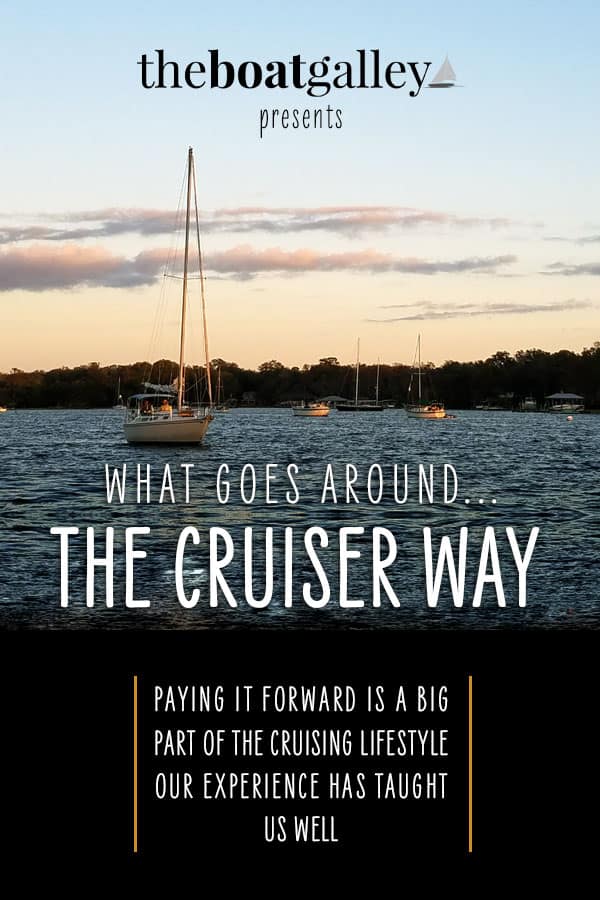 Random acts of kindness . . . paying it forward . . . what goes around comes around . . . cruisers helping cruisers . . . or just being helpful, call it what you may. It's the Cruiser Way.
When we first began cruising in 2002, we were astounded at how helpful other cruisers were. Answering all our dumb newby questions, showing us easier ways to do things, giving us rides and more.
And not just one or two people. Everyone, it seemed.
As time went on and we weren't the newcomers anymore, we started giving back as we were able. In fact, that's how I began writing cruising articles – we'd read everything we could find about hurricane and storm anchoring before Hurricane Marty hit us, and I wanted to "add to the knowledge" by passing on the experiences that boats near us had with different anchoring techniques.
Probably the greatest story of reaping what you sow that I know of is the story of The Cat's Meow, which also began with Hurricane Marty. The hurricane made a direct hit on Puerto Escondido in the Sea of Cortez, and despite it being a great hurricane hole, a number of boats went aground. There were no towing services in the area. If boats were going to be rescued, it was going to be done by other cruisers.
The Cat's Meow, a converted fishing trawler, was by far the largest boat in the area, with a monstrous engine. Her owners, Robin and Martin Hardy, didn't have to be asked to serve as the tugboat – they just did it, with help from numerous other cruisers. Thanks to them, eleven boats were re-floated and towed to safety.
While we'd known Robin and Martin previously, we became quite good friends during the rescues. About six months later, they invited us to join them for a couple of days at a nearby hot springs anchorage.
The next evening, just after we left their boat from having a shared dinner with two other couples, a katabatic wind hit with gusts over 35 knots . . . in the dark. As we were securing our dinghy and checking our anchor, we saw The Cat's Meow motor off their anchor and circle around us . . . and back to the rock they had been anchored next to. When the wind had first hit, they'd bumped on the bottom, decided to move and re-anchor, somehow gotten disoriented and were now hard aground.
All of us there worked feverishly to try to free them, one boat even bumping their own keel in trying to pull TCM free, but at 2AM the falling tide made it clear that the situation was dire. We convinced Robin and Martin to leave the boat and ferried them and their cats to the largest of the other boats.
And then, we called on the radio for a gas-powered pump to be brought at first light . . . and went to bed to try to get a few hours' sleep.
Apparently, numerous boats in the area heard that radio call and also passed it on during the early morning nets. When we looked outside early the next morning, there were ten boats anchored where there had been just four the night before . . . and more motoring in. All day, they just kept showing up. Cruisers from 100 miles away sent money and food (by car) along with supplies to patch and float TCM. Two boats that were over 100 miles away, in the middle of a 4-day passage crossing the Sea of Cortez, turned around and came to help.
A Mexican Navy ship heard about the situation and came with an offer to try to pull TCM off the rocks. And when TCM was severely holed in the un-grounding and sank in about 12 feet of water, people from all those boats helped Robin and Martin patch her and re-float her.
Yes, part of it was in recognition of what Robin and Martin had done for others the year before. But almost none of the boats that helped them were the ones they'd directly helped. In fact, many had never met Robin and Martin. It was simply part of "you do what you can" or what I call the Cruiser Way. Cruisers helping.
One of the reasons I began The Boat Galley was to pay it forward for all the help Dave and I had gotten while we were cruising. Maybe we weren't right in the anchorage, but I could pass on little things we'd learned.
And now that we're back out cruising, we're on the receiving end again. When we arrived in Boot Key Harbor, one of the first people we saw was a guy who had been up in the boat yard with us. He'd already been back to get his car and offered to give us a ride to get ours . . . 200+ miles each way. All he'd take was gas money. We didn't ask him; he just volunteered.
Others have given us all sorts of "local info" on where to get things, and we've had several offers of rides to various stores. We've had many offers of help in figuring out our diesel problem. And on and on.
We may have been land-based for a few years, and now we're cruising in a whole new area, but it seems that the Cruiser Way is just as strong as it ever was.
I'm glad.
Read Next
Some links in this article (including all Amazon links) are affiliate links, meaning that we earn from qualifying purchases.