For most of us, one of the biggest changes in transitioning to a cruising life is that everything is new. I mean every. single. thing. I've written about it before (here) and how it really does get easier, particularly after the first year.
Then, recently, I had a revelation. Well, actually I had a conversation with Jan Irons, a close friend, cruiser and my cookbook co-author. She was talking about their decision to return to cruising this past winter — and a big part of it was wanting to be doing new things. Not stagnating. Challenging themselves.
Last summer, Jan told me, she'd heard Darius Rucker's song For The First Time with its lyrics of "When was the last time you did something for the first time?" and it really spoke to her.
And I realized that if you're preparing to cruise, making an effort to do new things is a great way to ease into the cruising mindset. And if you've been cruising for while or have paused to deal with life (boat repairs, medical issues, refilling the cruising kitty), it can help keep this important cruising skill alive and keep us looking forward to the ongoing adventures.
Being comfortable with change and learning new things is a huge part of cruising and, I'll admit, an aspect of the adventure that most people don't think about when considering the lifestyle. I mean, we see going to new places and doing new things as part of the attraction to cruising, but we don't really think about how that's going to affect us. Learning to embrace uncertainty is definitely a cruising skill and one that can be practiced without having to be on the water.
You don't have to be learning boating-specific skills or even trying boating things to get comfortable with the little fear, adrenaline rush and uncertainty that accompanies doing something new. Or experiencing the high that comes with conquering something that's outside your comfort zone.
Sure, you can take some classes (online or in person) to give yourself some boating skills — a Power Squadron navigation course, and ASA sailing class, a diesel class at the community college or a foreign language.
But how about some other things, too:
Take a different route to work
Start a new hobby that's way different from anything you've done before
Try a new exercise routine that you've been a little nervous about
Speak at least three sentences to a total stranger every day
Have a "No TV" night once a week
Go to a different grocery store every week
Learn to drive stick shift if you don't already know how
Read a different newspaper or magazine
Go out dancing . . . or to a poetry reading . . . or whatever else isn't "you"
Choose to listen to your kid's music favorites — even when they're not around
Get a different haircut . . . or color . . . or stop coloring it
Eat something you've never had before
Tackle a repair or maintenance task that you have always hired out
When someone invites you to something that doesn't really sound like "your thing," go anyway
Typically do the same thing on your vacation? Choose something opposite!
Don't order your "old standby" at your favorite restaurant
Always have lunch with the same group of people? Invite someone else to join you
Welcome the new neighbor to your neighborhood
If it's been more than 10 years since you've been in a laundromat, do your next batch of laundry in one
Go on a roller coaster. The big one.
Take on a totally new responsibility at work
Take public transportation if you always drive . . . use buses or walk in town, take Amtrak or Greyhound if going out of town
I know that most of us don't see "getting used to doing new things" as a skill, but I'll argue that it is. It's a constant theme in several of the cruising forums and Facebook groups that I'm part of. The learning curve for just living on a boat, let alone moving from place to place, is huge and constant. And most of us, in our adult lives, don't find ourselves challenged to do new things on a daily basis . . . until we suddenly start cruising. And so it's not just that we're having to learn new things, the very fact that we are doing new things is new. We're constantly being forced outside our comfort zone.
What I've learned is that going outside my comfort zone is a skill. And it's transferrable. Success in doing one new thing makes me believe that I can do something else that's new.
I've always said that cruising is easier after the first year as there isn't so much that's new. And that's true. But I'm also coming to think that part of the reason it's easier is that we're learning that we can do new things and can adapt to uncertainty. We're learning that those boundaries we've set for ourselves are just there to be smashed through. "I can't" becomes "Why not?"
Nine months ago, I started taking yoga classes. I'd never done anything remotely like it and struggled initially. But my eventual success gave me the courage to try trapeze yoga ten days ago.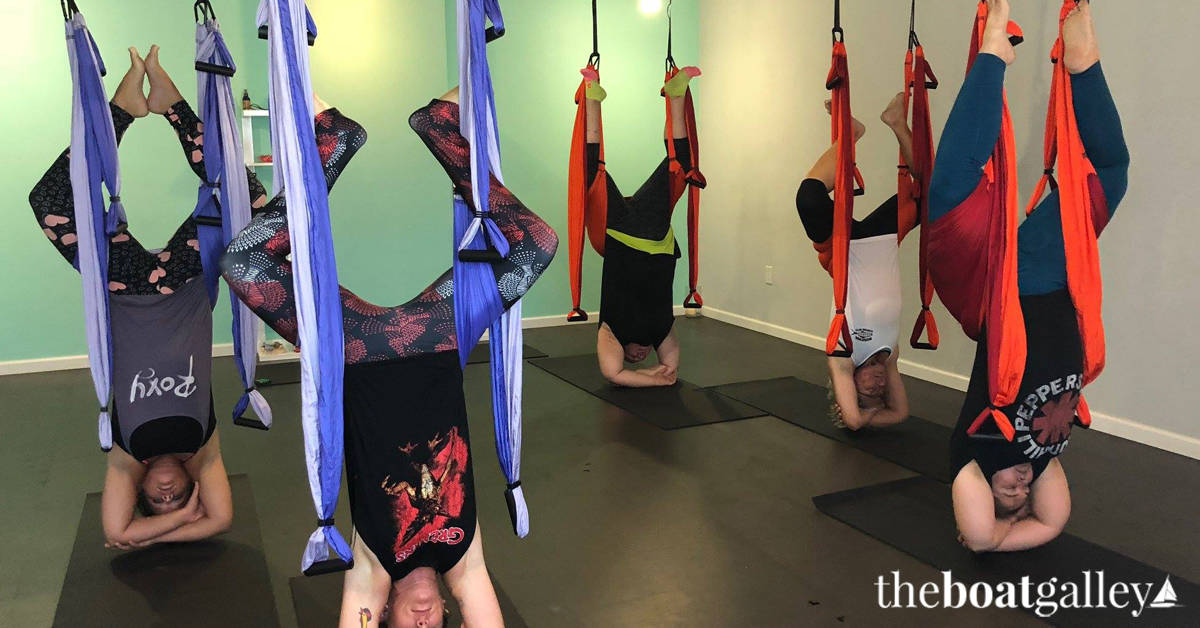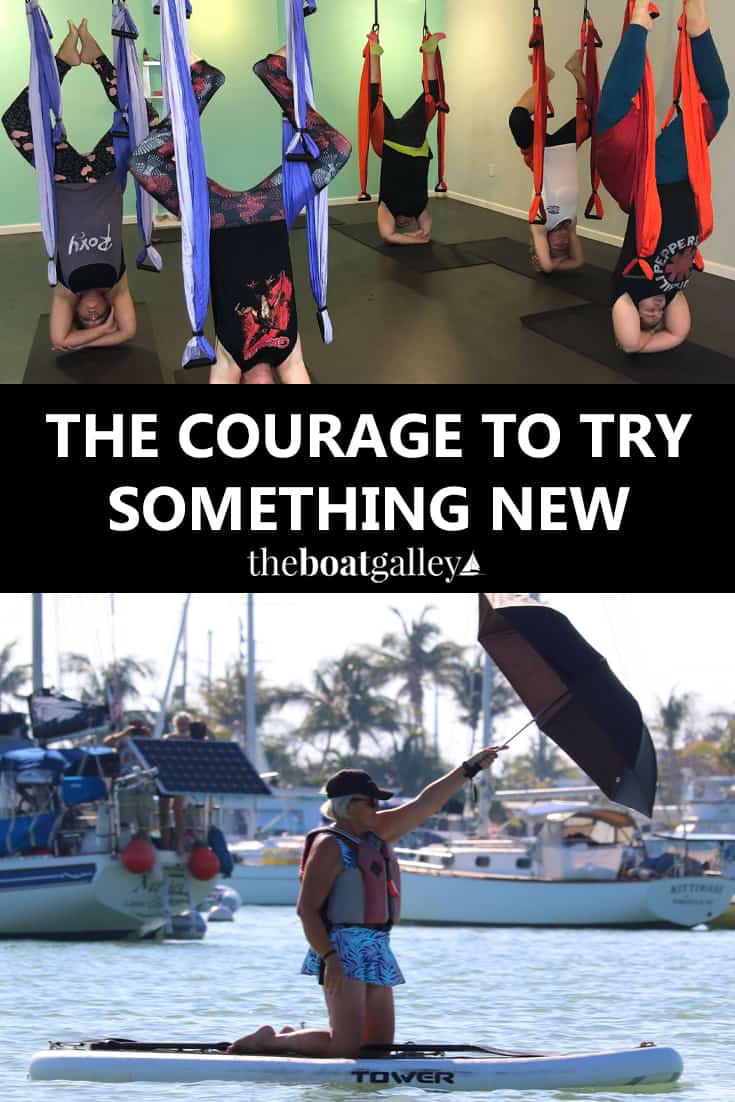 Some links above (including all Amazon links) are affiliate links, meaning that I earn from qualifying purchases. Learn more.