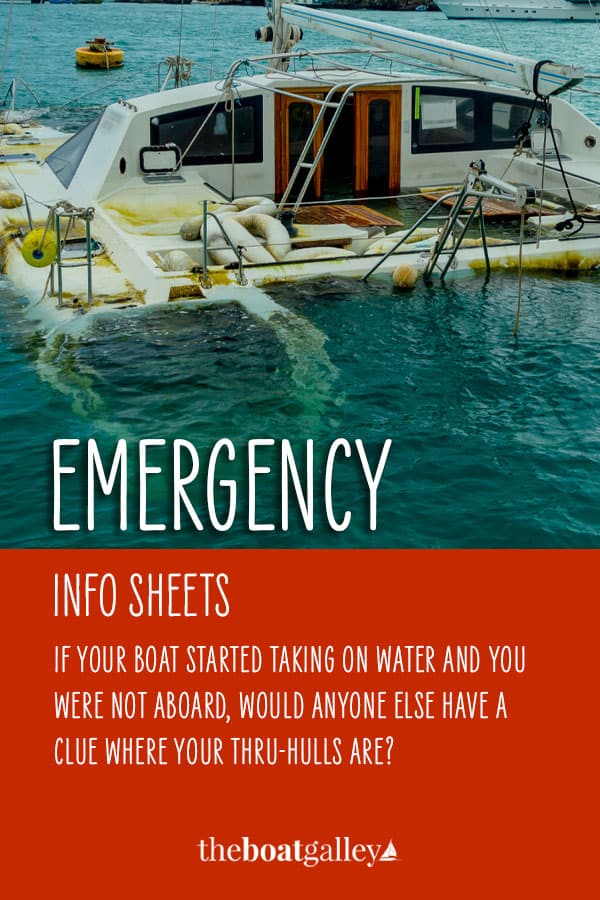 If your boat started taking on water and you were not aboard, would anyone else have a clue where your thru-hulls are? Could they close them from the inside . . . or put plugs (or even stuff a t-shirt) from the outside?
Could they find the manual bilge pump?
If your boat was dragging, could they start the engine? Operate the windlass?
If you were sick, injured or — God forbid — found dead in your sleep, would anyone know who they should contact? Or how to?
No, we don't like to think about these things happening. But they do.
Over the years, I've known quite a few boats that were lost at anchor when owners were ashore. While we all worry about what could happen at sea, I know far fewer that have been lost underway. But we spend so much more time anchored, moored or at a dock. So we need to think about being prepared for emergencies there . . . not just about having a ditch bag and life raft when at sea.
The thing is, the cruising community is incredibly helpful. If people see something bad starting to happen to a neighbor's boat, they're going to come investigate and do what they can to help.
But you have to make it so that they CAN help. Give them the info they need. It'll only take a couple of hours to do this.
Start with a layout of your boat. Mark the thru-hull locations and fuel shut-off points. This is the one I made for our former boat. It doesn't have to be fancy — you can simply print a layout of your boat and use a pen or felt pen to mark locations. It's more important to do it than to make it look pretty.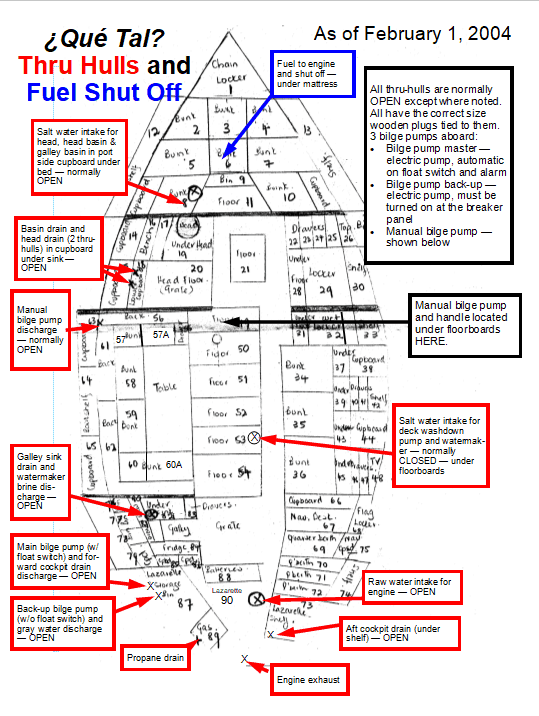 If you have pictures from a haul out, mark the thru-hulls on them. (If you don't have such pictures, make a note to take them when you're next hauled out.)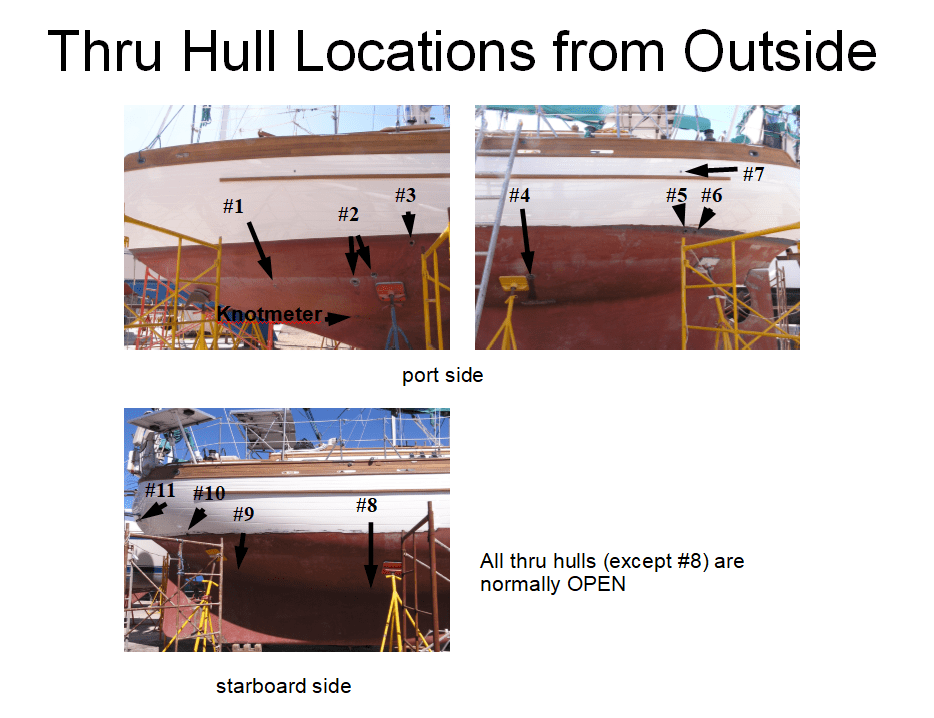 Then write up the important emergency info. If you've got 5 keys hanging up, be sure tell them how to identify the one for the engine. Remember that people won't be thinking calmly in an emergency and they're not familiar with your boat.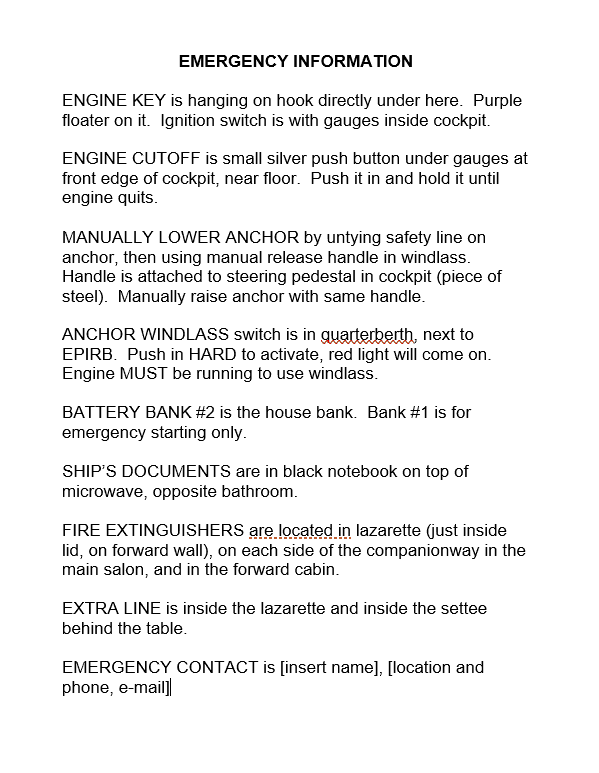 Get it all laminated (you can get easy, self-laminating sheets on Amazon) and post it on a wall in a conspicuous location. I know it may not be a great decorating choice, but someday it could save your boat. I also added info on the emergency SSB channels. If there are often people aboard who don't know how to use the VHF, you could also include basic VHF info such as using channel 16 for emergencies and calling "MAYDAY."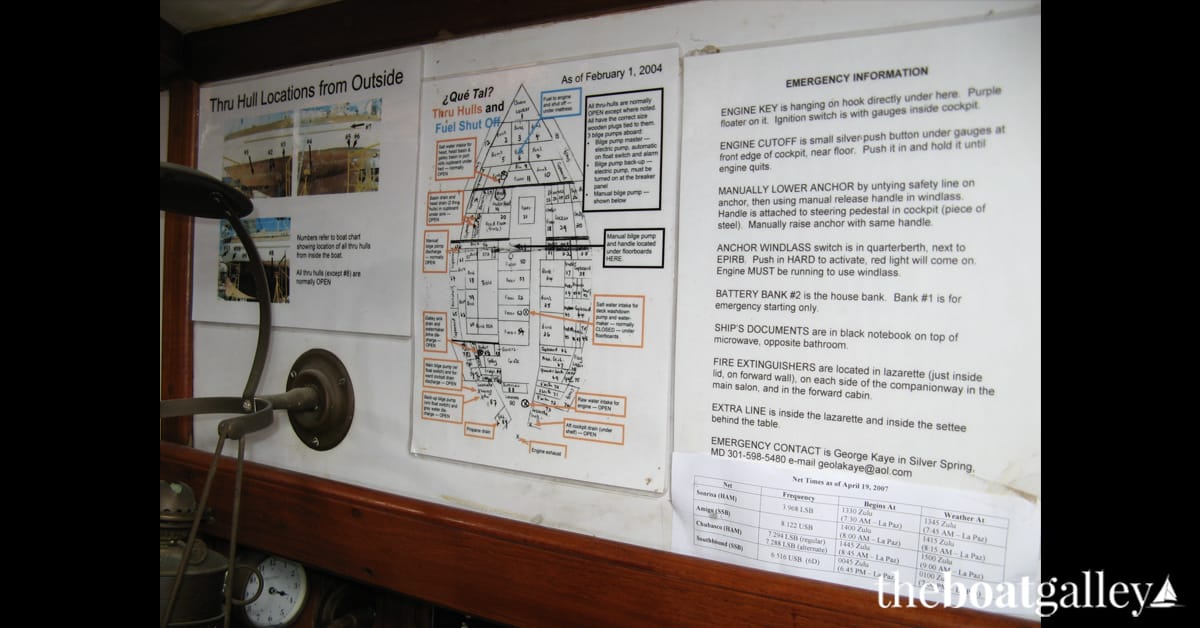 Total cost for this? Less than $5 and a couple hours of time. A lot less than the time and money spent on a ditch bag, flares and liferaft. And frankly, more likely to be used. Do it.
Give your boat its best chance in hurricane season:


Making Boat Life Better
Some links in this article (including all Amazon links) are affiliate links, meaning that we earn from qualifying purchases.