A comprehensive guide to preparing for a hurricane at anchor — things to do before hurricane season, watching the weather, preparing for a storm, during the storm and the aftermath.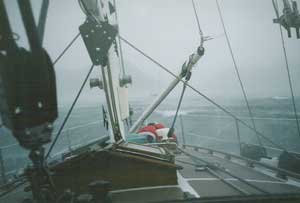 "Hurricane Warning — Riding Out a Big Blow at Anchor" was originally published in Blue Water Sailing in September 2005 as "Riding Out Marty at Anchor" and featured on the cover as "100 Tips for Weathering a Hurricane."
That red jacket in the center is Dave on his hands and knees, crawling forward to check our chafe gear as Hurricane Marty is about halfway to its full strength . . . and it was "only" a Category 1 storm when it hit us.
At various locales in the Sea of Cortez I gave talks on hurricane preparation, and this article is really almost a condensation of those talks. It's the most comprehensive of my hurricane articles, but the others give detailed looks at many of the topics only touched on here.
If the document does not show below (some browsers have problems), click here to view or download.
Preparing for a hurricane is a lot of work, but a checklist helps considerably. You can start with ours — created for anchoring in a hurricane hole — and edit it for your boat. Get the FREE editable checklist (.docx) and a PDF of tips for preparing for a hurricane in Hurricane Prep Checklist.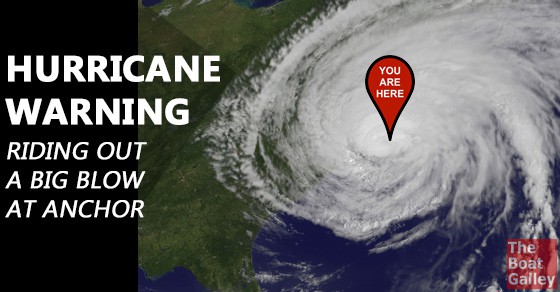 Some links above (including all Amazon links) are affiliate links, meaning that I earn from qualifying purchases. Learn more.