Eggs were one of my first "cooking" lessons. While I don't actually remember it, family lore says that when I was 2 or 3 years old, my mom was doing some baking and decided to show me how egg whites get fluffy when beaten. Since my only sibling, a brother, is 16 years older than I and in college at the time, the real story is probably that she was trying to keep me occupied while she was baking. She put a bowl on a coffee table where I could see it, separated the egg whites into it, and started up the electric mixer. Apparently, I watched in awe, my eyes getting bigger and bigger as the egg whites got bigger and bigger!
In the 50+ years since that day, I've continued to learn about using and storing eggs!
10 Tips for Storing and Using Eggs
1. Eggs only need to be refrigerated if they've already been refrigerated. Learn more about storing eggs in Reducing What You Store in the Refrigerator or Ice Box.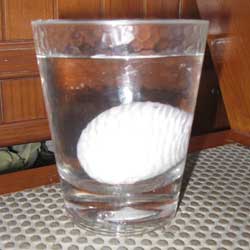 2. Two tests for determining if an egg is still good to use:
Put the whole egg into a glass of fresh water. If the egg sinks and lies on its side, it's "very fresh." If it lies on an angle (as in the photo), it's "fresh." If it stands on end with one end on the bottom, it's still good but should be used reasonably soon. And if it floats, it's bad.
The smell test is simple. Break the egg into a cup or small bowl. If it stinks (a nasty sulphur smell), it's bad.
3. If you break an egg and notice that the sac encasing the yolk is disintegrating (which happens as it ages), it's still fine to use the egg if it doesn't stink. You can't use it for a fried egg, but it's fine for scrambling or using in baking.
4.  Hate that green line around the yolk of hard-boiled eggs?  It's caused by the yolk getting too hot. 
5. Once hard-boiled, eggs shouldn't be kept more than a day without refrigeration. Cooking them changes the protein, I'm told. Of course, the "official" line is that eggs should never be kept unrefrigerated — raw or hard-boiled — so I can't get confirmation on this.
6.  Boiled eggs peel much more easily and neatly if you use older eggs.  Using "very fresh" eggs almost guarantees they won't peel nicely. 
7. The more "done" a boiled egg is, the easier it is to peel. Starting with eggs that are equally fresh, a hard-boiled egg will be easier to peel than a soft-boiled one.
8. To boil eggs without cracking the shell, put the eggs into room temperature water, then bring the eggs and water to a boil. If you put a cold or room temperature egg into hot water, it's almost certain to crack.
9. Want to make half a batch of a recipe calling for an odd number of eggs? Read how to have "half an egg."
10. Another use for older eggs is when you're beating eggs whites (although the yolk sac has to be intact so that you can separate the eggs). They'll beat higher if older, and also if at room temperature. Add a little salt when you begin beating them to firm up the protein, then as they begin to foam up, add just a touch of an acid to stabilize the foam: cream of tartar is called for in most cookbooks but can be hard to find outside the US. You can substitute a few drops of lemon juice, lime juice or white vinegar per egg.
And one final tip from a reader: Kim on SY Tompa says: "The best way to shell a boiled egg? Put it into a tall glass add a little water, place your hand over the mouth of the glass and shake vigorously – hey presto the shell just comes away!"
Want some help with that tiny refrigerator? Check out our step-by-step how-to:


Making Boat Life Better
Some links in this article (including all Amazon links) are affiliate links, meaning that we earn from qualifying purchases.