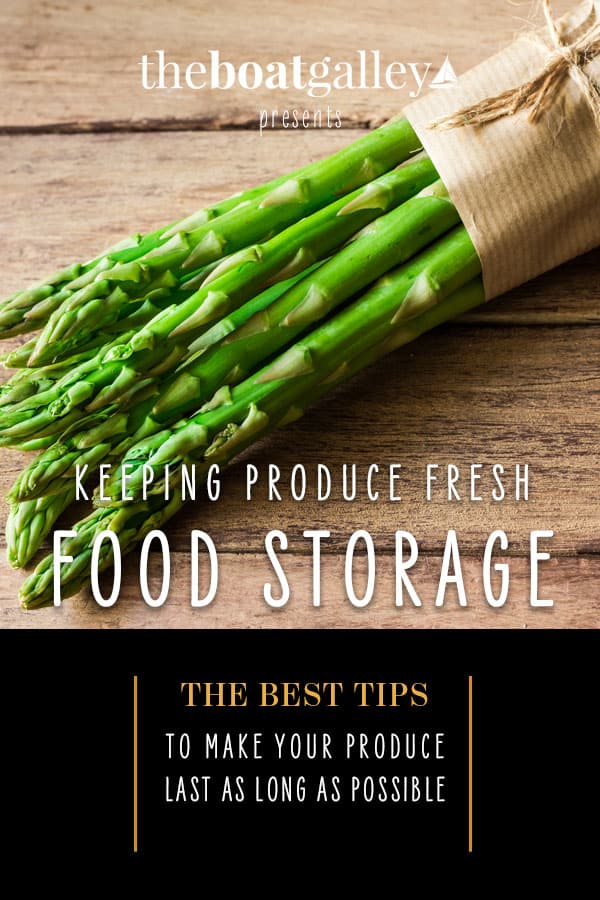 How do you store produce on a boat? Where home refrigerators have all sorts of wonderful produce bins, complete with directions on what to put where, you have to develop your own system in a boat refrigerator. Add in that your boat refrigerator is likely to be much smaller than one ashore, and the questions mount.
Don't worry. Here's how to store produce on a boat.
Wash the Produce
We get really spoiled with the produce we buy in US supermarkets: almost all of it has been washed long before we buy it. Much of it is even labeled "pre-washed — ready to use." But if you're outside the US — or buy your fruits and vegetables at a farmer's market or roadside stand — the first step in storing your produce is to wash and dry it.
In washing the produce, you're doing two things: getting the dirt off, and getting rid of any germs and bacteria.
As described in Avoiding Critters, use one capful of bleach (plain, no fancy scent) in one to two gallons of water and swish your produce around in it. For tough, dirty items like carrots, use a vegetable brush to scrub the dirt off.
The produce must be dry before you put it into the refrigerator. If it's warm, you may just be able to lay the produce on some towels for a half hour or so. On cooler days, it can pay to aim a fan at the produce to improve airflow. You can change towels periodically and even blot the water off. But if the produce is still damp, it will rot much more quickly in the refrigerator.
Store Some Produce Out of the Refrigerator
Make room for things that really do better in the refrigerator — lettuce and berries, for two — by storing as much produce as reasonable outside the refrigerator. Things like tomatoes, green onions, oranges and more do just as well — if not better — out of the fridge. Check out my course Eating Well With A Tiny Fridge, which includes my book Storing Food Without Refrigeration for step-by-step details on how to store a wide variety of fruit and vegetables outside the refrigerator.
The Condensation Problem
In tropical areas — particularly in the summer — one of the biggest problems you're likely to face in storing produce is condensation. If you put room temperature carrots, say, into a plastic bag and then put that plastic bag into the refrigerator, all the moisture in that warm, humid air inside the bag is going to condense in the bag. And your carrots are going to sit in that water, and begin to lose their texture and quickly rot.
I tried using those green refrigerator bags, and while they may prolong the life of vegetables for some, they didn't solve the condensation problem.
I did find two solutions to the problem — one cheap but more labor-intensive, and one costing more but no work on a day-to-day basis:
Cheap: Wrap a double layer of paper towels around vegetables before putting them in a plastic bag, and then change the paper towels every day (hang the wet paper towels to dry, then use them again the following day). As explained to me by Erin on Ballena, who taught me this trick in our first year: "The paper towel acts as a little diaper so there's no puddle of water."
Less work: Rubbermaid has come out with a line of Produce Saver food storage containers. They have a vent in the lid for air circulation and, more importantly for me, a tray in the bottom to keep the contents out of any accumulated moisture. They're available both in sets of four (one 14-cup, one 5-cup and two 2-cup containers) and individually. The last time I checked (and things can change by the minute) — it was cheaper to get the set of four than just one 14-cup container.
The Produce Saver containers have the added advantage of protecting their contents a little better from the motion of the boat, but they take up more room in the refrigerator. Also, they have to sit on their bottoms — not be wedged in on their sides or ends — to work. The typical motion of the boat doesn't get the produce wet, however. Take up any extra space inside the containers with bubble wrap or paper towels to protect the contents from bruising.
UPDATE: Somewhat contrary to the above, about 6 weeks after posting this, I learned a trick for storing celery: if you tightly wrap celery in aluminum foil before putting it in the refrigerator, it will stay crisp for several weeks. Apparently, celery loses its crispness as it loses its moisture. And for some reason, it retains its moisture — and hence its crispness — much better when wrapped in foil than in a plastic bag.
Storage Bins
You don't just want to chuck your bags or boxes of produce in with all the drink cans and so on. Produce needs it's own bin(s), where it can be protected from bruising with the motion of the boat.
Most produce wants only to be kept cool, not cold or frozen. This is particularly true of leafy vegetables, but tomatoes, peppers, berries, fruits, and squash — just to name a few — lose texture if they get too cold.
Consequently, never put produce into metal containers — they conduct too much cold. Instead, use soft plastic containers — they conduct less cold than hard plastic. I prefer solid bins — ones that are milk crate style or that have holes in the bottom or sides are more likely to bruise produce. And again, use a bunch of bubble wrap to take up extra space.
I like to put "fragile" foods into their own containers. Things like tomatoes, peaches, and strawberries are just too liable to get squashed if not in their own hard-sided container. For example, I took a gallon water bottle and cut the top off, then wrapped tomatoes individually in bubble wrap and packed them in. Protection against bruising really extends the life of produce on a cruising boat as bruises quickly turn to rot. I found that I had more usable produce by not trying to pack so much into the space available!
Put the Bins in the Warmest Places
By now, you've already figured out that your produce bins should go in the warmest places in your boat refrigerator. My refrigerator area was fairly deep (okay, when I was wiping out the bottom during defrosting, my feet were off the floor), so this meant that I could stack bins two deep. Since cold air falls and hot air rises, my produce bins were the top layer. If you have enough depth, this is perfect — if they're on top, nothing will fall into them and cause bruising.
Making Boat Life Better
Some links in this article (including all Amazon links) are affiliate links, meaning that we earn from qualifying purchases.