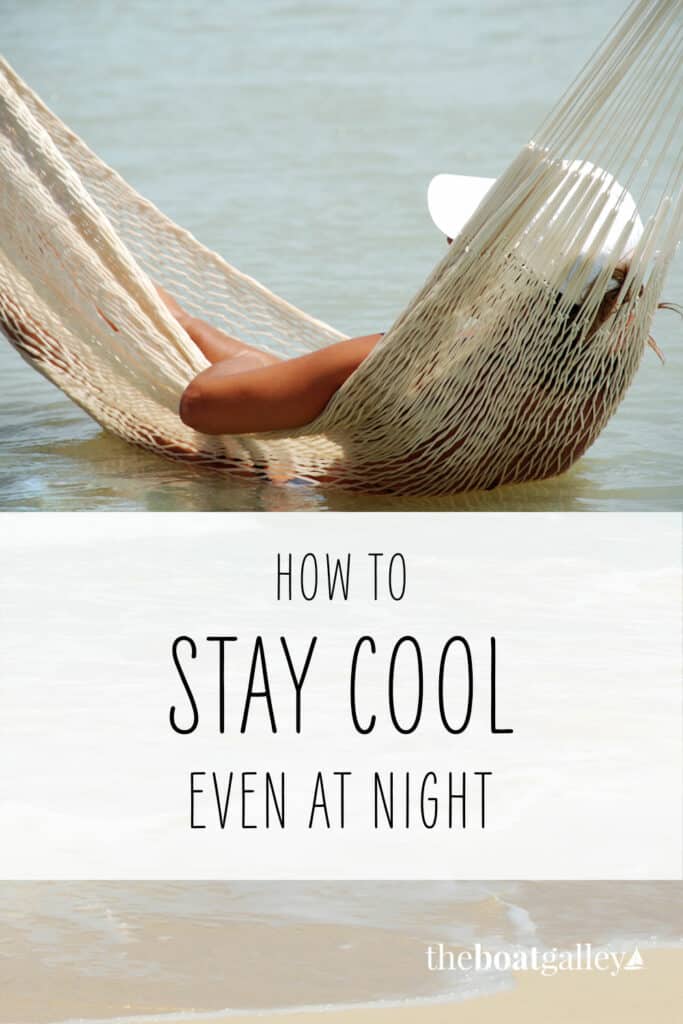 Summer is definitely here in the Florida Keys! We've had several days recently where it's been over 95⁰F. inside the boat, so it's time to break out all our ways to keep cool in the summer without air conditioning.
Wind scoops! Our primary one is a 4-way, which funnels even the slightest breeze below deck, no matter what weird angle the current holds us at. Our second one is free-standing but we have to change the angle manually if we're not head to wind. Get the details about our 4-way one here and the freestanding one here.
Fans! Both Caframo fans (read here) and a 12v box fan (read here). Additionally, a reader sent me a wonderful rechargeable portable fan that we use in the cockpit and other places where we don't have an outlet and don't want to hardwire a fan. It doesn't take a huge amount of power to recharge and runs up to 24 hours on a full charge. BONUS: It's about 8" in diameter and easy to take to the shower room, which doesn't have fans or AC. The exact model we have is no longer sold, but this one on Amazon is very similar.
Cold drinks. We rotate a couple of bottles of water into the freezer to get them extra-cold. When we take one out, we put another one in.
Our latest addition is a mattress cooler. We've only used it a couple of nights so I'm not ready to give it a full endorsement yet. So far, however, it's wonderful.
The mattress cooler a pad that sits on top of the mattress pad and under the sheet, with channels for cool water to pass through. The water is cooled 7-12⁰ F. below the air temp by evaporation in a separate unit and then pumped through the pad and back to the cooler. According to the manufacturer, it will both make you feel cooler and transport heat away from your body.
I was very skeptical that the cooler would work in the very humid conditions here in the Florida Keys; I simply could not imagine that evaporative cooling would work. A friend who had gotten one last summer swore that it really did work here, and so I took the leap and bought one. After about 10 minutes, the pad area is noticeably cool.
There are four cooling settings. There is also a remote so that if you get too cool in the middle of the night, you can turn it off without getting up.
I placed the pad from side to side on the mattress, as recommended for two people. Adjustable elastic straps hold it in place. It cools our torso area. I notice the pad when I get into bed but not once I lie on it, other than it being cool.
The fan/pump unit comes with a 110v power supply but the motor for the fan and pump is actually 12v. Rather than have the power inefficiencies that would happen by using an inverter to step the power up to 110v and then step it down to 12v in the manufacturer's power cord, I bought a 12v cord (the manufacturer gave info on this) and it works perfectly.
Evaporative cooling takes far less power than refrigeration or air conditioning. The mattress cooler draws a little under 1 amp at 12v, so about 8 amp-hours of power for a typical night.
A couple of notes if this sounds good to you:
I normally use something for several months before recommending it. I've used this less than a week, so can't say anything about how it holds up in the long run. However, since the hot season is starting, I'm putting it out there as something very worth considering if you're sleeping poorly due to heat.
The pad will have to be replaced every 3 to 6 months as it will wear and then possibly leak. Replacements cost about $45.
Check for wear spots and potential leaks when you change the sheets. I am planning to add a bit of "sacrificial" sail tape in areas where I start seeing wear to hopefully get longer out of a pad.
Because it can leak, do not put the pad over anything that would be ruined if freshwater got on it. We already had a waterproof mattress cover to protect the mattress from any rain leaks and figure it will work for this also.
If you're on a monohull, be sure to secure the fan/pump unit so that it can't tip over as the boat rolls.
You must add water every day – it'll take about a quart to top it up. PRO TIP: If you use cold water and add it just before going to bed, the pad will cool very quickly and be even cooler to start out the night.
If you have a source of filtered water, it will save some on cleaning. Yes, you need the clean the system periodically. Using a smidge of bleach in the water will help stop growth in the tubes.
You can buy the Mattress Cooler directly from the company or on Amazon. This is the 12v cord that I bought for it; you could also get this type of cord without the cigarette plug and hardwire it.  
And don't forget to check other gifts for cruisers. Anything that adds comfort is a great treat.
---
Be sure to subscribe to The Boat Galley newsletter to keep up with what we're up to and get helpful tips and encouragement from the water.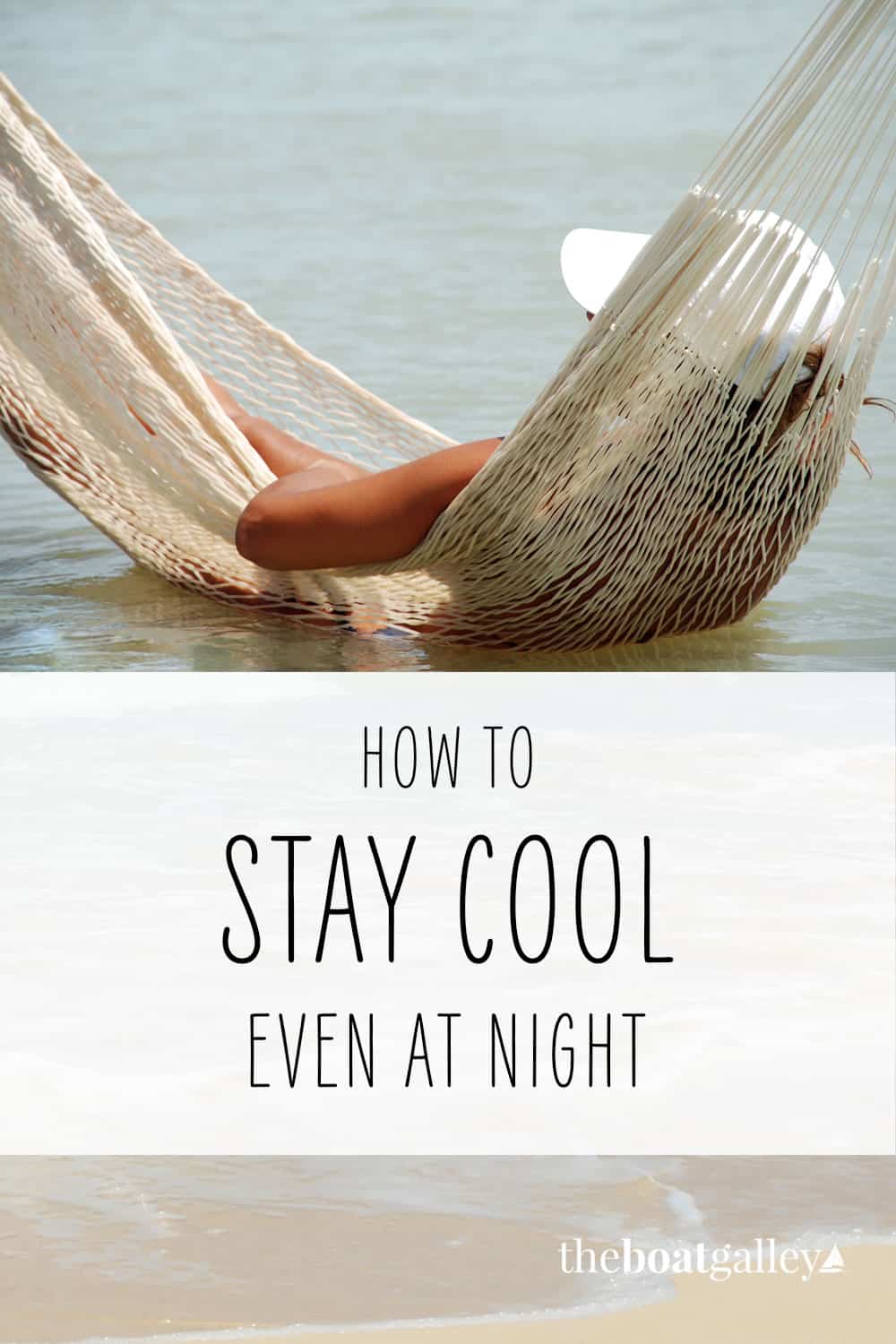 Making Boat Life Better
Some links in this article (including all Amazon links) are affiliate links, meaning that we earn from qualifying purchases.