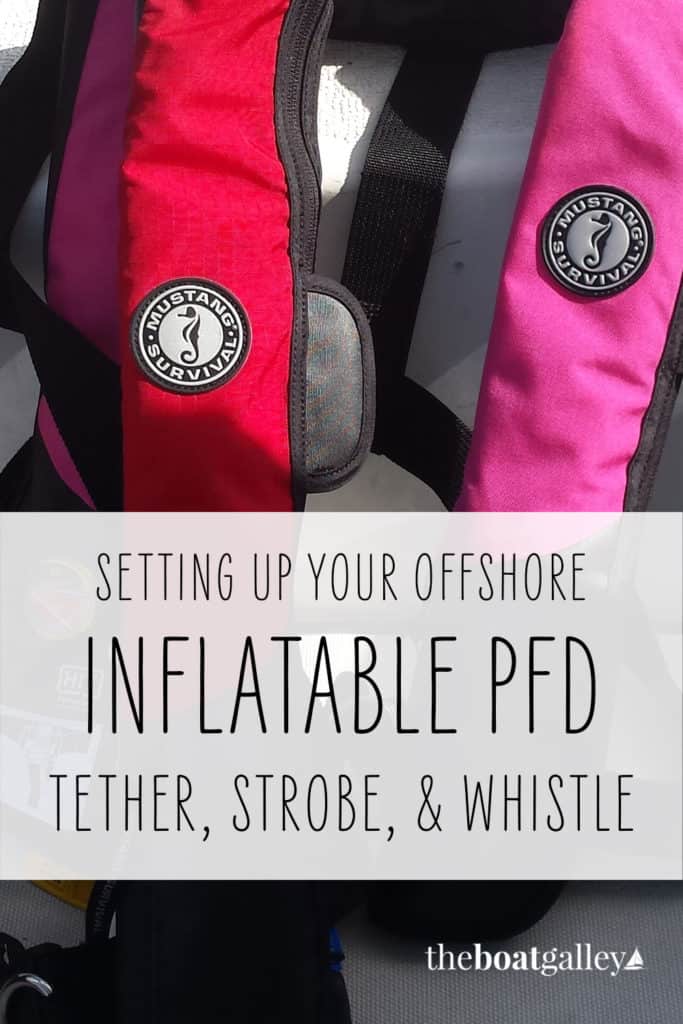 Getting a new PFD (personal floatation device): how to buy and set yours up.
Shortly after we bought Barefoot Gal, our Gemini 105M, Dave and I came to the conclusion that we really didn't like the inflatable PFD's (life jackets) that came with the boat. Above all, they were uncomfortable to wear, plus they didn't have an integrated harness (there also weren't any tethers or jack lines on the boat). Paz was better secured with her harness and leash attached to a cleat!
Getting a new PFD for each of us became a priority. Good PFD's, harnesses and tethers are not inexpensive.
Two things to note: inflatable PFD are not suitable (or legal) for kids, and they satisfy the Coast Guard requirements of "one per person" only when worn. So if you are boarded and your inflatable PFD is in the locker (and you don't have another non-inflatable), you're in violation.
Choosing a PFD
We decided that we wanted:
Hydrostatic inflatable. Hydrostatic units will not inflate in the rain, humidity or wave spray — it takes being at least four inches under water to trigger one. We'd had a problem with one PFD that inflated inside a locker while on our previous boat during Hurricane Marty. Friends had similar experiences wearing theirs in the rain. We thought it worthwhile to pay the extra for hydrostatic.
Comfortable. We believe in wearing PFDs anytime we're on deck in anything but the calmest conditions. But you can only do that if they're comfortable. We scrutinized Practical Sailor reports and blogs to find out which ones people liked over the long haul.
Integrated harness. We like just having one thing to keep track of and put on.
Double tether so that in snotty conditions, we could clip on the new location before unclipping the old. Also having a choice of lengths (most doubles are 3′ and 6′) is nice. We can use the 3′ when working near any edge of the boat and still have the 6′ when the nearest attachment point is too far for the 3-footer.
Strobe and whistle that are permanently attached. We prefer a strobe that automatically begins flashing and then can be turned off if desired — that way, should someone go overboard at night, they don't even have to think about how to turn it on. Panic can make you forget even simple things.
After a lot of looking around, we decided on one of Landfall Navigation's "PFD Kits" — specifically the Premium Offshore package combining the Mustang Hydrostatic PFD, double tether, strobe and whistle. I think this is a good package and it's what we chose for ourselves. It may or may not be right for your needs — this is a topic to research carefully before buying. Since we bought ours, Amazon has begun selling many top-end PFDs although not the kits — you have to buy the PFD, tether, strobe and whistle separately.
We got two different colors so that once we got one adjusted for each of us, it was easy to grab the right one.
Setting up the PFD
When they arrived, we had to attach the light, whistle and tether. The whistle is very simple — there are loops to attach it to using a split ring.
And the tether is pretty much like any other tether. The big thing to note with any tether is that the ONLY clip that should EVER be attached to the PFD itself is the one with the quick release. When not in use, the other clip ends should be clipped back onto the tether, never to the PFD. Reason? If you are clipped in and the boat were to roll and not right you want to be able to release the quick release (you can release it under tension) and go the surface. Similarly if there is a fire or explosion, you may need to get off the boat in a hurry. If one of the other clips is attached to the PFD you will NOT disconnect yourself from the boat just by pulling the quick release. If you find it hard to understand in words, clip yourself in somewhere and see what happens when you pull the quick release — can you walk away?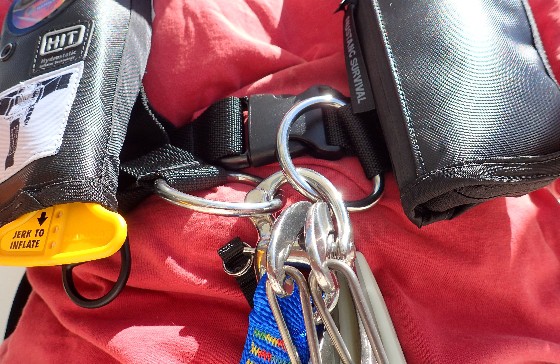 Start by testing the light (the instructions for this are correct). You don't want to find out it's defective just when you need it most!
Newer lights (such as the one I now recommend and which are part of Landfall's current package) are water activated and simply need to be clipped onto the PFD.
Attaching an Older-Style Light
If you have an older-style light that is activated by a pin being pulled when the life jacket inflates, follow these steps to attach it:
Begin by pulling out the zipper tabs on both left and right bottoms. You're not going to do anything with them for a while, it's just easier to pull them out now.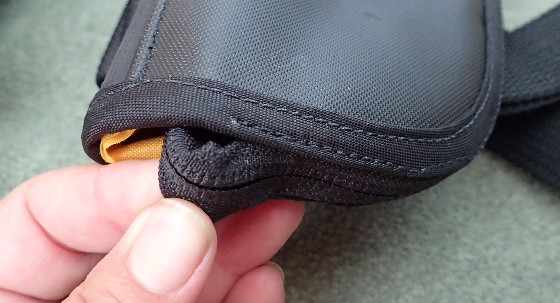 Undo the little Velcro flap on the left outside and pull the zipper apart. Don't worry, it will go back together correctly. No, you DON'T use the tabs you undid above to unzip the zipper. Really, you don't. I tried it.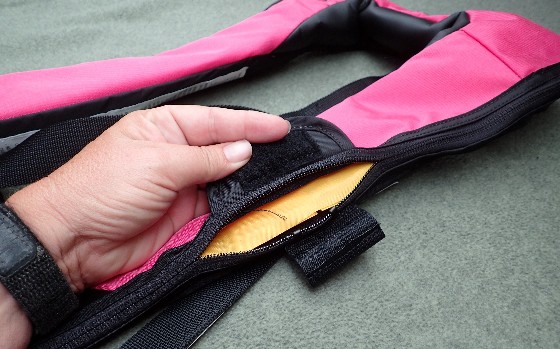 Inside, you'll find the oral inflator tube (what you'd use to blow up the PFD by mouth if the CO2 cartridge didn't fire). Drop the round loop on the strobe around the inflator tube.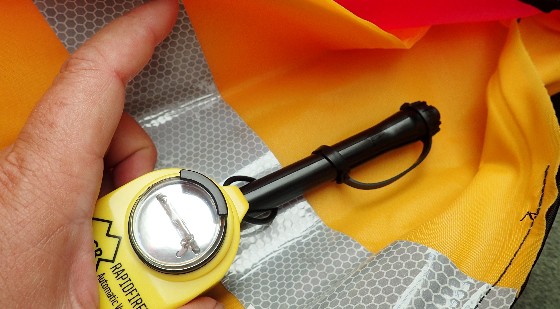 Now here's where it gets interesting. On this model PFD, there is nothing to hook the clip from the light onto at the bottom of the inflation chamber. And if this clip isn't hooked, it won't pull the pin and start the light flashing automatically when the PFD inflates.
So you have to make a place to hook the clip. You have to very, very carefully cut a tiny slot OUTSIDE the inflation chamber in the yellow fabric. Be sure to do it OUTSIDE of where the welded seam is!
I began by clipping it without cutting, so I could see just where I needed to make the slot.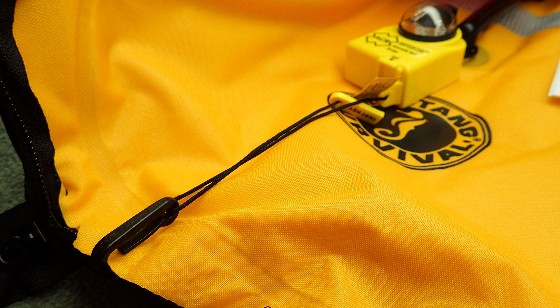 Then I took a deep breath and any made a small hole.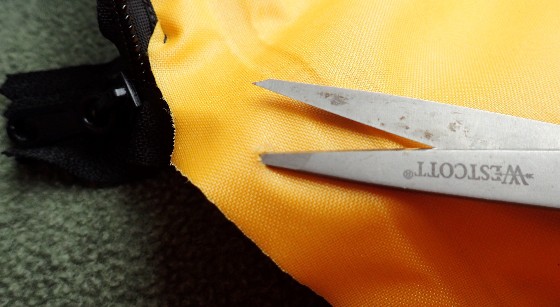 Clip the light in. The whole assembly should look like this. In an emergency, when the yellow inflation chamber fills with "air" (CO2), it will pull the pin out of the light and it will start flashing.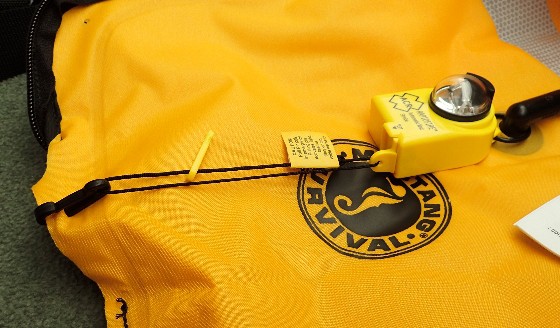 Fold the black outside flap in.

Then the colored flap goes over it.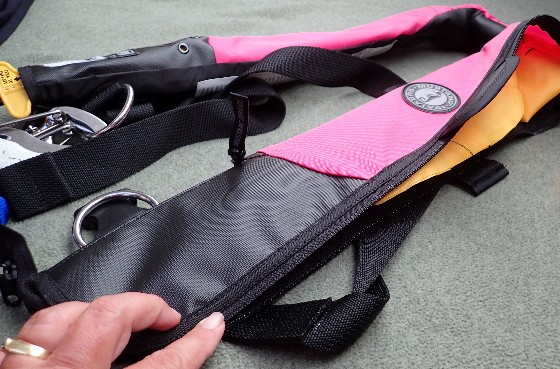 From where you pulled those zipper ends out back in the beginning, slide the zipper pull all the way to the "end stops" that are under that Velcro tab.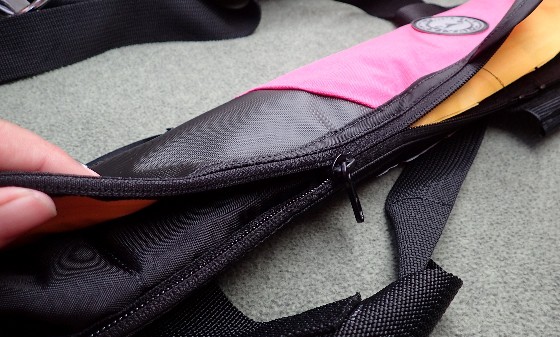 This will bring the zipper together at the small end of the pull tab and open the zipper from the fat end.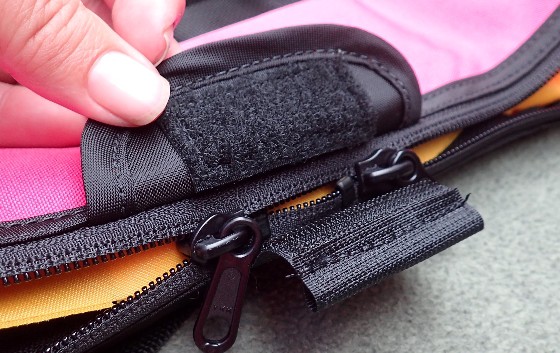 Now zip it up back to bottom on both sides and tuck the ends back in.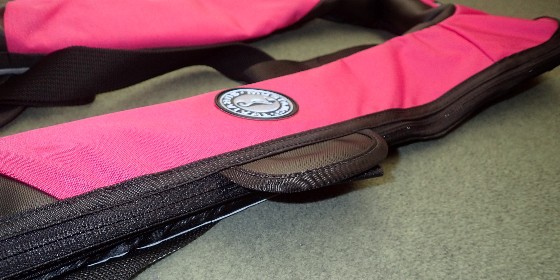 Final Steps
You're almost done — take a permanent felt marker and put your names and the boat name on the PFDs — we did it behind the neck so you don't see it in the photo, but it's there.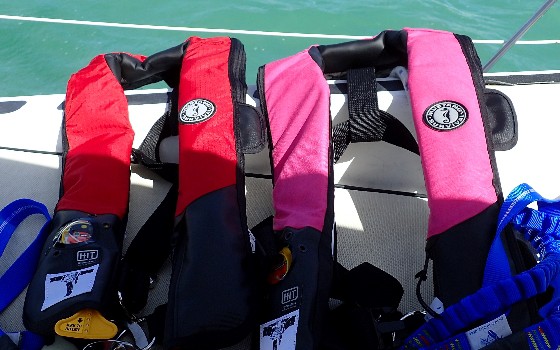 Finally, adjust the straps so that it's comfortably tight. In case of an emergency, you want it to stay on, but you have to be comfortable wearing it. As you put on or take off foul weather gear or other layers, you'll almost certainly have to readjust it.
And above all else, wear it! Talk with others on your boat and set clear rules about when PFDs must be worn and when you'll use tethers. It does no good to buy great gear and then leave it in a locker — it cannot save your life there. When we're on the move every few days, our PFDs and ditch bag live on seat next to the companionway where they're easy to grab.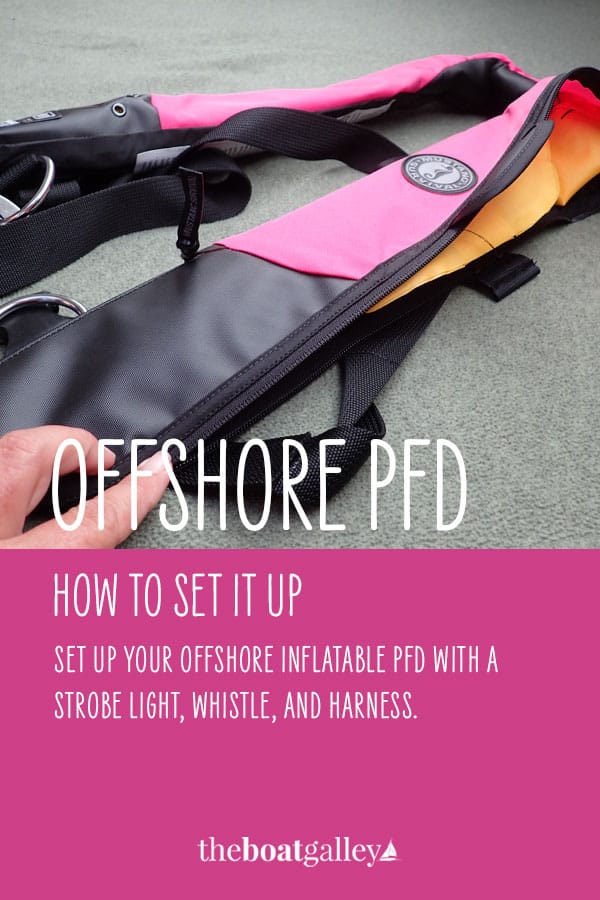 Some links above (including all Amazon links) are affiliate links, meaning that I earn from qualifying purchases. Learn more.