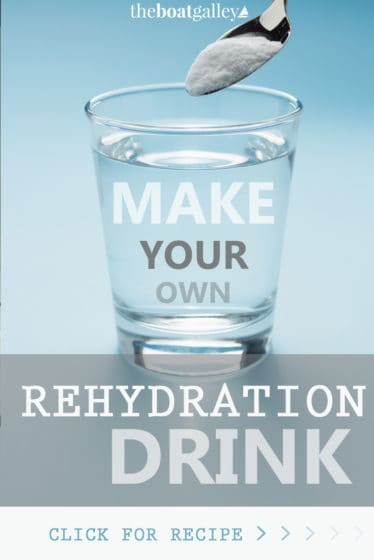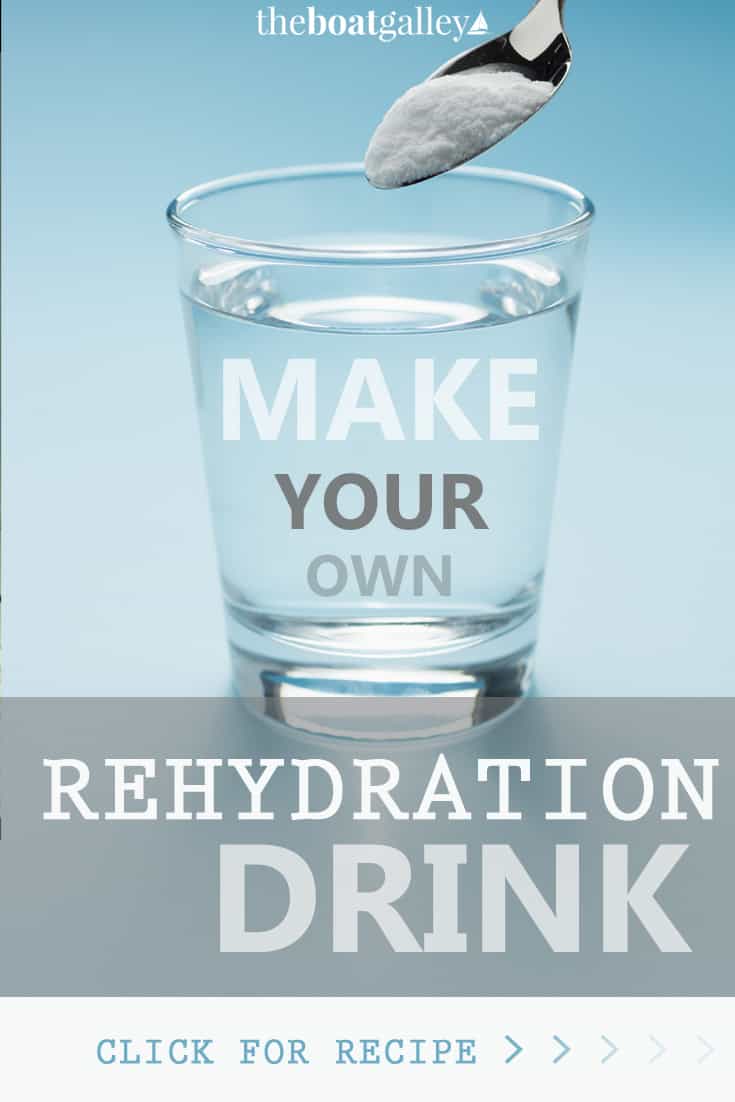 Do you need a rehydration drink? If you're cruising in a hot locale — typically the tropics, but it could even be a trip down the ICW in summer — you may find yourself sweating more than when you lived ashore in air conditioning and losing precious electrolytes in the process.
How to Tell if You Need a Rehydration Drink
A bad bout of seasickness, traveler's diarrhea, or food poisoning can also cause you to lose electrolytes. And once the problem begins, it tends to be self-perpetuating and can become serious unless you take action quickly.
The good news is that most of these problems can be prevented or self-treated with a rehydration drink. I'm not a doctor, and be sure to seek medical help for severe cases. And more than once, we needed to give our dog a rehydration drink as she coped with the heat as well.
Common signs that you've lost too many electrolytes include:
Extreme fatigue (beyond normal for the activity)
Muscle cramps
Headache
Decreased or dark urination and decreased sweating are also common. In the tropics, the first thing that I'd usually notice was that I'd take a drink and almost immediately break into a sweat — an indication that I'd been dehydrated.
Commercial Rehydration Drinks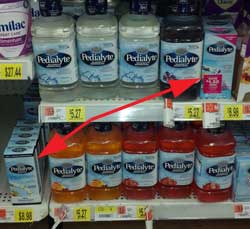 Gatorade and Pedialyte are the popularly known sports/rehydration drinks and are available in many places. Gatorade and similar sports drinks are popular as they have nice flavors (and a bunch of sugar). Both come pre-made, which has the disadvantage of taking up a lot of storage space.
Gatorade is available in many places as a powder and I recently discovered Pedialyte powder in the Infant department at Wal-mart (it's not in the pharmacy — although they did have Pedialyte liquid there — and the pharmacy clerks didn't know it was in Infants — I found it by chance).
While Gatorade and sports drinks can be adequate before you have any major symptoms, the World Health Organization (WHO) states that they're not adequate for truly rehydrating a sick person as they have too much sugar (which makes diarrhea worse) and too little sodium. Pedialyte states that it is formulated to meet medical guidelines.
Oral Rehydration Salts
In many countries, particularly where water-borne illnesses are more common, little packets of oral rehydration salts made to the WHO preferred formula are sold in almost every drugstore, usually quite cheaply. Most are designed to be mixed with one quart/liter of water, but occasionally other amounts — check the directions. Even if you don't speak the local language well, the directions are usually accompanied by pictures showing how much it makes.
If you are seriously ill, these packets work well. Outside the US, they are usually flavored to some extent, although not like Gatorade.
For "everyday" use before we had any serious symptoms, we mixed one packet with one packet of powdered Tang (also designed to make one quart) to make a half gallon of "Tang-o-rade." It tasted pretty good and seemed to ward off any serious problems, depite us living in 90+ degree temperatures without air conditioning and going for desert hikes most days.
However, for some reason, these little packets are frightfully expensive in the US — even on Amazon. The Pedialyte powder is somewhat cheaper.
Diabetic-Friendly Rehydration Drink
If you are diabetic, all of the above solutions are problematic as they contain sugar. Since being diagnosed as diabetic, I use Hi-Lyte Electrolytle Replacement drops — read my article about them or buy them on Amazon.
Make Your Own Rehydration Drink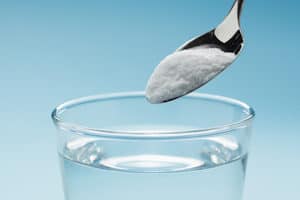 Rehydration Drink
It's easy and cheap to make your own rehydration drink, which is actually very similar to those expensive little packets. This formula should not be used by diabetics.
Print Recipe
Pin Recipe
Ingredients
1/2

teaspoon

salt

6

teaspoons

sugar

(6 teaspoons is 2 tablespoons)

1

quart

clean drinking water

or 1 liter
Instructions
Mix the ingredients until the sugar and salt are dissolved in the water.  Any portion that's not being consumed immediately should be kept in the refrigerator if possible.

And if there is any question about the cleanliness of the water, boil it and let it cool before mixing the solution.
Notes
WHO also says (buried in another document, not in the "official" recipe) that you can add 1/2 teaspoon of salt substitute (potassium chloride) OR replace the salt with 1 teaspoon of "Lite Salt" (half sodium chloride or table salt, and half potassium chloride) — or add some mashed bananas to add potassium. 
If you're experiencing muscle cramps, the potassium will make a huge difference in your recovery! WHO stresses the importance of measuring the ingredients accurately to have the correct mixture — the wrong proportions can make the problem worse.  
If you're not seriously ill and want a simple drink to keep you from having problems, you can mix this with a quart of Tang for your own "Tang-o-rade."
Nutrition Facts
Rehydration Drink
Amount Per Serving
Calories 93
% Daily Value*
Sodium 1210mg50%
Carbohydrates 24g8%
Calcium 28mg3%
* Percent Daily Values are based on a 2000 calorie diet.
Keep this formula handy — you never know when you may need it and it's nice as the ingredients are virtually always available.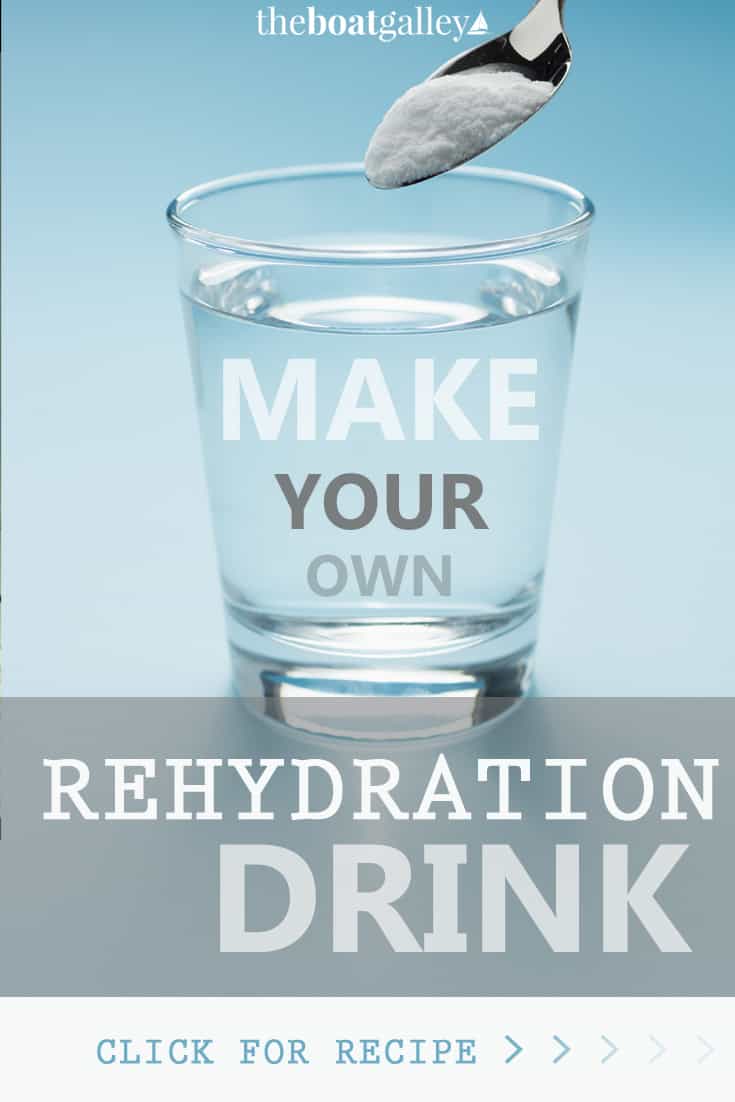 ---
Our FREE Provisioning Spreadsheet
Wondering how much of what foods to take on your next trip? Know just how much to buy of what — all arranged by grocery store aisle — with our handy Provisioning Spreadsheet. Includes detailed instructions to edit it for your favorite foods, how much your family eats, and how long you'll be gone. No spreadsheet skills needed!
It's FREE — get it here.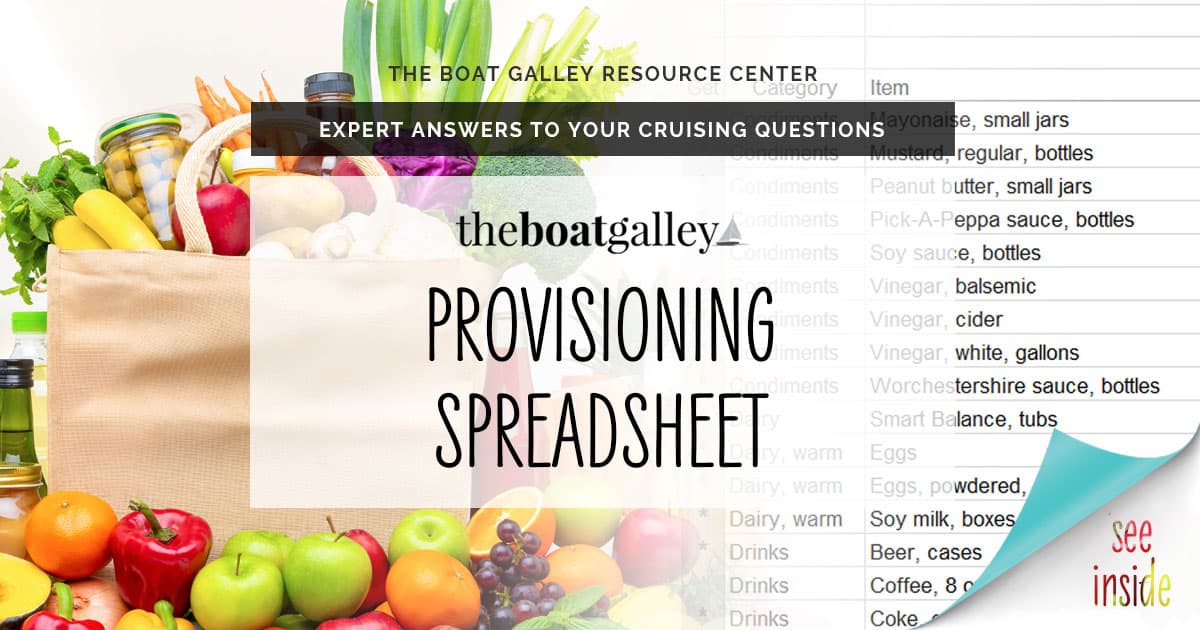 Some links above (including all Amazon links) are affiliate links, meaning that I earn from qualifying purchases. Learn more.