When you're dropping the anchor, you want to know how much rode you're putting out to determine if you've got enough scope.
People have come up with all sorts of systems for marking chain (or rope). The most popular two are using cable ties or paint.
With either one, you come up with a color scheme (in the US, red-white-blue is popular) and a distance apart for the markings. On our previous boat, 300 feet of chain was marked every 50 feet.
First red = 50 feet
First white = 100
First blue = 150
Second red = 200
Second white = 250
Second blue = 300
The problem with cable ties is that they get chewed up by the windlass and the bottom, and fall off over time. You can put on multiples so that there will still be another one there for you to see, but that ignores the other problem with cable ties: all those bits of broken plastic in the water.
Individually, they're not large. But added to the rest of the plastic trash in the oceans? No thanks. I hope others will move away from using cable ties (or other plastic markers) and switch to paint.
To paint the chain, start by laying it out and determining where you're going to paint. It's usually easiest to zig-zag it back and forth at whatever interval you've decided upon.
IMPORTANT: Paint will appear to adhere to galvanizing when first applied, but actually flakes off easily. Our friend Greg Delezynski, in the picture at the top of the article, told us the secret to getting it to adhere well: vinegar!
The vinegar will etch the galvanizing so that paint can adhere. Just pour it over the sections of chain that you intend to paint and let dry, then paint. Greg uses either white or cider vinegar.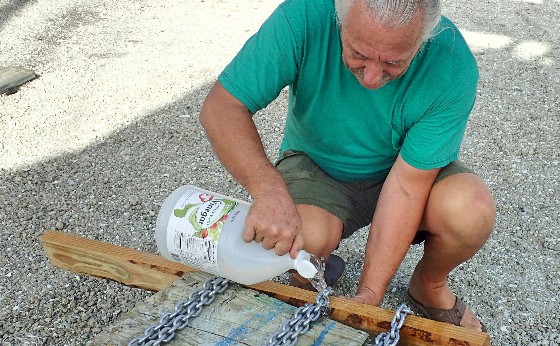 Greg's other tip is to use yellow paint for the "white" in the red-white-blue color scheme. White can be hard to spot if you have new galvanized chain — it will blend right in with the galvanizing. Yellow shows up much better.
---
We first met Greg and his wife Jill aboard their boat Guenevere in the Sea of Cortez. And then last spring, through Facebook, we discovered that we were both going to be in Glades Boat Yard this fall. Greg has several cruising DVDs out as well as shorter clips on his Youtube channel:
And just because this is one of my favorite photos, here's Guenevere anchored off Juncalitio in the Sea of Cortez: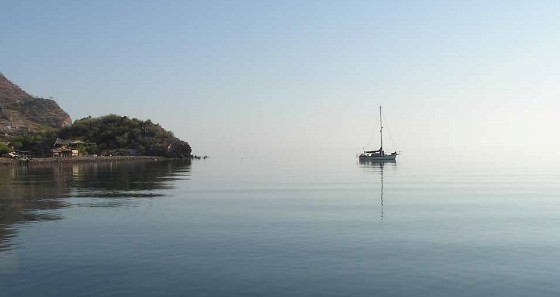 Get info on gaining skills, buying and owning a boat, working on your boat, buying stuff for your boat and moving aboard in Prepare to Cruise (free mini-course).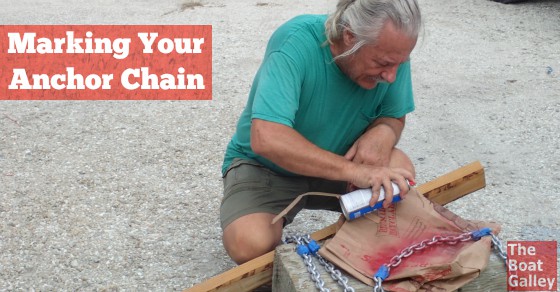 Some links above (including all Amazon links) are affiliate links, meaning that I earn from qualifying purchases. Learn more.