This is a guest post from Sami Bolton Shreve. She's sent me lots of great info (try her shrimp tacos) and her husband, Barry Shreve, is probably best known for the fantastic can pantry he built behind a settee on their former boat (see pictures and read about it here).
---
This is one of the most rewarding and simple things to do. The rennet and citric acid are cheap and last forever. I use whole fresh milk but have been told that powdered milk works well with the added bonus that it doesn't have to be refrigerated. You will need a cooking thermometer. If you get a cheesemaking kit online one will come with it.
I used www.cheesemaking.com and think its great. This is their "30 Minute Mozzarella and Ricotta" kit, which cost $25 and will make 30 batches. You get plenty of everything you will need and good instructions for making the kind of cheese you like. Below are general directions just to show how easy it is, but follow the exact directions in the kit.
My kit makes mozzerella or ricotta. The ricotta is even easier! It makes a GREAT thing to take to pot lucks and is a much appreciated thank you gift.
I figure each batch costs about half of what it costs in the grocery store and if you are in the Bahamas or most cruising destinations the savings are even greater. Save the whey to make bread with. Just replace the liquid your recipe calls for with the whey. It makes really great crust and yummy soft bread inside. Whey freezes but you will have so much left from each batch, you will want to share it unless you make lots of bread.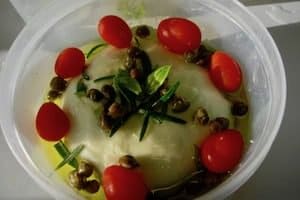 Make Your Own Mozzarella
Making homemade mozzarella cheese is easy and fun.
Print Recipe
Pin Recipe
Instructions
Dissolve 1/4 rennet tablet into 1/4 cup of cool chlorine free water. Be sure it's completely dissolved.  Set it aside.

Mix 1-1/2 teaspoon citric acid into 1 cup cool chlorine free water and pour it into your pot. Add 1 gallon milk and stir vigorously. Heat to 90 degrees F while stirring.

Remove from heat and slowly stir in the rennet solution with an up and down motion for about 30 seconds.

Cover and

leave it undisturbed for 5 minutes

.

Check for curd which should look like custard with clear separation between the curd and the whey. If the curd is too soft or the whey is milky let it set for a few more minutes. Be gentle.

Cut the curd into squares with a long knife that reaches the bottom of the pot. Heat the pot back up to 105 degrees F. while slowly stirring — this will make a firmer cheese. Take it off the heat and stir for another

2 to 5 minutes

or longer for a firmer cheese. This takes a little experience to get the texture you want but soft or firm its all wonderful.

Pour off the whey and save it for bread!!

Ladle the curds into a microwave bowl and again drain off as much of the whey as you can.

Heat in the microwave for one minute — if you don't have a microwave, use a water bath.

Remove and drain off whey again……add salt at this point ….I use about 1 teaspoon….microwave again to about 135 degrees F. so it will stretch properly. Put on some rubber gloves if your hands are tender and stretch it like taffy 'til it's smooth and shiny. The more you work it the firmer it is…feel free to taste!
Notes
MPORTANT:  You cannot make this with ultrapasteurized milk, so "boxed milk" will not work (it just won't form curds).  Instead, try using good powered milk (see my post about where to find great powdered milk).  If you use powdered milk, none of the ingredients require refrigeration, so you can have cheese no matter how long you're away from stores!
Marinate it in good quality olive oil and herbs and garlic ………..slice it up with tomatoes and fresh basil or whatever you like!
Nutrition Facts
Make Your Own Mozzarella
Amount Per Serving
Calories 289
Calories from Fat 135
% Daily Value*
Fat 15g23%
Cholesterol 47mg16%
Sodium 203mg8%
Potassium 624mg18%
Carbohydrates 22g7%
Protein 14g28%
Vitamin A 765IU15%
Calcium 535mg54%
Iron 0.1mg1%
* Percent Daily Values are based on a 2000 calorie diet.
Want over 800 boat-friendly recipes, over 100 substitutions, and tons of tips for cooking on a boat?


Some links in this article (including all Amazon links) are affiliate links, meaning that we earn from qualifying purchases.