A low carb beef marinade that is absolutely delicious on both meat and veggies. Great for kabobs on the grill!
Special Ingredients
There are two special ingredients in this low carb (keto) beef marinade.
Coconut Aminos
This recipe uses coconut aminos instead of either Worcestershire sauce or soy sauce (common ingredients in beef marinades), both of which can cause blood sugar spikes in diabetics. Many diabetics, including me, simply cannot tolerate soy products. If you can, you can use soy sauce in place of the coconut aminos in this recipe.
Coconut aminos are a dark, rich sauce made from coconut sap. They do not contain any sugar. A great replacement for both Worcestershire and soy sauce, coconut aminos are little less salty than soy sauce. It is soy and gluten-free.
Most grocery stores carry coconut aminos near soy sauce and steak sauces. Check the product label to ensure that it does not contain sugar; some brands do. I use Coconut Secret brand, which is available on Amazon if not in your local store:
The bottle says to refrigerate after opening; I don't — I don't refrigerate most of my condiments — and haven't had any problems.
Allulose
The other special ingredient is Allulose. Allulose is a sugar substitute derived from real sugar with no fillers. It is not metabolized and does not affect my blood sugar. It is fairly pricey but I don't use much at a time so it's really not a budget buster. Another reason for not going wild with it is that in large quantities, it can cause diarrhea.
So why do I like Allulose? It doesn't have any funny taste or feel to it. It's about 70% as sweet as sugar, so you never get that funny over-ly sweet sensation. And it browns when exposed to heat just like sugar. Perfect for use in a marinade where you want the meat or vegetables to develop a beautiful brown color as it cooks.
I have never seen Allulose in a grocery store. I buy it on Amazon. You can get it in one- and three-pound containers. The three-pound jar (sold in 2-packs) is less expensive per ounce but if you want to try a smaller quantity first to see if you like it, get the one-pound as it is less expensive overall.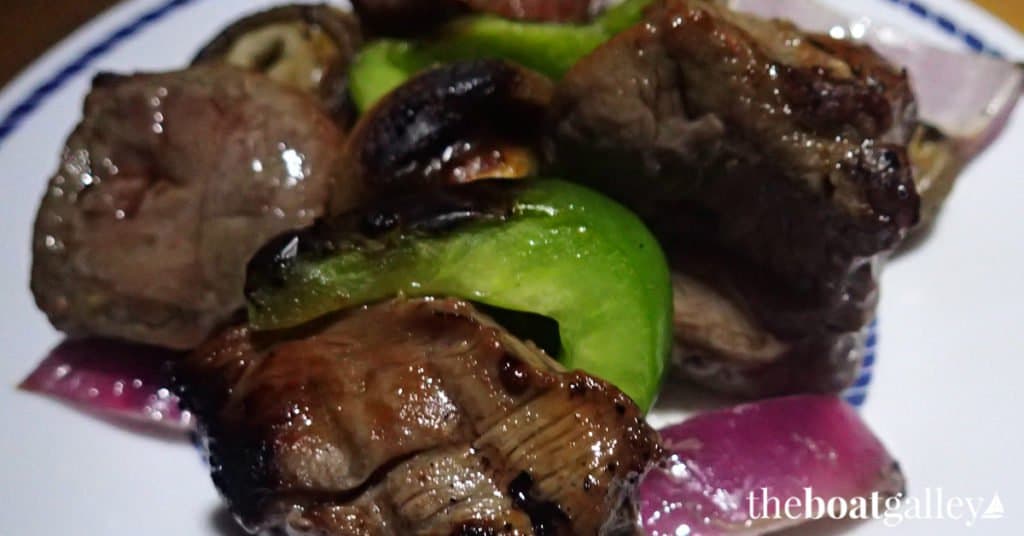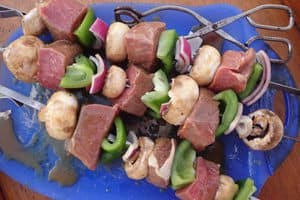 Low Carb Beef Marinade
Delicious low carb/keto beef marinade that is also great on vegetables. Perfect for kabobs!
3g total carbs per serving.
Print Recipe
Pin Recipe
Ingredients
1/2

cup

coconut aminos

1/4

cup

olive oil

1

tablespoon

prepared mustard

2

teaspoons

Allulose

1

teaspoon

salt

2

teaspoons

ground pepper
Instructions
Mix all ingredients until Allulose and salt are dissolved.

Place meat and/or vegetables in a lidded container or sealable plastic bag and pour marinade over it.

Marinate in refrigerator, periodically turning or mixing, for at least one hour. Up to 12 hours is fine.

Remove meat and vegetables from marinade and let excess drain off. Discard excess as it is not safe to reuse.
Notes
Nutrition information below assumes half of the marinade is consumed and the other half is drained and discarded. I've actually measured my usage a couple of times and found that more than half is drained and discarded, so carb count is most likely lower. I'd rather err on the side of thinking there are more carbs than there actually are!
Nutrition Facts
Low Carb Beef Marinade
Amount Per Serving
Calories 73
Calories from Fat 54
% Daily Value*
Fat 6g9%
Cholesterol 0mg0%
Sodium 339mg14%
Carbohydrates 3g1%
Protein 0g0%
Iron 0.1mg1%
* Percent Daily Values are based on a 2000 calorie diet.
Want over 800 boat-friendly recipes, over 100 substitutions, and tons of tips for cooking on a boat?


Some links in this article (including all Amazon links) are affiliate links, meaning that we earn from qualifying purchases.