The ICW does not care if you are young or old, nice or mean, a salty vet or a sailing rookie. Challenge stows itself aboard everyone's boat and only confesses its presence when you least want the company.
First Time Down the ICW
When I first made my way south on Ave Del Mar, my 1967 Rawson 30 cutter, I was as green as the meadow in May. Georgia became my terror zone as I crept along—untested and slightly beyond my comfort zone. I felt fearful every moment of every day that the massive tidal range of the local waters would leave me helpless and stuck. 
In my Annapolis marina there had been perhaps a foot and a half between low tide and high. But as I ventured south, that gap approached 9 feet and more. That the water depth would change every six hours by a factor of 1½ times the amount of water my boat needed to stay afloat intimidated me.
Transmission problems had delayed my Back Creek departure. And my late start meant that it was not until I left Charleston that I first began to share the journey with a few other boats. Although none of us were buddy boating it did brighten up the day hearing those voices on the radio both ahead of and behind me. Boaters, now familiar, called to marinas and to other vessels along the way, seeking a fuel dock or maybe just asking for a slow pass.
And to report groundings.

Grounding on the ICW
Zach, on Alicia Lee, miles ahead of me, soon called out, "Watch it near Red 42. Gets real shallow." He followed just moments later with, "To the sailing vessel right behind me, this is Alicia Lee. We're aground. You can pass us to our port side. We've been dragging on the bottom for about the last mile."
The friendly voice of Bonnie, on Quandary, was too far ahead to radio me. But one evening she emailed a warning of skinny waters that loomed in my future. "The trawler in front of us went aground. Then we went aground. We heard several more run aground there in the same spot." It seemed that we were all at battle against the depths.
Soon enough my ticket got punched as I attempted to enter Walburg Creek off of St. Catherines Sound. It was the end of one of those taxing Georgia days, a mere mile or so from my intended anchorage. Fueled perhaps by exhaustion but more probably by sheer statistics, I missed a somewhat-subtle contour line on the chart and ran onto a sandbar like your uncle launching his speedboat onto a trailer at the lake after a weekend of waterskiing and a few beers too many. It seems my first grounding was to be of the particularly-abrupt variety.
Being keeled over was, like everything else, new territory for me. Confident that my boat would surely sink I grabbed a couple of wooden plugs and popped them into the cockpit scuppers. I checked the bilge and the anchor locker to make sure life belowdecks was dry. And then I called for rescue. Dana from TowBoatUS seemed unimpressed with my situation. "We all get a turn, buddy," he assured me calmly over the phone, even as he promised to send help.
I recalled Van Sant's advice where he suggests, paraphrased: "Go below. Read a book. When you are done with the book check the boat. If you're still aground go below and read another book. When you are done with the second book the boat will be floating and you will be that much smarter, because you just read two books." How I hoped he was right.

Floating Free
Ryan, the towboat captain, arrived in due time and kept me company as we waited for the waters to rise. He told me stories of running hard aground in his Catalina with his then-8-month-pregnant wife years ago. "Would you believe that's how I got this job?" he said. "I was kind of afraid to ask if they were hiring. I was aground and figured they might not think I was the best navigator."
Time ticked slowly by and soon enough those massive Georgia tides that had so rudely taken my water away gave it back, picking me up and sending me along again, the mishap scarring no more than the fragile shell of my ego. Ryan asked me to email him photos from my journey. "I would love to be able to take a trip like you are going on," he confessed.

That night I slept better than I might have expected, and the next day, with a new sunrise buoying my confidence, I crept on—a blind man and his boat feeling their way through cuts and straights that seemed to defy navigational logic. The ground stayed where it was supposed to—somewhere well under Ave's keel—and Georgia slowly unfolded behind me. It was, as I once described to a sailing friend, the most beautiful stretch of the ICW that I have ever detested.

Two days later I pinballed my way into the marina at Jekyll Island, Georgia, fighting the mighty currents to reach the comfort of what seemed like a parallel parking spot from Hell. But in the end no part of my boat hit any part of any other boat or, for that matter, any solid object at all, and I tumbled out of Ave's cockpit into the warm embrace of my friend and former Eastport neighbor Linda from TrueLove, who brought with her promises of hot showers and plentiful wine.
The showers were indeed hot and the wine was indeed plentiful. There was a bonfire, new friends, old friends, and the worst of Georgia was behind me. I had met the challenges of the ICW. And, if I had not conquered, I certainly endured.

Cruising the ICW? Check out our quick reference cruising guide — a completely new type of cruising guide, designed to let you find answers FAST.
---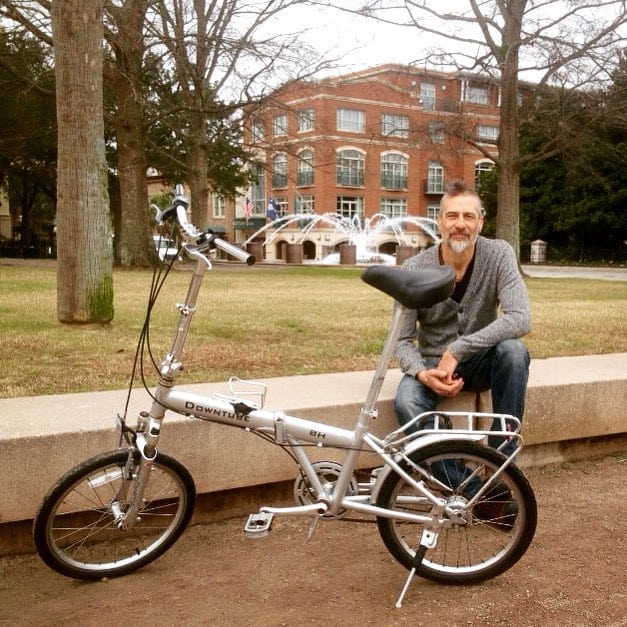 John Herlig is a SpinSheet columnist and a member of The Boat Galley team. He created our VHF Radio Course and also our Handy VHF Reference. John also teaches several courses at Cruiser's University at the Annapolis Boat Show.
He mostly lives aboard and cruises his 1967 Rawson 30 cutter. He has traveled the East Coast of the US several times, extensively cruised the Bahamas, and sailed much of the Caribbean both on his boat and as delivery crew. Check his tracker to see where he is now. This post originally appeared in the April 2020 issue of SpinSheet.
Some links in this article (including all Amazon links) are affiliate links, meaning that we earn from qualifying purchases.