Another idea for a great dish drainer!  If you have a double sink, you can make one side into your "dish drainer" quite simply!
This comes from Diane Emigh, aboard Harmony, a Tayana 42 now cruising Pacific Mexico (see their blog).
Here's Diane's description:
On Harmony we have double stainless steel galley sinks and very little counter space. I found a very inexpensive rectangular stainless steel cake rack on Amazon that fits perfectly in my second sink. I put silicon pads (small globs of silicone — see photo below) on the rack feet so my sink wouldn't be marred.
I now use the second sink with the cake rack in the sink bottom as my dish draining/drying location. Water from the newly washed dishes drains through the rack right down the sink drain. My sink holds a LOT of washed dishes and I don't need to use valuable counter top real estate. The rack remains in the second sink all the time even when clean dishes have been put away and has worked perfectly.
Diane also put a stainless silverware holder in the sink.

Diane gave this link (Amazon) for the rack she used, but it looks like the design may have changed since she bought it as it's no longer stainless.  In her photo at right, you can see where she just gobbed some silicone sealant around the feet as protectors.
Be sure to measure your sink carefully before buying — and if you can't find the right size at a store near you, try:
I re

ally like this idea — virtually all "in-sink dish drainers" come up the side of the sink, taking up valuable room.  With Diane's idea, you have the full size of the sink, with just a little space under the dishes for water to drain.  And if you do dishes underway, nothing will fall!
For her silverware, Diane found a stainless cutlery drainer with suction cups on the back.  Depending on your sink configuration, there are many similar designs.  The suction cups do help to keep the drainer where you want it (and to avoid scratches on your sink), but don't expect them to hold the weight of the silverware — the container needs to hook over the edge of the sink or the center divider.
If you don't have a double sink or can't make this work, check out another great idea for a dish drainer that takes up almost no space!
---
Our FREE Provisioning Spreadsheet
Wondering how much of what foods to take on your next trip? Know just how much to buy of what — all arranged by grocery store aisle — with our handy Provisioning Spreadsheet. Includes detailed instructions to edit it for your favorite foods, how much your family eats, and how long you'll be gone. No spreadsheet skills needed!
It's FREE — get it here.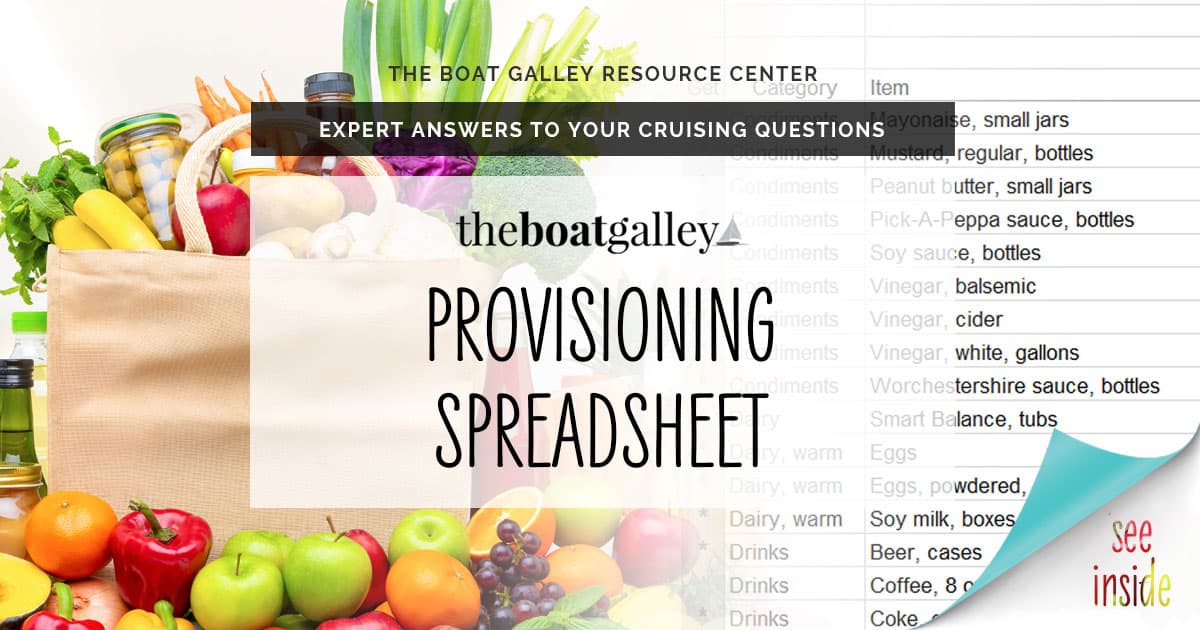 Some links above (including all Amazon links) are affiliate links, meaning that I earn from qualifying purchases. Learn more.