Washing dishes by hand isn't something new.  You've done it before.  So what is there to learn?
No, this isn't a step by step "how to wash dishes" article.  But I did learn a few things while we cruised that didn't necessarily make the job any more fun, but did help me to not make it any worse and/or save water.  Here are some things I wish I'd learned sooner:
Local dish soap. If you're outside the US, local dish soaps can work even better than more expensive imported US brands.  In Mexico, where we cruised, few homes have dishwashers and hence there is a huge market for good dish soap.  Watch what the local women are buying and try a bottle.
No disposer. Most boats don't have a garbage disposer.  Assuming yours doesn't, it's really important to scrape dishes and pots well before washing them to avoid clogged drains (if one does clog up, see the tips in Slow or Stopped Galley Drain).  Scrape not just food bits, but grease as well — I'd put the "gunk" into old Ziploc bags or jars from the trash whenever I could, as bugs were less likely to feast on the garbage. Read more here.
Crusty pans. Four ways to get that burnt-on food off without using a ton of water:
Fill with water and drop in a few denture tablets (see my complete article on all the things you can clean with denture tablets).
Spray with vinegar and let sit 15 minutes or so.
Sprinkle some baking soda in the pan and then fill with boiling water above the stuck-on food.  Let sit 15 minutes.
Scrub with salt.  This still takes some elbow grease!
Steel wool and Brillo. If you're in a salt water environment — even if you're using fresh water for dishes — steel wool, Brillo pads and the like have no place on the boat.  Not only will they quickly rust and disintegrate, they'll leave tiny particles on your pans that will cause little rust spots to form (yep, you can guess how I learned this).  Use the plastic or stainless scrubby pads instead.
Pasta and veggie water. Instead of just discarding the water that pasta or veggies were cooked in, save it and pour it into your dirtiest pans with a little soap after serving up.  The pans will soak while you're eating and clean up will be a snap.
Wash the least soiled things first. If you start with the least soiled items — generally glasses — first and proceed to dirtier and dirtier, you'll use less water as you probably won't have to change the water.  But if you wash greasy items before washing the glassware, you'll probably have to change the water.
Cold water will clean dishes. You don't have to use hot water to get dishes clean, but it does make it easier to get grease off.  Cold water and scrubbing can do just as good a job.
You don't need a sink full of water. I know, I used to like to soak dishes in the sink.  But I learned to just put soapy water in a cup or cereal bowl, then use it to wipe plates and other dishes and let them sit in the sink for a few minutes.  Just as good results with a LOT less water!
Rinsing dishes. Some cruisers suggest using a spray bottle to rinse dishes in order to conserve water.  It does use the least water, but a spray bottle takes forever and wears your hand out.  I use a small pressure sprayer called an Aquabot — learn about it here — it works great and saves a lot of water.
Air drying. Okay, I'm basically lazy and have always let my dishes air dry unless I was pressed for space or needed something immediately.  But I recently learned that air drying is MUCH more sanitary than drying dishes with a cloth, which can both spread germs from one dish to another, and also breed germs of its own when left damp.  Of course, you can't leave dishes out drying if underway and it's at all rough.
IMPORTANT: When I originally wrote this article, I said that a capful of ammonia in dish water could really cut grease on plastic and glasses.  Bad idea — Kelly left a note on Facebook that ammonia is harmful to marine life.  Doing a bit of research, I found that even in low concentrations, it damages the gills of fish — and in higher concentrations, kills a variety of marine life.  So my new rule is not to use ammonia!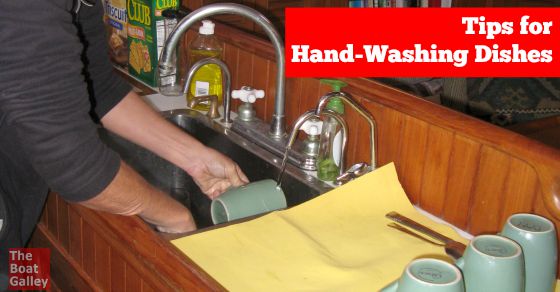 Making Boat Life Better
Some links in this article (including all Amazon links) are affiliate links, meaning that we earn from qualifying purchases.